Why we invested: ColdHubs is decreasing food spoilage by reducing barriers to cold storage access
May 31, 2022 - 4 mins read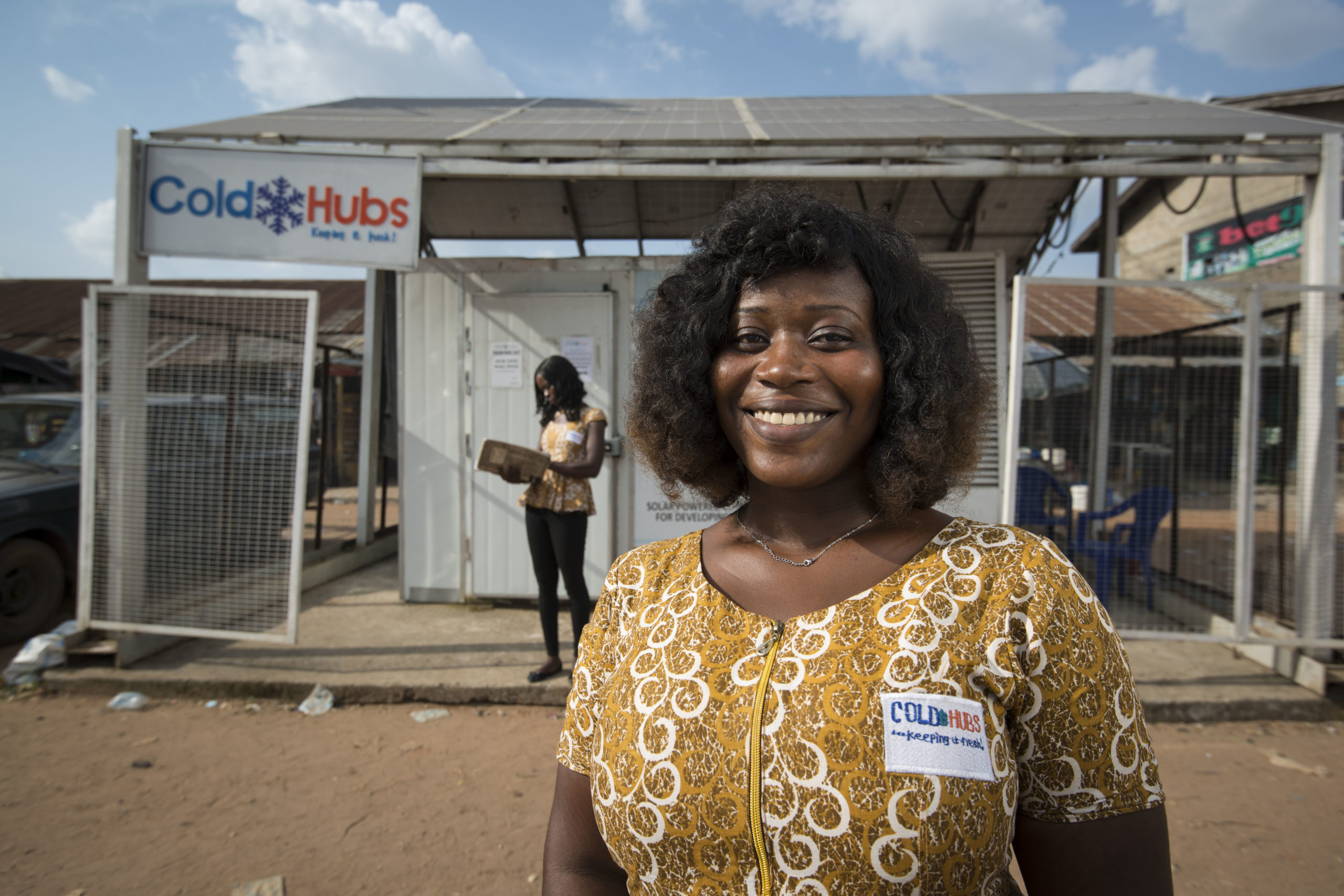 The population of Nigeria will double in the next 30 years, reaching around 400 million by 2050, well above the world population's projected growth (25 percent). This demographic expansion will further stress the country's domestic food system, which struggles to adequately and nutritiously feed its current population. The FAO estimates that 44 percent of Nigerians are food insecure. 
According to the World Bank, each year the country loses or wastes 40 percent of food production (9.1 percent of its GDP). This is equivalent to 31 percent of the total land use and accounts for five percent of the country's greenhouse gas emissions. As such, lowering food losses will not only benefit the most vulnerable by extending the reach of products from land and natural resources already in use but also prepare the food system to manage the impacts of climate change, which are likely to drive increased losses via high temperatures and unpredictable rains.
One promising mechanism to counter food spoilage is to address the lack of cooling and refrigeration in the value chain from farm to fork, which is a crucial driver of food loss and waste in Nigeria. Approximately 37 percent of the country's agricultural production requiring refrigeration is lost due to inadequate or non-existent cold chain infrastructure.
ColdHubs decreases food spoilage and extends the shelf life of agricultural outputs by reducing barriers to cold storage access. The company provides farmers, distributors, and other value chain actors with cold storage hubs on a pay-per-use basis, as well as offers logistics and refrigerated transport services, and facilitates marketplace opportunities for retailers and wholesalers.
Innovation
Refrigeration can be used to extend shelf life but is non-existent in Nigerian farm clusters, aggregation centers, and the marketplace. Solutions need to be prepared to withstand the country's expected increase in temperature due to climate change, between 1.3 to 2.8ºC in the following decades, and with partial mean monthly temperatures over 30ºC.
For most, traditional refrigeration solutions are not an option within reach. Furthermore, even when equipment is purchased, power grids do not deliver reliable energy: 60 percent of the rural population does not have access to electricity. This number becomes more significant if we consider reliable access.
ColdHubs' innovation addresses these challenges all at once. They provide solar-powered cold storage hubs for farmers, retailers, and wholesalers to store fresh produce, helping small farmers increase shelf life and reduce spoilage of their production.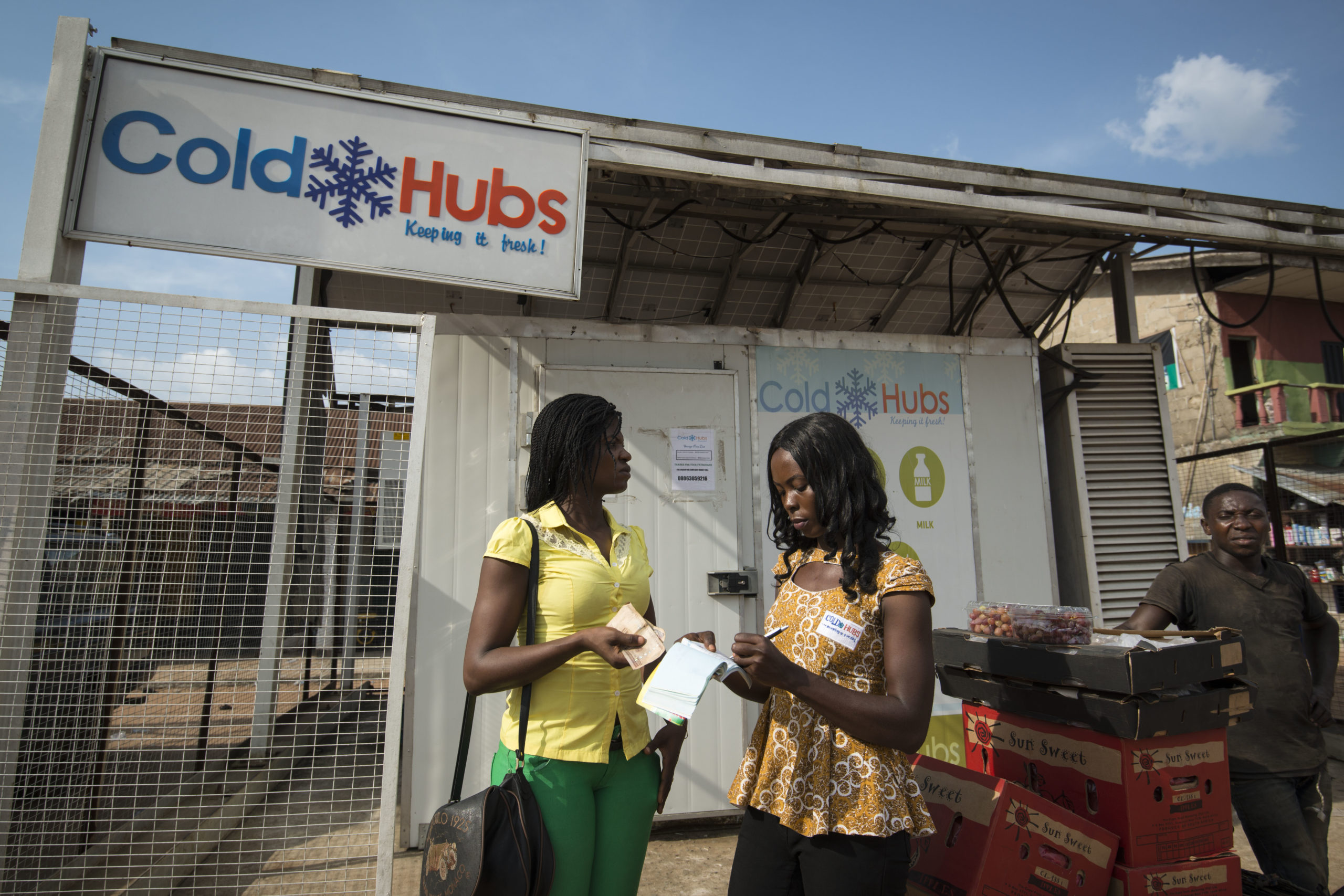 This innovation is also accompanied by digital remote monitoring of the goods stored inside each hub. Critical variables such as solar irradiation, ambient and room temperature, door opening, energy storage, and loading and off-loading of food, among others, are constantly monitored to increase the effectiveness of the storage.
In Nigeria, most produce transportation takes place via open, non-refrigerated trucks. These trucks traverse long distances as many agricultural production zones are located in the country's north, while wholesale and consumer markets are primarily located in the south. To address these long-distance transportation routes, ColdHubs has also introduced solar-powered refrigeration trucks. The trucks allow the transport of the produce from farms to market while facilitating temperature-controlled logistics, preventing losses, and increasing food safety during the process.
Impact
In the more than six years of operations since its inception, ColdHubs has helped save 42,024 tons of fruits and vegetables from spoilage. Today, the firm owns and operates 54 hubs across Nigeria that store up to three-tons of produce each. Together with charging a low fee for cold storage, this allows customers to maintain the quality of the product and extend the shelf life of perishable food from two days to 21.
ColdHubs bases its operations on solar-powered technology rather than diesel generators led to a further reduction of CO2 emissions from supply chains. This pioneering idea has led to 1,040,688 kg tons of CO2 saved.
In addition, ColdHubs employs members of the local community to operate the hubs. This supports local livelihoods and is a core component of ColdHubs' strategy as they rely heavily on face-to-face customer service. The startup has created more than 66 jobs for women.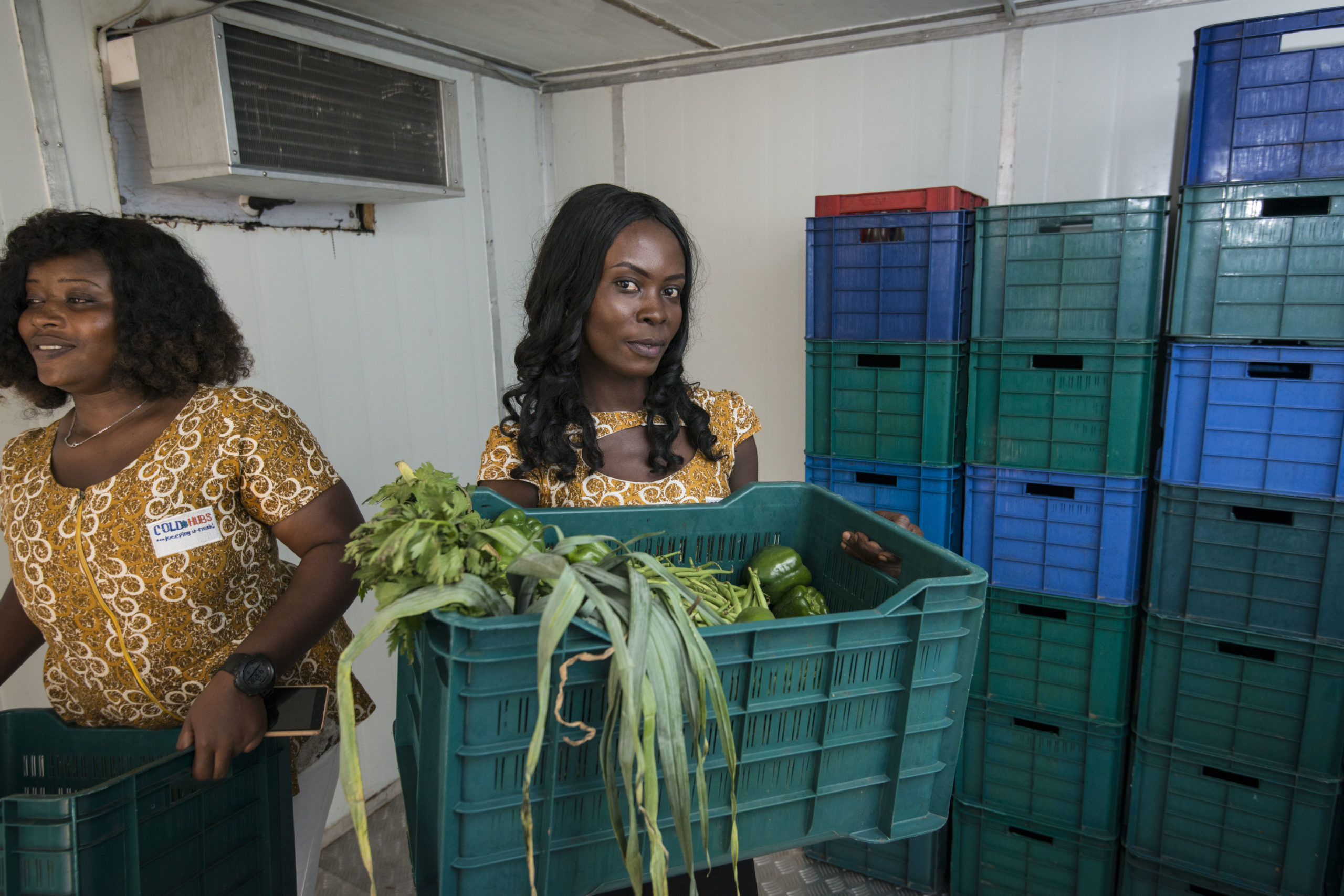 Growth potential
ColdHubs has 5,250 customers in Nigeria at present, with clear plans to reach 50,000 by 2023. They are exploring a potential expansion to Benin, which would demonstrate the effectiveness of their product in other African markets, which are also in need of resilience solutions among climate-vulnerable communities. 
To reach this objective, they have plans to deploy 18 new hubs by the third quarter of 2022 (16 of the three-ton and two of the 100-ton hubs). Also, they plan to mount a fleet of at least fifteen 10-ton cold trucks and integrate the small-scale production and rental of returnable plastic crates as part of their offering. This will enable them to offer complete end-to-end cold chain services in Nigeria for the first time.
Digitalization plays an essential role in this upcoming expansion. To enable the entire country to access ColdHubs's technology and service, the Catalyst Fund team is helping them to launch a Cold Connect App so that farmers all over the country will be able to request cold storage space in any of their future 100+ refrigerated warehouses, order refrigerated transportation and packaging, and pay for services digitally.
Smallholder farmers in sub-Saharan Africa supply approximately 70 percent of the continent's food supply, so ensuring their products can reach customers with an extended lifespan can result in improved outcomes across the region in the face of climate shocks. 
---
 The Catalyst Fund model delivers outsized success compared with other accelerator programs. We accelerate startups that excel on three fronts:
Impact: Catalyst Fund startups deliver (or, in the case of B2B firms, facilitate the delivery) of life-changing products and services to underserved populations. These can include financial services like loans, savings, insurance, and investment, but also access to productive inputs or essential services such as energy, sanitation, and water.
Innovation: Our startups are pioneering game-changers that are innovating new products and business models. They drive the sector forward by demonstration effect and via the learning that Catalyst Fund documents and shares. 
Growth potential: Catalyst Fund startups are distinctively investment-worthy, developing businesses that are scalable, with high growth potential. Our startups are selected by an Investor Advisory Committee, who have deep experience in emerging markets and nominate high-potential startups, and then sponsor and mentor them through Catalyst Fund. As a result, our startups raise more funding than startups from other accelerators.