Why we invested: Swoove is simplifying logistics for MSMEs in e-commerce
January 24, 2022 - 5 mins read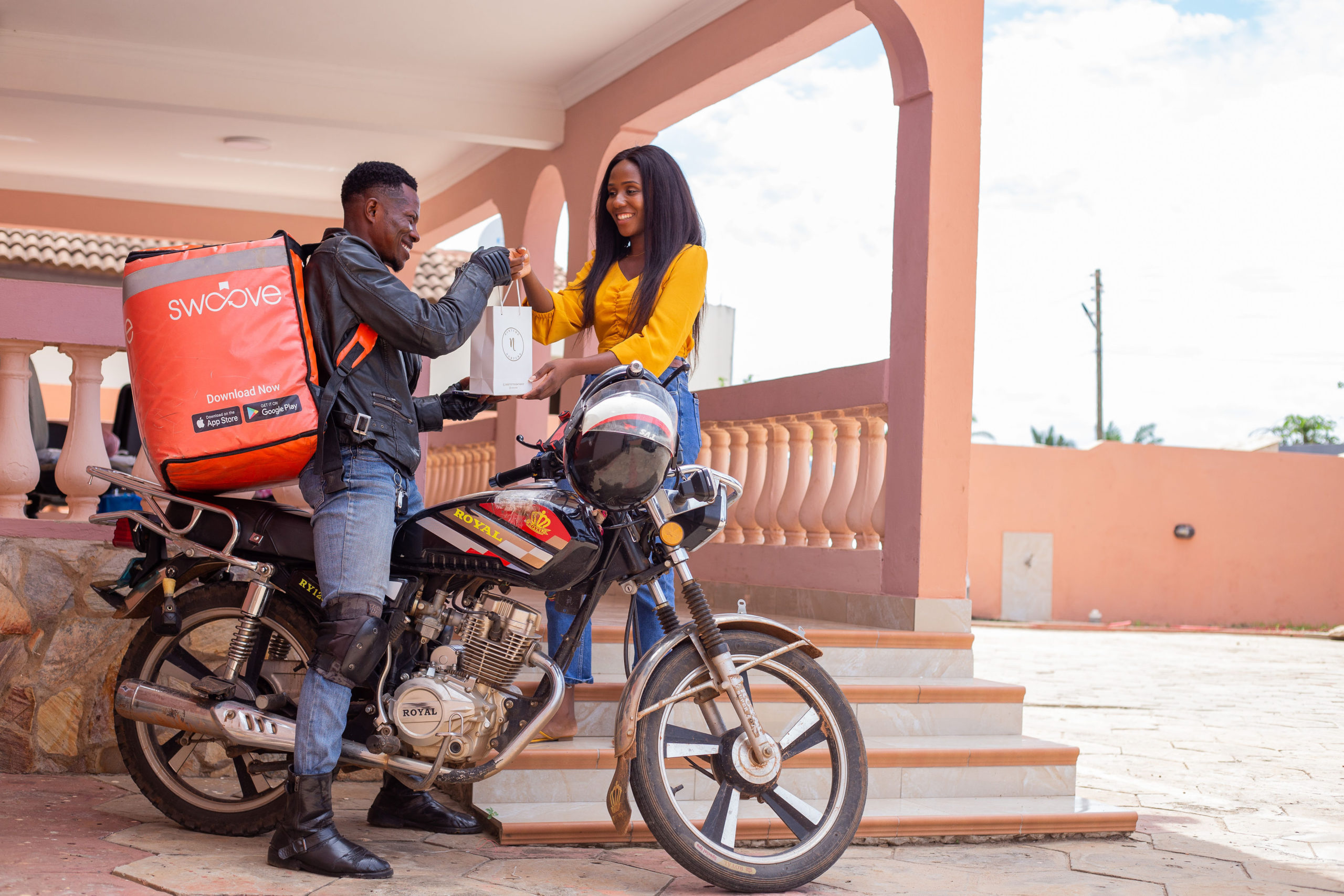 Efforts to support the growth of e-commerce often focus on the digital aspects: online marketplaces, digital payments, merchant credit, etc. However, well-functioning e-commerce also depends on offline, real-world execution like inventory management, deliveries, returns, and more. In particular, for e-commerce to compete with offline commerce, fulfillment and delivery needs to be reliable, transparent, and cost-effective.  
Our observations suggest that e-commerce logistics can be a major obstacle to long-term growth, due to customer dissatisfaction around late, lost, and costly deliveries. This is especially the case in Ghana where the majority of deliveries are completed on an ad-hoc basis and delivery costs can be prohibitive at 35-55% of product costs. 
Swoove aims to solve these logistical challenges in Ghana, with a specific focus on micro and small enterprises (MSEs), which increasingly see the opportunity of selling online. Swoove's app connects small e-commerce businesses with delivery riders in an effort to improve the end-to-end delivery process. Through the Swoove app, e-commerce sellers request quotes for a delivery order, schedule pickup and drop-off times, and then track a delivery every step of the way, ensuring the product reliably gets to its destination on time. 
With an easy-to-use delivery platform, Swoove is simplifying and improving delivery for e-commerce retailers and their customers, giving micro and small enterprises the chance to compete against bigger e-commerce players and offline retail. As a platform that aggregates logistics players with a tech-enabled approach, Swoove is driving the overall quality and standardization of third-party logistics (3PL), professionalization of rider agencies and their riders, and overall offering more transparency about pricing and delivery times. 
Impact
Among the six million social media users in Ghana, many young retailers work from home and exclusively sell their products online through social media platforms like Facebook, Instagram, and WhatsApp. To get products to customers, these e-commerce businesses must depend on third-party delivery providers or make the deliveries themselves. The third-party options are not outstanding; retailers must choose between a rider who happens to be in the area and can complete the delivery within an acceptable timeframe and cost, or negotiate with expensive logistics companies to perform the delivery. 
In neither case can the retailers track the delivery. Moreover, both options are expensive, usually between 35-55% of the cost of the product itself. 
Swoove gives e-commerce businesses an alternative to simplify product delivery and uptake suggests that Swoove is a superior alternative. Since launching in August of 2020, Swoove has registered over 1,200 MSEs and completed over 8,000 deliveries in just over a year. 
For riders, too, Swoove's platform provides a simpler, more professional way to work. Already, Swoove has registered 120+ rider agencies, including small logistics businesses offering employment to multiple delivery riders. These businesses are often run by women who manage 1-5 riders to complete deliveries via Swoove's platform. Swoove even assists agencies to become registered businesses and provides some support to set the foundations for the agencies to manage their riders better and in turn be more reliable logistics partners.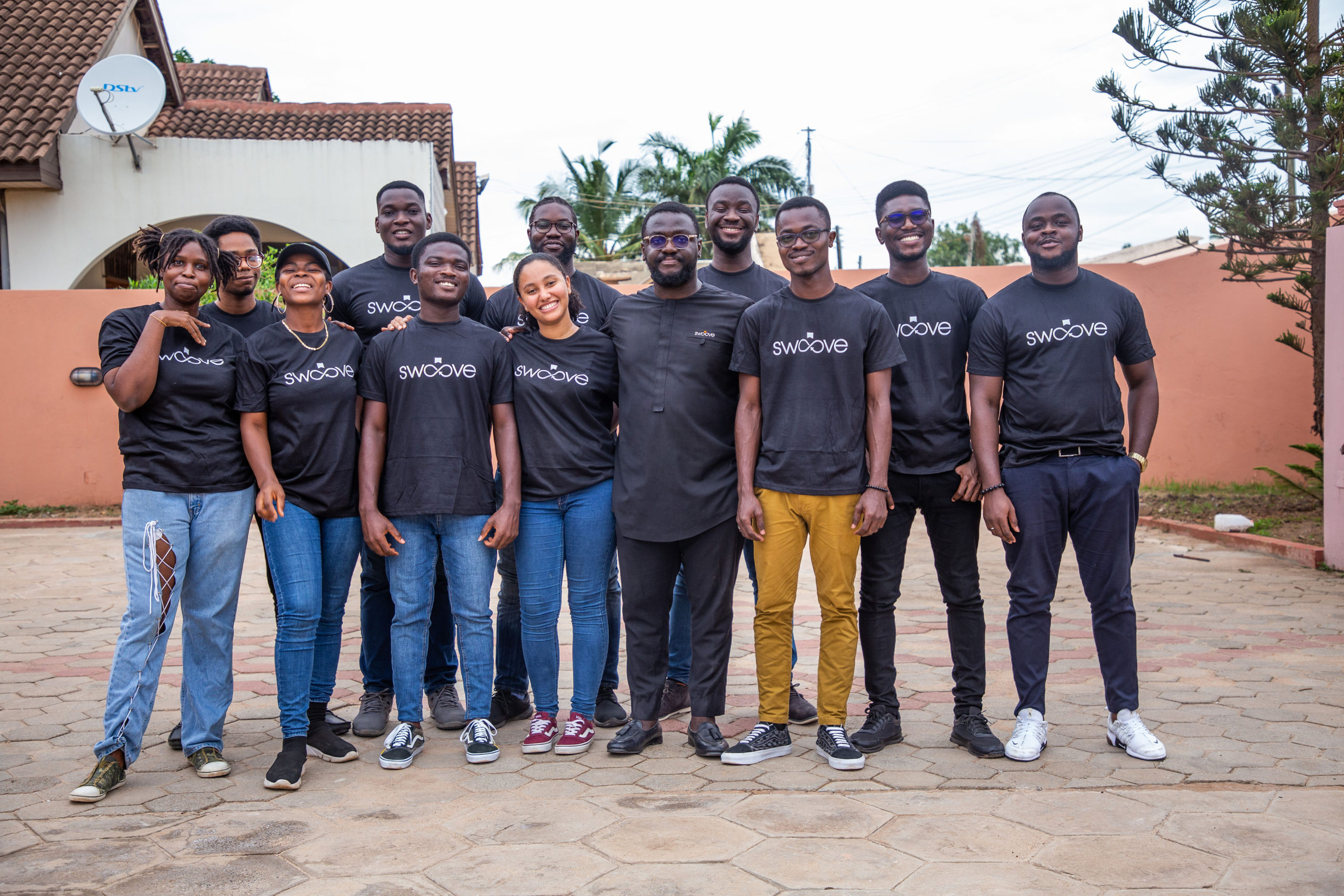 Innovation
Swoove's innovation lies in simplifying and consolidating all of the aspects of e-commerce delivery logistics onto one service. As an end-to-end delivery service, Swoove's clients have to take fewer steps to achieve affordable, reliable, and quality delivery of their products, especially for longer distances, such as from one end of Accra to the other. By providing the ability to schedule deliveries in advance, Swoove ensures MSEs have affordable, reliable and on-time delivery of products. By tracking deliveries door-to-door, Swoove improves the customer experience of its clients. 
Furthermore, by allowing retailers to request quotes on a delivery, Swoove gives instant, predictable, and accurate pricing to make delivery costs manageable. In part, e-commerce sellers prefer to have a flat rate in order to plan their fulfillment demands more seamlessly and with less worry over variable costs. 
Swoove is also a first-mover in developing technology, like APIs, to extend the ability of its small business and corporate customers such as MTN to offer a more seamless customer experience when it comes to fulfillment. In addition to the APIs, Swoove has built e-commerce software plug-ins for businesses that lack resources to manage platform integrations. The same multichannel approach applies to scheduling deliveries, users can access Swoove via its web app, desktop and USSD. 
Growth Potential
Despite forward-thinking and inclusive policy such as the national digital financial services policy, Ghana has yet to announce a national e-commerce strategy and recently announced a 1.7% levy on all electronic transactions, which is feared to impact the adoption of digital payments and digital commerce adversely. Nevertheless, logistics is the critical link between digital and online transactions to the physical world and will continue to be in demand as a service that businesses and consumers are willing to pay for in the real economy.
In terms of competition, GhanaPost has national coverage, a large fleet, and competitive pricing compared to DHL and other global couriers. It has invested heavily in the GhanaPost GPS digital addressing system but is yet to produce APIs that would enable interoperability and affordable delivery services for providers and merchants within Ghana and across borders. Rather, the landscape is dominated by 3PL providers. Many are small providers, owners of 2-3 bikes that provide courier services and who are entrepreneurs themselves, operating as informal businesses. These 3PLs are unable to scale, as they operate via pen and paper, and are fragmented in their offering. Notably, Jumia has had to invest in developing its own fleet and logistics unit before it could begin to scale its e-commerce business and become profitable, and now offers its network of drivers to third-parties. 
These efforts signal that logistics to manage burgeoning e-commerce has become a growing industry in itself. At a growth rate of over 18% year over year, e-commerce logistics could become a $21 billion industry by 2025 based on our estimates on the growth of the e-commerce sector. Swoove is poised to continue its growth to take advantage of this accelerating market. Having already expanded to register over 1,200 businesses in just over a year, Swoove has enjoyed a 20% growth rate since its founding. Within only three years, Swoove will have a total addressable market of $24 million.  
Swoove's business model is also well situated for reaching other regions outside Accra and for expanding to other countries. Currently only operating in Accra, Swoove will expand to Takoradi and Kumasi by the end of year. Swoove also plans to extend across the African continent to serve the pent-up demand for affordable and quality fulfillment services locally and across borders, which progress on AfCTA policies and procedures will enable. With the growth of e-commerce logistics and a readiness and intention to expand continent-wide, Swoove is well situated to continue its enormous growth.
---
The Catalyst Fund model delivers outsized success compared with other accelerator programs. We accelerate startups that excel on three fronts:
Impact: Catalyst Fund startups deliver (or, in the case of B2B firms, facilitate the delivery) of life-changing products and services to underserved populations. These can include financial services like loans, savings, insurance, and investment, but also access to productive inputs or essential services such as energy, sanitation, and water.
Innovation: Our startups are pioneering game-changers that are innovating new products and business models. They drive the sector forward by demonstration effect and via the learning that Catalyst Fund documents and shares. 
Growth potential: Catalyst Fund startups are distinctively investment worthy, developing businesses that are scalable, with high growth potential. Our startups are selected by an Investor Advisory Committee, who have deep experience in emerging markets and nominate high-potential startups, and then sponsor and mentor them through Catalyst Fund. As a result, our startups raise more funding than startups from other accelerators.