Why we invested: Mujer Financiera is helping close Latin America's financial inclusion gender gap
July 27, 2022 - 3 mins read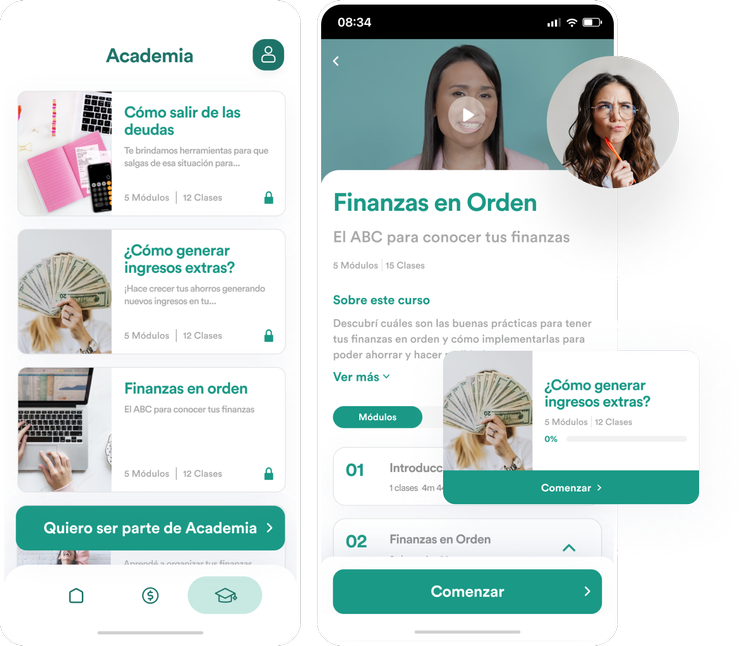 Financial inclusion is critical to women's empowerment and economic autonomy. Yet, only 51 percent of women in Latin America have a bank account, and only 1 in 10 have any savings. Weak access to information, channels, and support prevents women from actively managing their finances and leaves them vulnerable.
Mujer Financiera is on a mission to help close the financial inclusion gender gap through education and community. The startup educates women on personal finance to help them make better life decisions, start saving, start investing and manage their personal finances effectively.
Innovation
The nature of women's financial exclusion in LATAM is complex and presents multiple layers. This includes structural limitations such as significant dependence on the family and the informal economy, high economic and financial vulnerability, low access to the credit market due to wrong incentives in the formal system, and inadequate access to financial products. Among them, lower financial literacy is critical and tends to lead to lower saving capacity, difficulties in accessing credit, and fewer chances for productive development.
Mujer Financiera started by taking a demand-led approach to women's financial inclusion, building online communities on social media and financial education courses before expanding their product offering. Their social media platforms allow learners to engage with each other and ask questions. Their Instagram community, one of their main platforms for user engagement, currently has over 520,000 followers and is rapidly growing.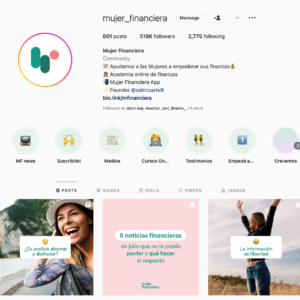 Now, Mujer Financiera offers an app with a three-tiered approach: help develop strong pillars in financial knowledge, directly help budget management, and offer specific investment products. This gives women essential tools to improve their understanding and encourage saving, building financial literacy, health, and resilience.
The startup provides financial education to learn about budgeting and saving options through a subscription-based service of blogs, articles, and pre-recorded and live videos with local trainers. The content covers a wide range of essential topics, from how to get out of debt and start saving, to simple and more advanced investing, to understanding the latest trends like cryptocurrencies. 
The app also offers premium features for personal financial management where users can register their income, savings, and expenses to have oversight over the performance of their personal finances.
Finally, since they have noted that financial institutions tend not offer financial products tailored to the needs of women, Mujer Financiera is developing banking features to allow women access to save and invest in the region. These products will also be offered through the same mobile app and web portal.
Impact
LATAM is the region with the most significant savings gender gap, suggesting that women lack fundamental financial knowledge as well as vital tools to make informed decisions about their economic well-being. Mujer Financiera reduces inequalities and further promotes LATAM's development by working towards women's financial inclusion and literacy.
The startup's motto is that enhancing saving helps to improve women's empowerment. It allows them to stabilize consumption, think about potential investments, manage expenses, and handle adverse situations. The benefits are significant, and the potential is transformative.
Mujer Financiara has reached an impactful community network of over half a million members, with participants from different countries. Furthermore, their app registers more than 50,000 active users monthly, who each benefit from insightful learnings as they improve their financial health.
Growth potential
Mujer Financiera's innovative idea has the potential to quickly expand to the whole continent. It is easily adaptable to different contexts, so the startup can  reach women throughout the region. Mujer Financiera is already embarking on this path, with a consolidated community in Argentina, it is now growing in Mexico and other countries.
Studies suggest that there are still 160 million women in the region without a bank account, and many more without even having the possibility to save and use other financial products. Gender equality plays a critical role in the development of entire societies, enhances growth and productivity, and improves outcomes for the next generations. Mujer Financiera is working relentlessly to close this gap and contribute to an equal society by creating an adequate financial environment for all.
---
The Catalyst Fund model delivers outsized success compared with other accelerator programs. We accelerate startups that excel on three fronts:
Impact: Catalyst Fund startups deliver (or, in the case of B2B firms, facilitate the delivery) of life-changing products and services to underserved populations. These can include financial services like loans, savings, insurance, and investment, but also access to productive inputs or essential services such as energy, sanitation, and water.
Innovation: Our startups are pioneering game-changers that are innovating new products and business models. They drive the sector forward by demonstration effect and via the learning that Catalyst Fund documents and shares. 
Growth potential: Catalyst Fund startups are distinctively investment-worthy, developing businesses that are scalable, with high growth potential. Our startups are selected by an Investor Advisory Committee, who have deep experience in emerging markets and nominate high-potential startups, and then sponsor and mentor them through Catalyst Fund. As a result, our startups raise more funding than startups from other accelerators.