Part 1: Use segments to craft a marketing + messaging strategy
Some common customer features you can use to create segments include: 
Demographic

– based on gender, age, occupation, marital status, income, etc.

Geographic

– based on country, state, or city of residence. Might also include urban vs peri-urban vs rural. Local businesses may even segment by specific towns or counties

Technographic

– based on preferred technologies, software, and mobile devices

Psychographic

– based on personal attitudes, values, interests, or personality traits

Behavioral

– based on actions or inactions, spending/consumption habits, feature use, session frequency, browsing history, average order value, etc.

Needs-based

– based on product/ service must-haves and needs of specific customer groups

Value-based

– based on economic value of specific customer groups on the business
Each of these features tells you something about the group of people in that segment, how they behave, what their needs are, and how they might interact with your product.
That said, don't over-complicate your segments, and make sure they're not so specific that very few customers end up in a particular segment, or it will not make business sense to craft such specific communications and product features. Start with segments that are actionable and allow you to craft targeted campaigns and features that make sense for a sizable addressable market. 
For converted users, segment also according to usage patterns. For example, you may have hyperactive, active, and dormant customers, and those that bring you more value than others (for instance, you may have a hyperactive user on the free version of your product who is not revenue-generating). Determine the core characteristics of the hyperactive, active and valuable users – these are the ones you want to target more of. 
Set OKRs for each point in the AARRR funnel  
Once you have your segments, you need to define your overall objectives and key results (OKRs) for customer engagement for your target segments. These should be tied to the overarching company objectives. Be sure to assign these OKRs to members of your team with an appropriate budget and timeline. What are the main objectives and activities we should focus on to push us toward our overall goal?
When thinking about OKRs for customer engagement, it is easy to focus only on customer acquisition. But don't forget that it's equally – if not more – important to also consider how to ensure those customers become active users, stay engaged, and go on to refer your company to their network. Have a plan for how you will push them down the funnel from initial acquisition toward becoming brand advocates.
Use the AARRR framework to think through how to nudge users from acquisition, through activation, retention, referral and [additional] revenue. For each step in the funnel, develop a marketing and communications strategy by listing each communications touchpoint that customers would experience, as well as the main message for each segment at each step. 
Consider questions like:
What does the onboarding process look like for a new user once they've created an account? 

How often should they receive communications?

What is the best channel to reach them at the activation stage?

At which point might we consider adding users to a campaign or an additional channel like a WhatsApp group?

How can we celebrate their first transactions and introduce them to additional product offerings in a way that's easy to understand and doesn't make it feel like we're pushing them?
Particular moments – for instance, the first time a customer completes an activity, or when a customer has been active on your platform for a particular amount of time – lend themselves well to opportunities for engagement. Take these opportunities to present clear messages that will encourage customers to continue using your product and softly nudge them toward advocacy. Give your customers a reason to love your brand.
Be conscious that you are offering value to your customers in these engagements, rather than strictly pushing product use. For instance, newsletters are an easy way to present educational and informative content, celebrate power users in your community, and offer additional value, while serving as a soft reminder about your product. 
Here are our pro-tips for orchestrating a winning customer journey:
1. Use the funnel to segment users
Once acquired, users should be segmented according to their position in the funnel and their level of engagement with the product. For instance, those who have downloaded your app but have not yet made a transaction would receive a different set of communications from those who immediately made their first transaction. Segmenting by usage allows you to encourage users to continue interacting with the product and clarify anything they might not understand.
2. Test channels
Communications touchpoints vary across channels, including SMS, WhatsApp, voice call and push notifications. Based on what the team knows about user behavior at each stage thus far, these touchpoints should be tested and optimized according to success rates. Pro tip: WhatsApp enables brands with business accounts to send newsletters to their groups in a way that's easy to access and digest.
3. Celebrate wins
Every time a customer engages with your product, it's a win for you. Certain milestones can also be significant to your customers – for instance, paying back their first loan, or even being approved to borrow. Build moments of encouragement and celebration into your communications strategy throughout a customer's journey with your product, to ensure they feel appreciated and keep them coming back. See this great example from Catalyst Fund portfolio company Chipper Cash: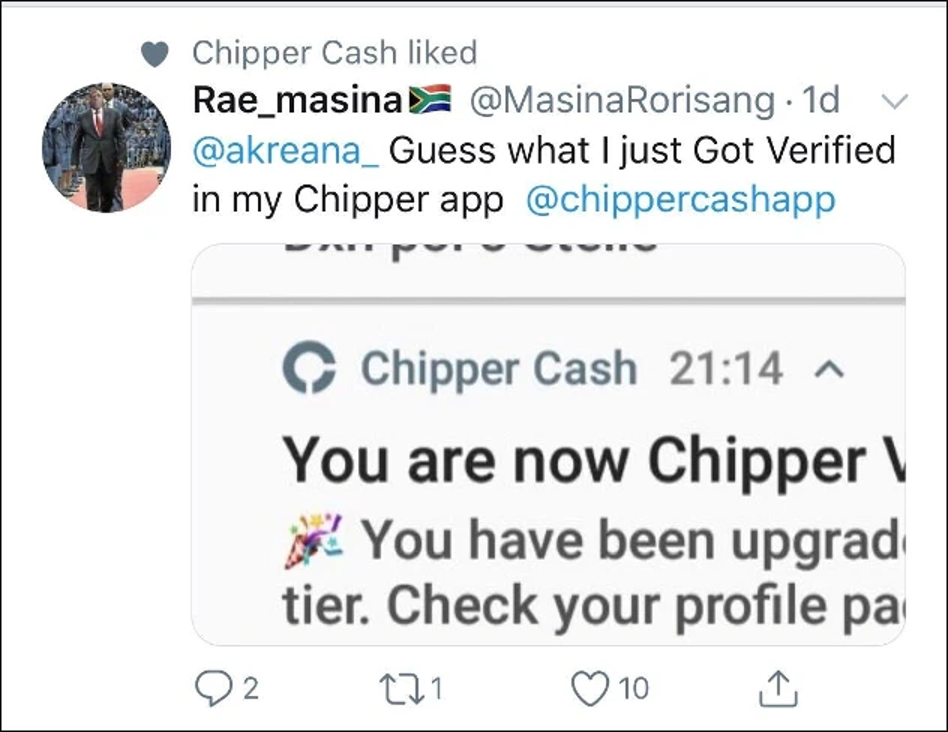 Measuring progress
As you develop your team's funnel OKRs, ensure you are set up to measure movement along each step in the funnel; for example, understanding whether an acquired customer has in fact converted into an active customer, noting which acquisition channel they came through. Otherwise you might find, for instance, that a particular acquisition channel was very effective at achieving signups, but very few of those signups converted to active users. In this case, that particular channel is not worth pursuing further, while one that achieved fewer acquisitions but at a much higher conversion rate is worth pursuing. This tracking will be crucial to effectively measuring your campaign's success and informing future marketing strategies.
Track data points that clearly help you distinguish what is working from what is not, so you can make concrete decisions to move forward. Avoid tracking "vanity metrics", which are data points that sound good, but don't actually help you make decisions (for example, number of new leads in the funnel, if they are not qualified). 
What metrics should you use? This will depend on your organization's stage and capabilities. If you're just starting out, a shortlist of simple metrics are the best place to start – i.e. one key performance indicator (KPI) per each of the categories below.  As your data and analytical capabilities grow, you might expand what you're tracking and analyzing as you continue to roll out experiments to validate core hypotheses about the product and market. Some examples include:
Sales / leads in funnel

: New and repeat customers, number of customers who engage with sales campaigns, cost of acquiring a customer (CAC).

Customer Lifetime Value

: Predicted net profit attributed to the entire future relationship with a customer or group (LTV).

Marketing campaign engagement

: Customer reach by marketing/communications channel and campaigns, Customers signed up for loyalty programs, customer engagement with loyalty programs (points accumulation, redemption, etc.).

Product usage rates

: Number of customers using each product/service, number of customers using multiple products

Customer care inquiries

: Number of customer complaints/queries, average reply and resolution time, number of customers responded to, number of customers with complaints resolved or escalated, number of repeat queries, number of customers satisfied with the outcome

Churn

: Number of customers who have terminated or stopped using your product for X days

Transaction / activity

: Customer activity and dormancy rates, customer preferred transaction channels, customers by size and type of transactions, average transaction size
Only once you have your OKRs and measurement structure in place, start to determine your marketing plan and channel strategy, deciding where to allocate budget and what materials need to be created.
Generate your marketing plan
Before you create any materials, you need to align on core messages as well as the critical communications touchpoints in your customer's product journey.
When you're in a startup, you likely speak about your product all day everyday – to the team, to investors, to partners, and to customers. It is easy to get caught up in industry terminology and forget that your customers might not understand, or use the same language. The best way to catch their attention is to demonstrate that you understand them, the way they communicate, and their needs – so they can quickly relate to you.
When constructing your marketing plan for a product launch, for example, determine what the core benefit is for a particular offering, for your target segment. Then ask yourself: is this how my customer would phrase this benefit? What are the particular words they would use? That's what should inform your messaging.
Prioritize features for each segment
For each segment you are targeting, go through each product feature to determine which ones are most valuable to each segment (first, grouping features according to the overarching offering – for instance, business support, additional revenue opportunities, core business – and then linking each group to the segments). Also look at where within the customer journey it would be appropriate to introduce each set of features.
Craft messages for each segment
Next, describe the benefits of each feature specific to each segment, based on that segment's challenges and needs, using their language as identified in the research phase. 
Select and center key messages
Step back and look at what key overarching messages resonated across segments and chose a few to hero. Then create an initial keyword list which would inform website copy (and landing page copy if campaign-specific), digital campaigns and overall customer messaging. These messages and keywords can then be used to center all of your collateral. 
Create collateral
The final step in messaging is to begin drafting marketing collateral, including:
Website or landing page copy specific to each campaign

Sales collateral

Press release: noting that language here might differ from the way the product and benefits are presented to customers

SMS, email, Whatsapp and other automation content, as needed per AARRR funnel (below)

Social media + content

Sales center call scripts
The messaging strawman on Tab 2 of our template can guide your efforts.
Consolidate the customer journey
The next step is to create a communications strategy for each segment's customer journey, as illustrated below.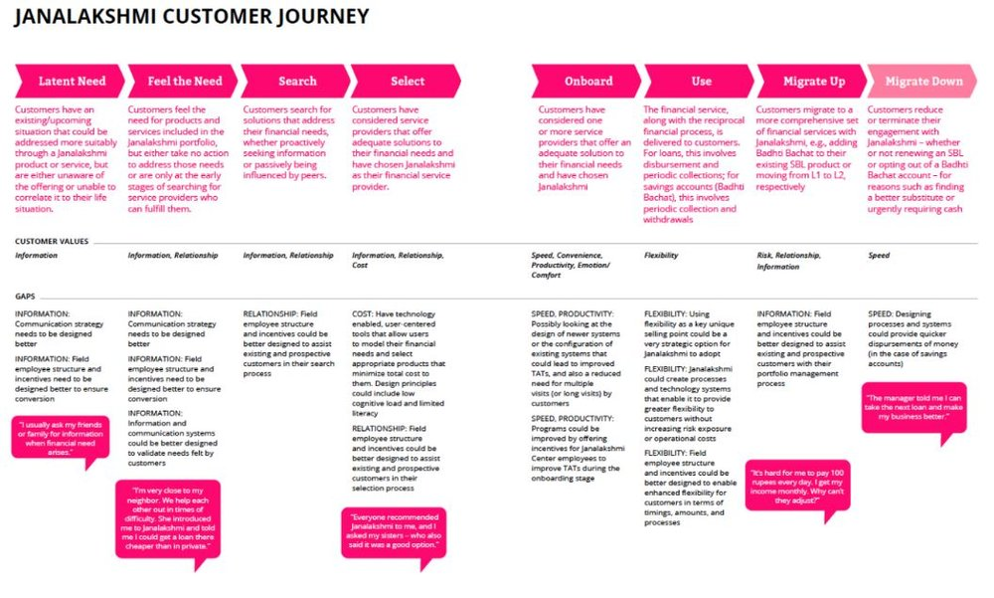 Customer Journey Map from Janalakshmi, India From CGAP Customer Experience Toolkit