[Press release] Catalyst Fund announces its tenth cohort of companies
Each startup is providing inclusive fintech solutions to enhance the resilience of climate vulnerable communities
February 23, 2022 - 4 mins read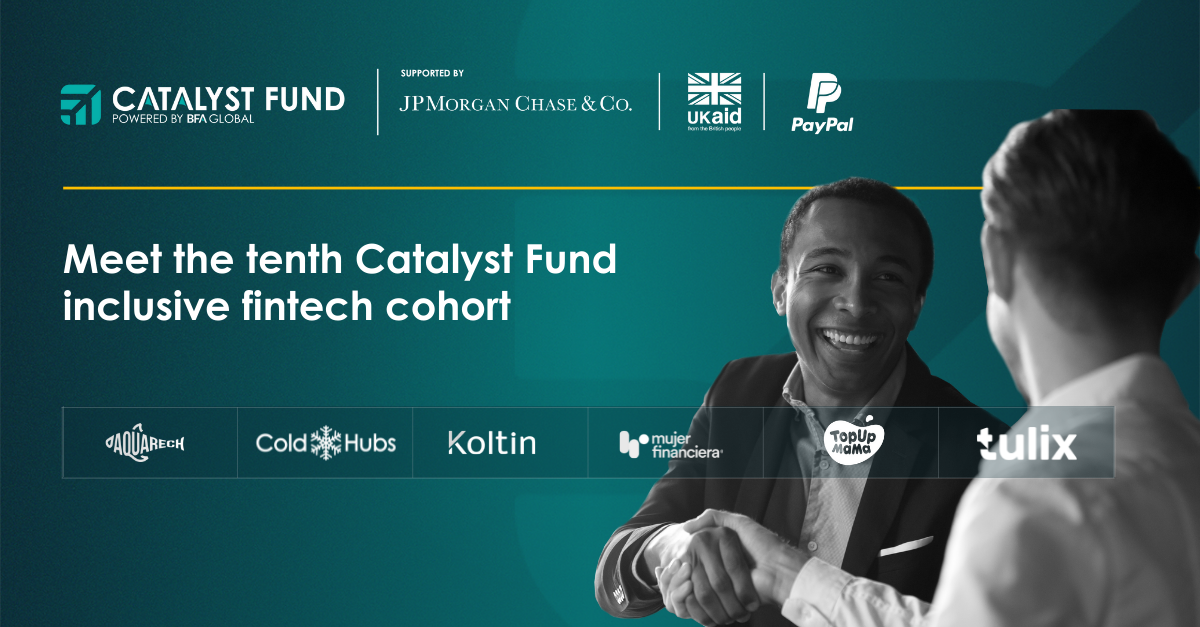 NAIROBI, Kenya, February 23, 2022 – Global inclusive tech accelerator Catalyst Fund, managed by BFA Global, today announced its tenth cohort of fintech companies that are building solutions designed to improve the resilience of underserved and climate-vulnerable communities in emerging markets. Catalyst Fund is supported by the UK Foreign, Commonwealth and Development Office (FCDO), JPMorgan Chase & Co., and PayPal, and fiscally sponsored by Rockefeller Philanthropy Advisors. Catalyst Fund has recently explored the role of fintech innovation in increasing the resilience of climate-vulnerable populations, and has selected its latest cohort based on these insights.
"Low-income and underserved communities in emerging markets will bear the brunt of the climate crisis, yet contributed the least to it. The impacts of climate risks are predicted to be expansive, affecting communities in wide-ranging and unforeseen ways. It's fundamental to invest in solutions that build resilience to shocks and ensure these solutions are reaching the most vulnerable," said Maelis Carraro, Managing Director of Catalyst Fund. "We have explored models that push the frontier of current thinking around resilience-building for climate-vulnerable people, and we are energized to explore how fintech innovation can help these populations, by supporting pioneering entrepreneurs in Kenya, Nigeria and Mexico. We look forward to exploring this innovation frontier for fintech with the invaluable support of JPMorgan Chase, FCDO, and PayPal."
The companies joining the tenth Inclusive Fintech cohort are:
These companies will join Catalyst Fund's existing portfolio of 55 companies and receive catalytic capital, bespoke and expert-led venture building support from BFA Global, and direct connections with investors, corporate innovators and talent networks that can help them scale. Catalyst Fund will continue to explore the opportunity for inclusive fintech innovators to enhance the resilience of vulnerable populations. 
"At PayPal, we believe digital finance innovations can help power greater climate resilience around the world," said Sri Shivananda, EVP and CTO, PayPal. "We are excited to welcome the next cohort of startups into Catalyst Fund, and to support fintech innovators that are helping people to anticipate and recover from disasters, adapt livelihoods, and build long-term resilience to unforeseen impacts of climate change."
Climate change and inequality are critical challenges of our time, and current estimates suggest that the total addressable market for resilience solutions is almost 50 percent of the world's population. Inclusive tech providers are making inroads with pioneering models that can serve climate-vulnerable populations and improve their resilience to shocks. While there is growing willingness among investors and government to support such solutions, many are not tailored for vulnerable people, and there remains significant uncertainty about how they can effectively reach those who need them most. Catalyst Fund has drawn on its investment experience and research, including the Digital Finance for Climate Resilience (DF4CR) Framework for Action – interdisciplinary research led by the DF4CR Task Force – to select and support key models and products it believes are ripe for scale and replication.
"Finding concrete and practical solutions to enable communities, particularly in developing countries, to adapt and grow more resilient to climate change has never been more important," said Siân Parkinson, Inclusive Digital Finance Lead, UK FCDO. "Fintech has already revolutionized the way financial services are provided in many countries across the globe, and we look forward to seeing how Fintech innovations can deliver positive impact aligned with our international climate adaptation and mitigation goals. We are excited to partner with Catalyst Fund and see this cohort's focus on developing climate responsive solutions."
"JPMorgan Chase is committed to helping advance a sustainable and inclusive economy by helping clients transition to a low-carbon world, supporting green initiatives as part of our $2.5 trillion sustainable development target and minimizing the environmental impact of our own operations. In addition, we are helping advancing community resilience to climate change," said Miriam Freeman, Vice President for Global Philanthropy at JPMorgan Chase. "We are pleased to support Catalyst Fund's latest cohort in fostering inclusive technology as an important part of an inclusive economic recovery."
To date, Catalyst Fund has raised more than $446 million in follow-on funding and reached over 10 million low-income customers. Startups in this cohort were approved by Catalyst Fund's Investor Advisory Committee (IAC), formed by six leading fintech and emerging market investors from around the world: Anthemis, Quona Capital, Better Tomorrow Ventures, Flourish Ventures, Accion Venture Lab and Gray Ghost Ventures.
For further enquiries, contact Keeya-Lee Ayre, Head of Communications & Influence, BFA Global: kayre@bfaglobal.com.
# # #
About Catalyst Fund 
Catalyst Fund, managed by BFA Global, is a global accelerator that supports inclusive fintech innovators and facilitates the growth of innovation ecosystems in emerging markets. Launched in 2015, with support from JPMorgan Chase & Co. and the Bill & Melinda Gates Foundation, Catalyst Fund's Inclusive Fintech program provides startups with flexible capital, bespoke venture building support from emerging markets and fintech experts and access to a global network of investors and corporate partners, while sharing learnings and insights with the broader inclusive tech ecosystem. Its mission is to accelerate the development of affordable, accessible and appropriate digital financial solutions to improve the financial health of the world's 3 billion underserved. Its focus markets include Kenya, Nigeria, South Africa, Mexico and India.
The flagship Catalyst Fund inclusive fintech accelerator is supported by FCDO, JPMorgan Chase & Co., and PayPal, and fiscally sponsored by Rockefeller Philanthropy Advisors.