Lessons from building innovation ecosystems: 8 key tips for startups planning partnerships with corporates
December 8, 2021 - 6 mins read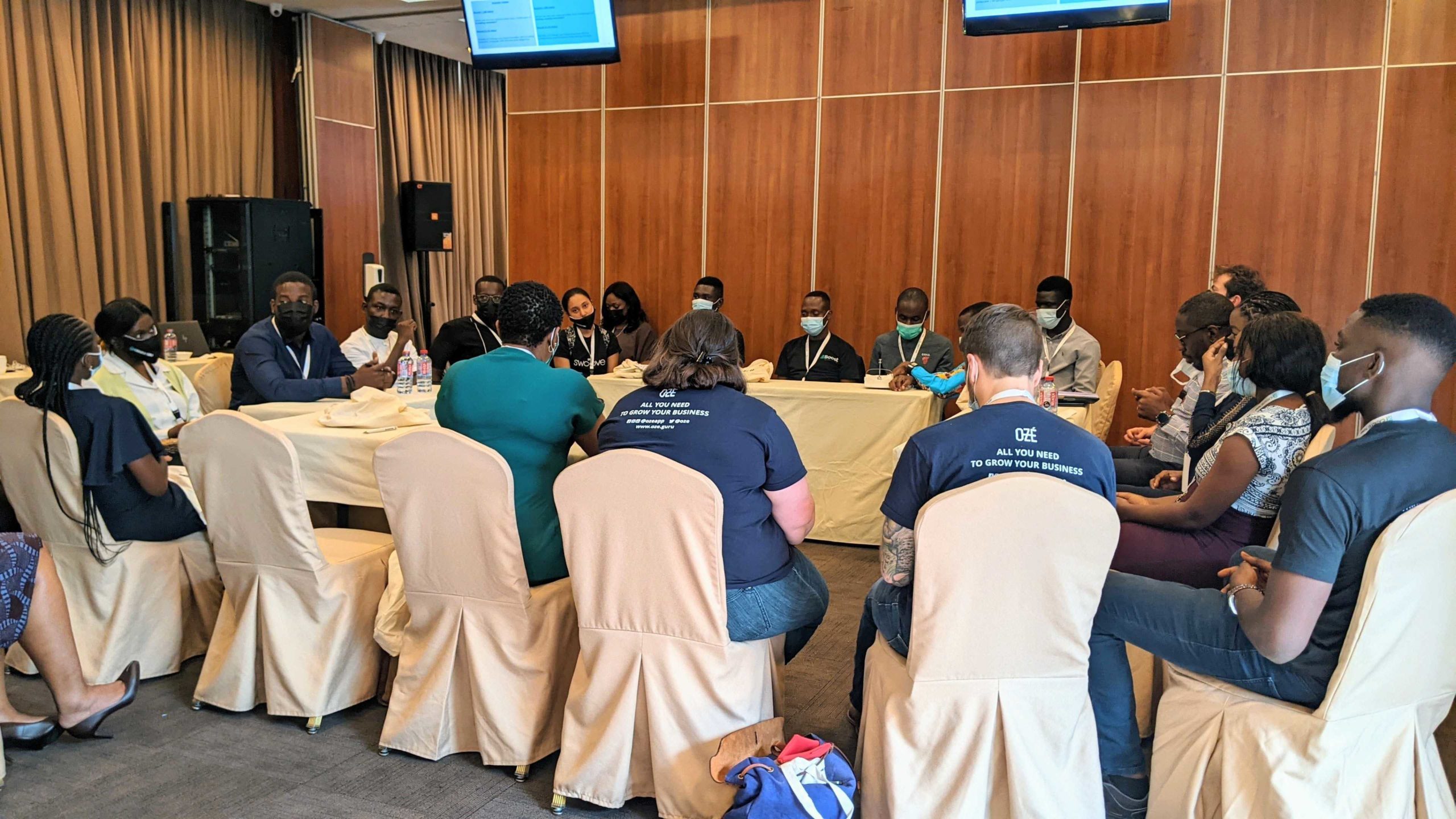 In November 2021, Catalyst Fund organized an in-person corporate-startup roundtable during its Inclusive Digital Commerce local investor event in partnership with the African Early Stage Investor Summit. The meetup in Accra, Ghana, was one of 10 events happening in cities all over the continent. 
In attendance were two members of Catalyst Fund's Circle of Corporate Innovators (Access Bank and First Bank), one microfinance institution (AdVans) and eight startups, including five of the Catalyst Fund Inclusive Digital Commerce program portfolio companies (Oze, Shopa, Swoove, Tendo and Boost), as well as OTI, Jetstream and DigiStore. 
In addition to bringing together about 70 of our program stakeholders for the first time in 18 months, we also organized the roundtable to bring ecosystem actors together in an open forum for startups, corporates, and investors to:
Understand the challenges they face partnering with each other

Co-create solutions to some of these challenges

Discuss how Catalyst Fund can help facilitate these partnerships and smooth out frictions

Highlight corporate innovation priorities that present opportunities for partnerships with startups
From our five years of direct experience, below are 8 key tips for any startup to consider when planning to partner with corporate organizations. 
Tip #1: Use pilot programs as an entry point
Corporate organizations are slow to change. This is especially true for those operating in the financial services space, governed by several processes, regulations and risk management practices. These make it difficult for corporate organizations to embark on wide-scale rollouts of new products and services. 
One way this can be navigated by startups is the use of pilot programs. Pilot programs are generally faster to implement with lower budgets, approval processes and change management requirements. Some of our Circle members have indicated that they currently have dedicated budgets for pilot programs that they can quickly deploy to find exciting partnership opportunities.
Startups can use these pilots as an excellent way for corporates to test out innovation in a safe and controlled environment before pushing for broader adoption based on the pilot results. A successful pilot gives credible evidence for corporate innovation teams to secure executive buy-in for more far-reaching partnership agreements.
Tip #2: Secure the right point of contact
It is critical to have the right point of contact (PoC) because corporate organizations are huge and made up of people with different and sometimes disparate functions. Startups should ask the right questions to ensure that they always have the right PoC and invest their time wisely.
The PoC helps channel necessary documentation such as proposals to the right stakeholders while also providing the startup with feedback and advising on adjustments, additions, timelines, etc. In some cases, the PoC becomes the "voice of the startup" within the organization, sometimes pitching the startup to other stakeholders who have no prior knowledge. 
In selecting a PoC, this person must clearly understand the value the startup is proposing and the authority to push opportunities/propositions through the target organization. It is also crucial that the success of the proposal ties into the PoC's performance, as measured by the organization. This is the primary incentive for the PoC's involvement and active engagement/support.
Tip #3: Validate your proposition first
Data is a huge part of the decision-making process of large organizations. A startup needs to validate its proposition and gather sufficient data points to support it. For example, a startup offering lending will need to present the size of its loan portfolio, performance of the loans, growth on a month-on-month and yearly basis, the demographics of its customers, etc. 
A data-driven approach helps to simplify the decision-making process for the potential partner and leads to quick stakeholder buy-in. When providing data on a partnership opportunity, it is advisable to reference the financial performance of previous engagements. Startups can also offer financial models where previous data does not exist.

A startup looking to partner is also only likely to make favorable progress if they can also use data to show that their value proposition works at scale. If a startup can only serve a limited number of customers at a time, it is best to focus on building scale or seek a partner operating at a scale that they find more manageable.
Tip #4: Design a compelling and clear proposal with supporting business case 
A clear, well-written, structured and concise proposal is an invaluable tool when initiating any partnership conversation. This helps the startup's point of contact to have a complete understanding of the value proposition and how to position it. It also gives them a sense of how well it will be received and if it aligns with the organization's current focus areas. This proposal also shows what the institution stands to gain and how this will happen. It is essential to keep in mind that people from different corporate departments will read this proposal. A common mistake is for startups to present overly technical or not technical enough proposals. Finding the right balance is essential to appeal to the business and technical side of the prospective partner. 
The length of the proposal is a factor to consider. People at the target organization likely see several proposals within a short time. They are also busy managing other deliverables/priorities. A proposal needs to be direct, exciting and meaningful in as few pages as possible so that the length is not a deterrence for reading through. A clear layout with appropriate headings can also help readers quickly scan the content to find relevant sections.
Great proposals clearly state the financial value of the partnership and simplify the work that your PoC has to do to make the business case internally.
Tip #5: Understand that timing and patience are critical
As a startup seeking a business relationship with corporates, it is a good idea to get a sense of the corporate's business calendar and understand when they will be most disposed to a partnership opportunity. For example, submitting a proposal at the end of the year (well into Q4)  is not a good approach with commercial banks. Budgets are pretty much exhausted at this point, and there is less receptiveness for new business initiatives. The emphasis has shifted to improving the performance of ongoing projects/partnerships and bolstering the end-of-year reports.
On the other hand, startups also need to understand and prepare for lengthy corporate decision-making processes. Corporations tend to be resilient and successful because of their ability to make the right business decisions. This decision-making process considers historical evidence, economic trends, the competitive landscape, the organization's vision and future objectives, etcetera. Unlike individual buying decisions, corporate buying decisions are never made on impulse or emotion and involve several people making the buying decision. During this complex B2B sales process, startups need to transition from a pitch-led approach to a listening-led one.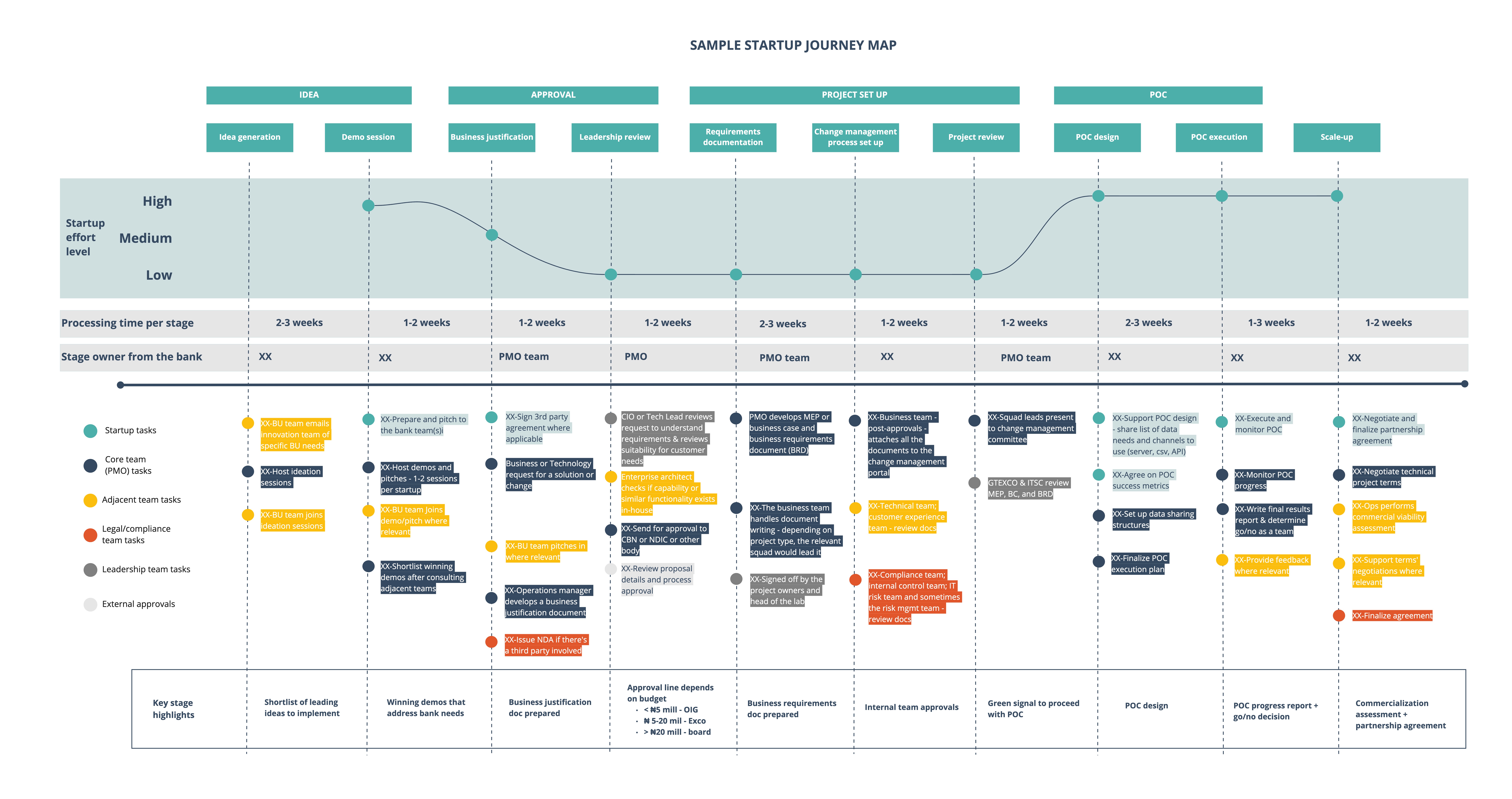 Sample Startup Partnership Journey Map – View the full map here
Tip #6: Align with advocacy/interest/support organizations
Corporate-startup partnerships are challenging to navigate alone. It can be beneficial to create relationships with organizations that can give startups access to potential partners, lend credibility to partnership conversations, influence partnership conversations, or provide advice and mentoring for navigating these relationships.
In some markets, startup advocacy groups have helped lobby governments for licenses, making startups better positioned for partnerships. We have also seen startups gain a lot of traction by approaching the umbrella organizations for financial service providers and having them make introductions on their behalf.
Support organizations also have a significant role to play. Since the launch of our Circle of Corporate Innovators early this year, Catalyst Fund has facilitated over a dozen curated introductions between members and companies in our portfolio. Several of those introductions are now at various stages of partnership discussions. A few of these corporate-startup matches are almost at sign-off.
Tip #7: Consider the risks involved and plan for them
Risk is a huge consideration in any business venture. It is a critical consideration in sensitive industries such as financial services and consumer data protection. When seeking a partner in these and similar areas, startups need to undergo risk analysis to determine the level of exposure they could potentially pass on to the customer. After risk identification, startups need to rank these risks and put appropriate risk management plans around avoidance, transference, or mitigation. A robust risk management strategy signals to the potential partner that the startup is mindful of the potential risks and will not unreasonably expose the partner to such risks.
Tip #8: Obtain regulatory compliance and central bank approval 
Large corporations are heavily regulated. This is in part a consequence of the invaluable role they play in supporting the economies of their respective geographies. It could be because regulation is often some steps behind innovation in some cases. 
Where regulation is required to operate, e.g. payment processing, startups need to get the appropriate licenses and approvals because corporate partners will require them as hard criteria for any partnership to be considered. A few months ago, BFA Global worked with the Cambridge Center for Alternative Finance to create five decks that serve as a comprehensive guide to fintech regulation in emerging markets.
In Ghana, where we held the local investor event, we continue to be encouraged by the signals and tangible steps taken by corporate innovators, who view startups as partners who can bring digital collaboration, good value on analytics and deeper knowledge of customer segments, and improving digital payments and collections through their fintech knowhow. 
As for Catalyst Fund's next step for accelerating the ecosystem, we are organizing an ecosystem workshop for investors. Contact us if you are a startup or investor and would like to participate.