Fintech's unfulfilled promise: why many Mexicans remain excluded
April 27, 2020 - 6 mins read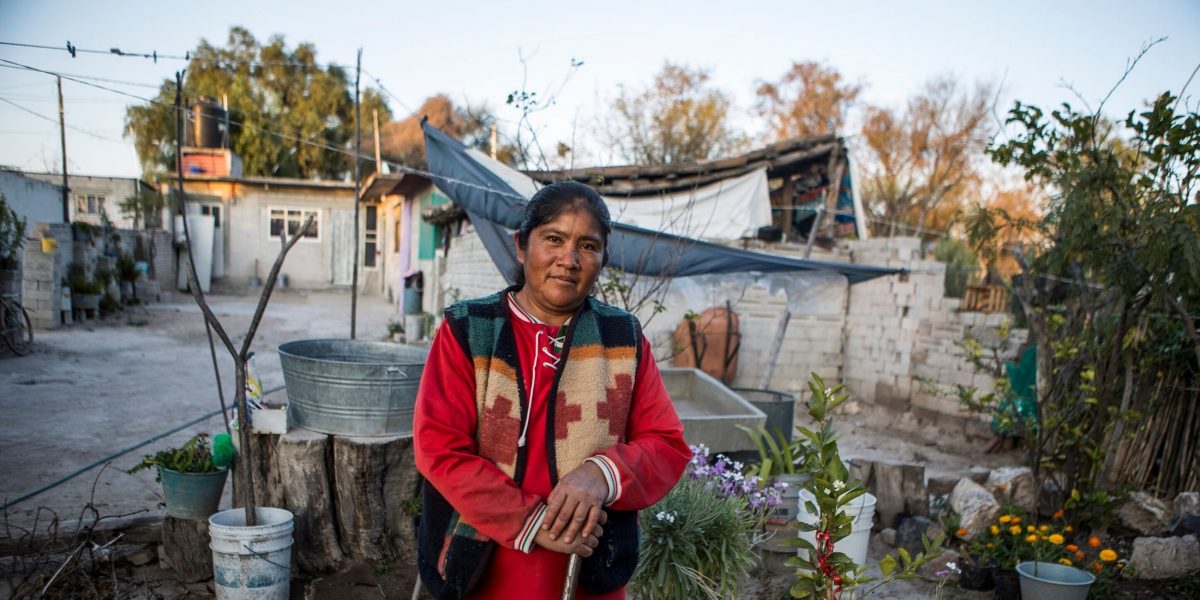 Mexico's vibrant, yet uneven fintech landscape
Mexico is an exciting market for fintech innovation and has been growing at impressive rates, but digital financial inclusion still has a long way to go before reaching what has been achieved in markets like Kenya. On one hand, Mexico features deep mobile and smartphone penetration and a booming community of startups and investors. On the other hand, over 50% of Mexican adults remain unbanked – among the lowest rates of inclusion in the region and 20% lower than other countries with similar per-capita income globally.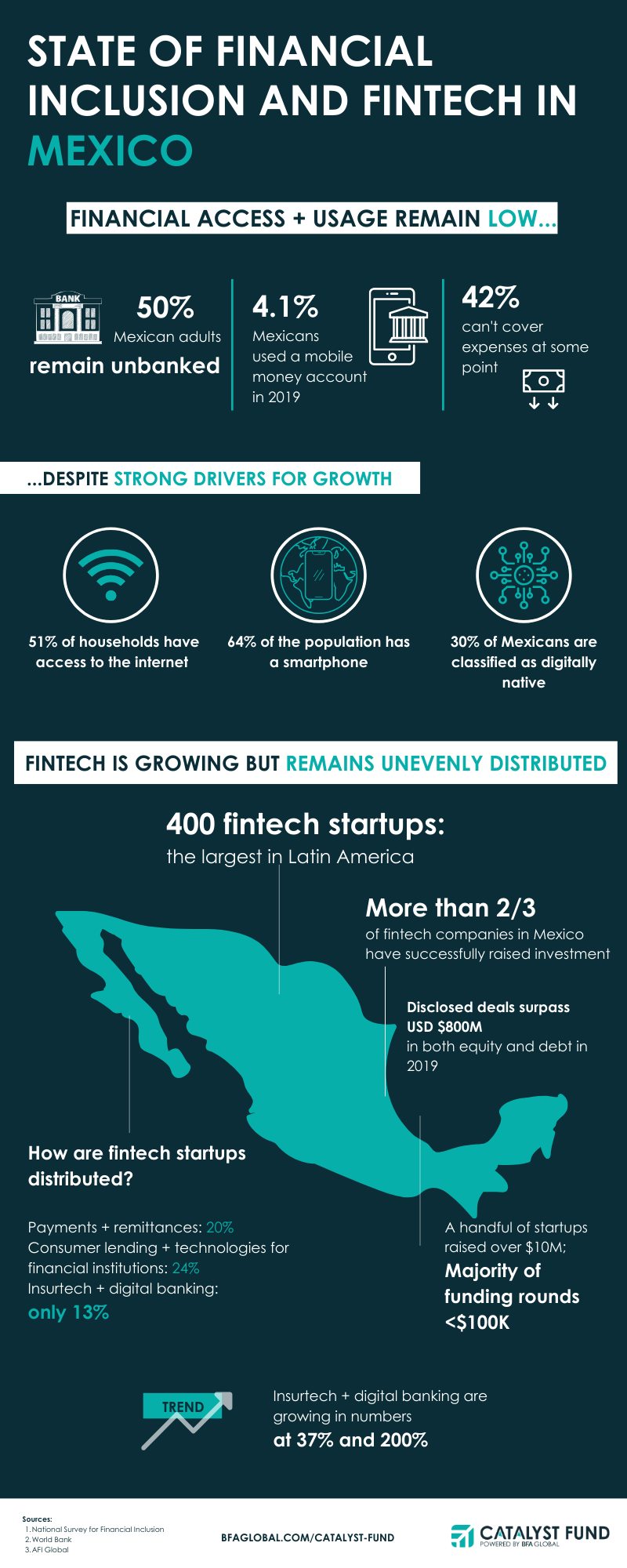 While fintech solutions like mobile money have contributed to closing the financial inclusion gap in many emerging markets, fintech innovations in Mexico still have a way to go to truly reach low-income and underserved segments, and contribute to improving their financial health.
Mexico is home to the largest number of fintech startups in Latin America – over 400 as of 2020. It is easy to see why founders view Mexico as an attractive market; 51% of households have access to the internet and 64% have a smartphone. Further, Mexico boasts a tech-savvy population, with 30% of Mexicans classified as digitally native, an easier segment to target with digital financial offerings.
Investors have noted these favorable conditions. Over two-thirds of the fintech companies in Mexico have successfully raised investment, with the total value of disclosed deals surpassing USD $800M in both equity and debt. In 2019 alone, Mexican payment startup Clip raised $100M and SME-lender Konfio raised $250M to provide loans to small businesses. Credijusto raised over $420M, and Klar raised $57.5M – one of the largest seed investments ever made in the country.
Amidst this excitement, it is easy to overlook the uneven distribution of both investment capital and access to fintech products. To start, only a handful of startups have managed to raise over $10M; the large majority of funding rounds fell below $100k. Furthermore, Mexico's low-income and remote populations are largely excluded from access to fintech products.
As a sector, we are still far from finding product-market fit to reach these underserved populations and facilitate their financial lives in a holistic way. We see three reasons for this: high levels of informal practices and low usage of formal financial services, fintech innovators concentrating on the urban middle-class and constraining fintech regulation.
Cash and informal products are still king
The National Survey for Financial Inclusion found that, although mobile banking has increased six-fold since 2012, only 10% of adults use their phones for mobile banking today. Only 4.1% of adults report having used a mobile money account in the previous year. This is in sharp contrast to Kenya, where over 80% of adults report using a mobile money account. In Mexico, Cash is still king, with around 90% of payments made in cash, even for larger purchases (MXN $500 and above).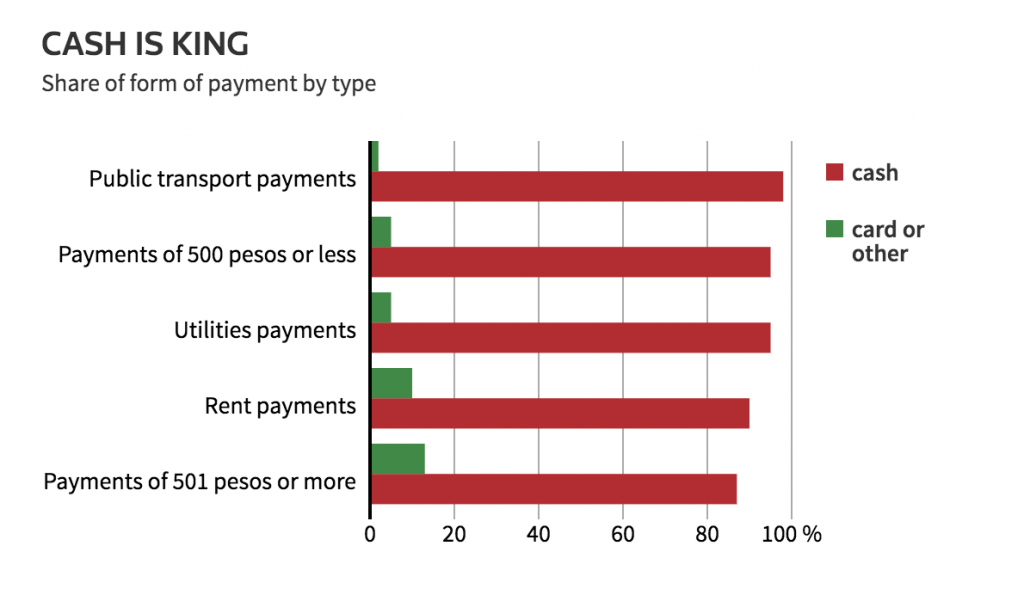 Weak uptake of digital financial services is underlined by weak usage of formal financial products. The reality is that most Mexicans still rely on informal financial services, perhaps because most (57%) work informally. Less than 40% of the population over 15 years of age has a bank account, compared to 70% in Brazil and 74% in Chile. Even among the limited account holders, almost half of accounts remain inactive, and most are used only for immediate withdrawals. Over 95% of Mexicans do not make voluntary deposits in individual savings or retirement accounts and are instead likely to save in less formal ways (e.g., individually at home, or collectively through savings groups and 'tandas').
It is no surprise that these gaps are even more dramatic among rural, migrant and low-income populations. For example, BFA Global's Financial Diaries study found that low-income Mexicans use fewer formal and informal financial instruments – only 7 on average – compared to 14 in Kenya and 10 in India. The share of low-income people who save at a financial institution is only 4% in Mexico, compared to 12% in other middle-income countries. 
Altogether, these gaps in access and low usage mean that financial health levels in Mexico are worrisome. According to the 2018 National Financial Inclusion Survey, over 42% of the adult population report that their income did not cover expenses at some point in the past year. Twenty percent of men and 13% of women turned to a solution related to work (salary advance, extra hours or a temporary job) to cover expenses, which is not available to those working in the informal market.
Fintech innovation is concentrated in a few sectors and regions, and urban among middle-class users
Although the number of startups in the Mexican fintech space has grown at an average rate of 23% annually since 2016, innovation and investment remain concentrated in few sectors and regions, mostly reaching the urban middle class. 
According to the latest Finnovista Fintech Radar, most startups in Mexico are in payments and remittances (20%), followed by consumer lending and technologies for financial institutions (12% each). In contrast, insurtech and digital banking startups constitute only 13% of fintech startups.
This concentration is mirrored by geographic outreach. Over two-thirds of startups are located in Mexico City, and others tend to be concentrated in middle-to-high income areas like Monterrey and Guadalajara.
Most users also tend to be middle class. This may be because products and services offered by these companies are designed for skills, resources, and access points that most Mexicans don't have. In other words, these services are mostly designed for the literate, mobile and tech savvy and, in the case of digital financial services, the already banked. For example, many startups use credit bureau reports to screen applicants, which excludes large numbers of unbanked Mexicans.
Even though 35% of fintech startups in Mexico claim to be extending services to individual consumers or SMEs, evidence of this focus is scarce. One ray of hope is that sectors are diversifying. While insurtech and digital banking are starting from a low base, they are growing in number at 37% and 200% respectively.
Fintech regulation is on the right path but needs to further level the playing field
The Mexican government has made significant improvements to regulatory frameworks in order to enable more innovation. The Fintech Law issued in 2018 aimed to enable the development of fintech solutions for inclusion by redefining capital requirements and transaction limits, and creating regulatory sandboxes. Additionally, the Central Bank recently launched the Cobro Digital System (CoDi), an interoperable payment switch, to facilitate digital payments. Mexico is also betting on mobile-first financial services, as indicated by a number of growing neobanks, and efforts towards implementing open banking to drive a more open and customer-driven financial system.
However, the government could further level the playing field by lowering entry barriers for consumers. For example, CoDi still requires users to have a bank account and a smartphone to scan QR codes, which leaves out a large segment of the population. The CoDi system also faces a number of adoption challenges, including security concerns and a general distrust in banks among consumers. Critics of the Fintech Law also point out that, while a step in the right direction, it could do more to favor competition and extend access through mobile money services built on 2G technologies. 
Accelerating the creation of fintech solutions for the underserved
A lot remains to be done to create affordable, accessible, and appropriate products that truly reach the underserved and can improve their financial health. Catalyst Fund is launching in Mexico to support fintech innovators who are doing just that.  
Mexico has a number of initiatives focused on incubating or accelerating startups, such as Gentera's Fiinlab, Village Capital, Unreasonable, 500 Startups, New Ventures and others that have bolstered the support ecosystem for entrepreneurs over the past few years. Catalyst Fund's accelerator brings a global perspective that aims to spur innovative digital financial solutions that can fill the financial inclusion gap. Over the past four years, we have accelerated 31 early-stage startups across 14 markets, who collectively reach close to three million underserved customers. 
In Mexico, we worked with Comunidad 4Uno, a digital platform that provides insurance and health benefits to domestic workers in Mexico who were previously invisible to the financial system. 4Uno's online marketplace offers employers a suite of carefully curated, affordable financial and non-financial products and services that benefit both the employer (the purchaser) and employee (the domestic worker). Their annual "benefits packages" for employees includes accident and life insurance, unlimited medical phone calls, an annual health checkup and doctor visits.  The basic package costs the equivalent of about USD$25 per year and can be extended to immediate family members for a moderate fee.
We also helped financial health platform Destacame refine their product and strategy in both Mexico and Chile. Destacame joined Catalyst Fund in 2016 with the goal of helping underserved Latin Americans access credit. Since then, their search for product market fit resulted in a holistic financial management platform that has created a pathway to financial health for over 2.5 million individuals across Mexico and Chile. They make the formal financial system more accessible to many underserved people, empowering and enabling them to access better financial products. 
As we look toward the next three years, we hope to support many more startups like Destacame and Comunidad4Uno in Mexico that develop solutions aimed at improving the financial health of low-income individuals and small businesses across the country.  In particular, we hope to focus on solutions that bolster financial health, such as insurtech and savings/investments, business models that expand access for remote and low-income populations, and platforms that serve the increasingly large share of gig workers.  
Catalyst Fund will support innovators with grant capital, bespoke venture building support and access to networks of investors and global partners, bringing to bear four years of experience developing inclusive fintech solutions and innovation ecosystems all over the world. Partnerships with local accelerators, investors, and sector stakeholders will be central to supporting the overall ecosystem. We are developing local networks, or circles, of investors and corporate innovators that are interested in fintech to facilitate partnerships, investment opportunities, and cross-learning. We also continue to share insights from our work with early-stage ventures across emerging markets. For instance, we're already engaging our circles to discuss reactions and next steps for fintech startups in light of COVID-19 via webinars, and offering strategic advice. 
If you are: (a) an early-stage inclusive fintech startup trying to find product-market fit; (b) an investor looking to source de-risked, pre-seed/seed investment opportunities; or (c) a corporate searching for innovative partnerships that advance the financial health and resilience of underserved Mexican communities, stay tuned for the official launch of Catalyst Fund in Mexico and contact our Country Manager, Eduardo Ortiz Reynaga at ereynaga@bfaglobal.com.