Meet FarMart, the customer service app for India's agri-input merchants
April 3, 2020 - 4 mins read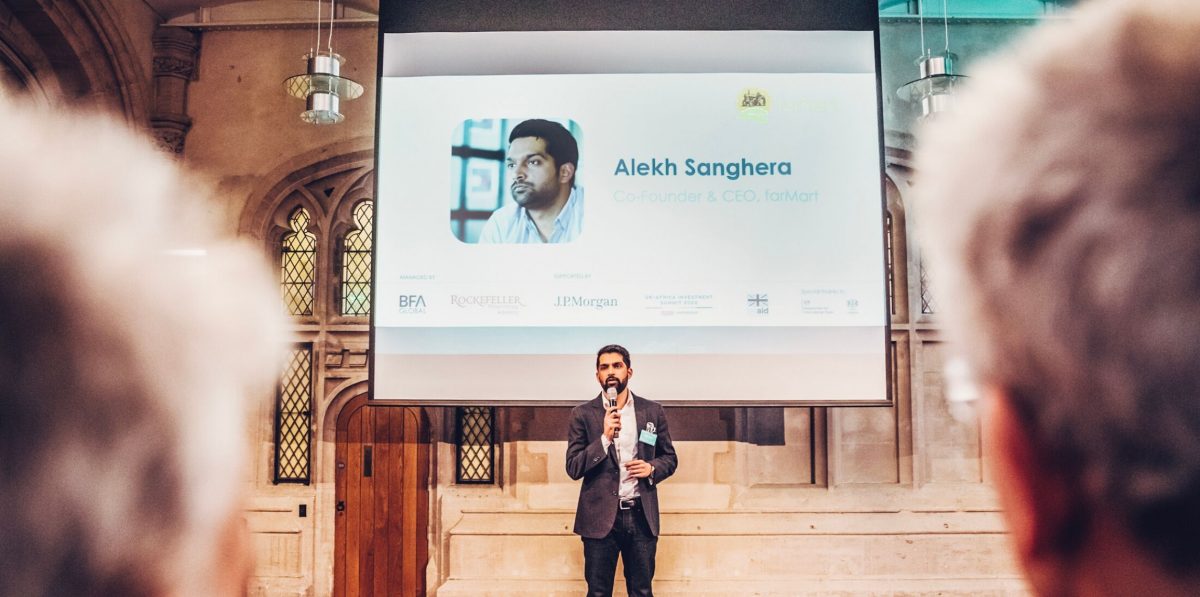 FarMart aims to improve the efficiency of India's agri-input supply chain 
Catalyst Fund accelerates startups that excel on three fronts:
Impact

: Catalyst Fund startups deliver (or, in the case of B2B firms, facilitate the delivery) of life-changing products and services to underserved populations. These can include financial services like loans, savings, insurance, and investment, but also access to productive inputs or essential services such as energy, sanitation, and water.

Innovation

: Our startups are pioneering game-changers that are innovating new products and business models. They drive the sector forward by demonstration effect and via the learning that Catalyst Fund documents and shares.

 
Growth potential: Catalyst Fund startups are distinctively investment worthy, developing businesses that are scalable, with high growth potential. Our startups are selected by an Investor Advisory Committee, who have deep experience in emerging markets and nominate high-potential startups, and then sponsor and mentor them through Catalyst Fund. As a result, our startups raise more funding than startups from other accelerators.
FarMart is a customer service app for agri-input merchants in India that enables them to better communicate with the farmers they serve. These agri-businesses in rural areas and small towns are owned and managed by a single merchant and act as last-mile suppliers for farmers to buy seasonal inputs, such as pesticides, fertilizers, and seeds. The FarMart app allows the merchants to provide a superior customer experience at their stores. Merchants can register farmers, raise digital invoices, communicate changes in inventory and provide advisory services to their farmers through the mobile app.. 
Their goal is to strengthen the merchants' relationship with their farmers by increasing customer loyalty through a better customer experience. In the future, they also want to make the agri-input supply chain more efficient in India, starting with agri-merchants, so they can eventually enable more value to be passed on to the farmer.
Impact
In a population of 1.3 billion, over half of Indians depend on agriculture for their livelihoods. Yet the industry's overall contribution to GDP is only about 16%. This is due in part to gaps in agri-supply chain financing. Players at all levels of the supply chain – from input suppliers, to farmers, to produce distributors – lack access to capital needed to address problems of low-quality inputs, storage facilities, unreliable logistics, and lack of aggregation. Lack of capital, as well as "insufficient coordination" for an end-to-end supply chain, has made it difficult to orchestrate improvements among these actors.
Agri-merchants in rural areas and small towns present a powerful way to intervene in the supply chain. There tend to be upwards of 25-26 agri-merchants in a single marketplace, together serving 7500-7800 farmers. They are the primary touchpoints for millions of farmers, and act as a trusted resource in the community.
Unfortunately, cutthroat competition among agri-merchants has created a vicious cycle that harms both merchants and farmers. Agri-businesses tend to cut their own margins to sustain their enterprises, even when their businesses barely break even. Some agri-merchants may also engage in practices like saving specific brands of products for particular farmers, making it difficult for others to access the same quality inputs. In turn, farmers spend more than they need to, and their land can deteriorate over time from the overuse of chemical products.
FarMart hopes to improve this cycle by enabling merchants to better track and understand the needs of the farmers they serve, and, in turn, create positive outcomes for those farmers. Their app allows merchants to better track their clients and their needs to improve sales, offerings, and engagement. To start, the app creates a way for merchants to register their customers; what they buy and when. This record allows merchants to quickly view past purchases and outstanding payments, so they are better placed to target offers and understand their overall portfolio. The app also provides business intelligence based on the overall registry so that the merchant can stock sufficient inventory and prepare for seasonal highs and lows.
With FarMart, merchants can contact and connect with farmers in a coordinated and strategic fashion. FarMart provides data-driven, validated marketing schemes to help merchants craft attractive deals and discounts. Merchants can target these marketing messages, as well as reminders and other information from within the app.
Together, these services allow merchants to offer crop advisory services and manage their business by better engaging their customers and stocking appropriate, timely and high quality products. Farmers have better access to the supplies they need and access to information about new products and how to use them.   
In the future, FarMart hopes to leverage its network of agri-merchants to improve their collective bargaining power with supplier companies, so they can secure bulk purchases at reduced prices. In sum, the goal is to help agri-merchants achieve improve margins, gain access to financing at lower interest rates and improve the accessibility of high-quality verified inputs, with the ultimate objective of enabling them to offer better prices to farmers.
Innovation
FarMart leverages greater complexity in agri-business as well as the merchants' own growing comfort with technology to offer an app-based solution that will eventually serve as a channel for a variety of services and data. Especially in village centers, merchants are young, aspirational, and tech-savvy. They are looking for ways to grow and modernize the businesses they inherited from their families, especially with growing competition from other merchants and e-commerce platforms.
FarMart is unique in its focus on agri-businesses and their desire to craft a tailored, holistic solution that meets their needs, from customer insights, to business insights, to supplier relationships.
Growth Potential
The addressable market size – even just in India –  is significant, as the market value of agri-businesses is estimated at $287Bn, and the numbers of small agri-merchants are close to 1 million. Mobile phone saturation and cheap internet data position FarMart to achieve scale quickly.
But in a country like India that is home to over 19,500 languages and where the government is struggling to reach the masses with digital literacy initiatives, meaningful scale is not an easy nut to crack for fintech startups. FarMart currently operates in Hindi-speaking states and it would take cross-regional partnerships, collaboration with local distributors, and a steady stream of 'early-adopters' of the FarMart app to 'nationalize' its startup.
FarMart has seen rapid growth since it launched and has been able to target merchants who haven't previously been exposed to a business app created just for them. The startup team is determined to create greater efficiencies in the agri-supply chain and make agriculture a respectable, profitable, and a preferred choice of profession for India's next generation.