[Press release] FSD Africa invests $3.5M in Catalyst Fund to accelerate and scale pre-seed impact ventures in Africa
July 14, 2022 - 3 mins read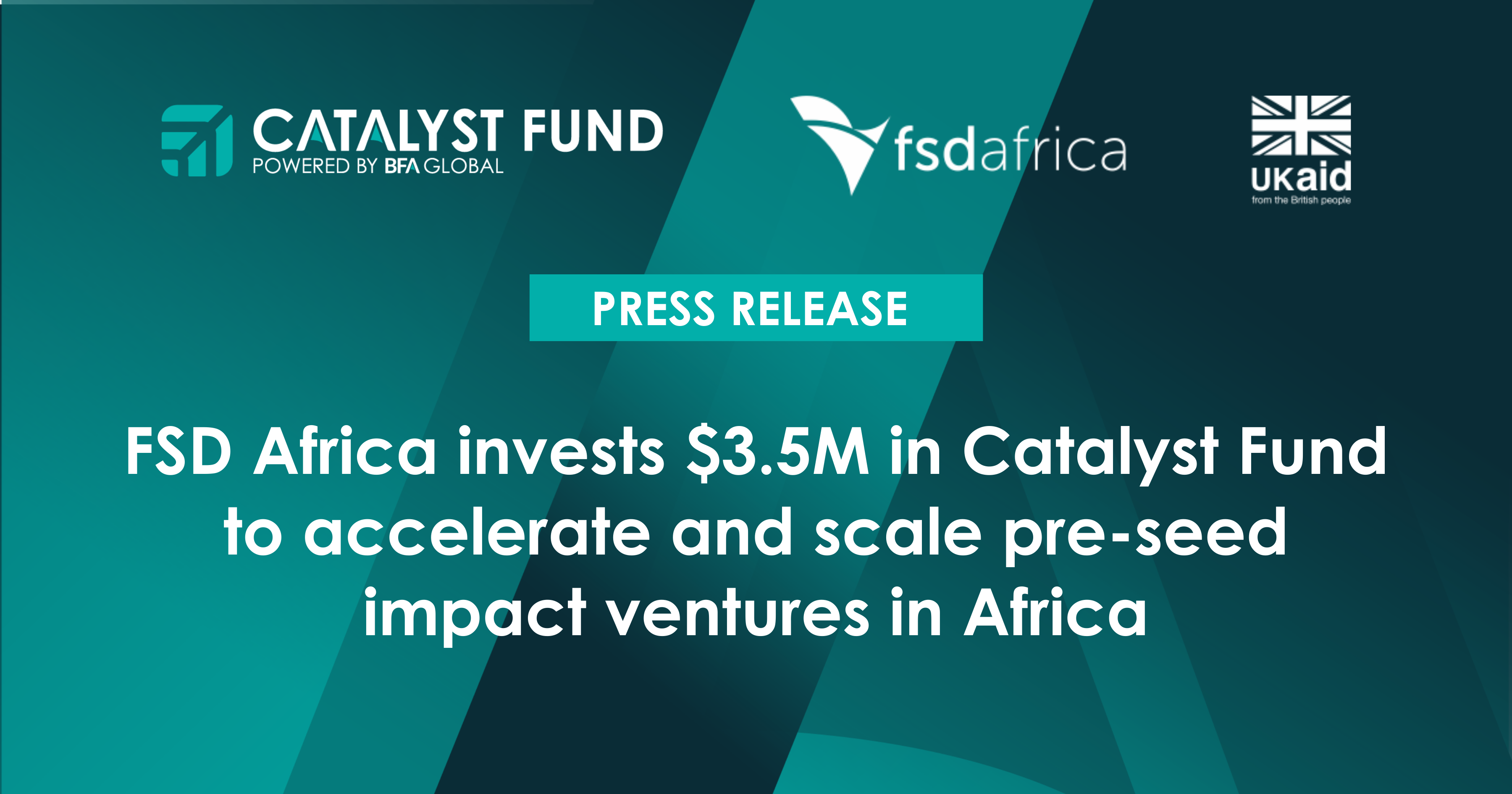 LONDON, UK, July 14, 2022 – Global inclusive tech accelerator Catalyst Fund, managed by BFA Global, announced today that FSD Africa has invested $3.5M to anchor the Fund's presence in Africa, and scale its work as the leading accelerator and pre-seed impact fund for emerging market entrepreneurs. 
With FSD Africa's backing, Catalyst Fund will invest and offer hands-on venture building support to high-impact startups that improve the resilience of underserved and climate-vulnerable communities, with a goal to support 40 pre-seed impact ventures in Africa. The accelerator will also continue to build strong innovation ecosystems by activating investors, capacity building networks, and corporate innovators to unlock capital, attract talent and share knowledge about fintech solutions tailored to those communities' needs. 
Juliet Munro, Director, Digital Economy at FSD Africa said: "At FSD Africa, we believe that a strong, fair and accessible financial system is crucial to a sustainable future for Africa's people and its environment. In particular, we believe that finance can play a major role in tackling climate-vulnerability and that by harnessing the power of fintech innovation we can help address market barriers to building out much needed climate resilience solutions. Our partnership with Catalyst Fund will spur innovation by investing in and supporting entrepreneurs while at the same time helping to influence and expand the pool of investment into this space."
Maelis Carraro, Managing Director of Catalyst Fund, said: "We are thrilled to welcome FSD Africa as an anchor investor of Catalyst Fund to enable our next phase of growth.  The challenge of climate adaptation is central to our core mandate of accelerating innovation that improves the resilience and livelihoods of the world's most vulnerable communities, particularly women. As a woman-led fund, we are particularly proud to share that at least 40% of the founders in our portfolio will be women and at least 80% local to their country of operation. We seek to both transform the lives of vulnerable households and businesses, but also to accelerate the overall innovation ecosystem."
"We will continue to pair our investment with bespoke venture building support from our team of operators and technical specialists, as well as make connections to the 100+ global investors in our community and to our network of founders in emerging markets", continued Carraro. "Our venture builders are the engineers, data scientists and growth marketing experts that early stage ventures don't have access to, who can supercharge their journeys toward building high quality, inclusive products, faster and with less strain on their runway".
To date, Catalyst Fund has backed 61 startups across emerging markets that have together raised more than US$573 million in follow-on funding and reached over 13.2 million low-income customers. The next cohort of startups will feature fintech solutions that build the resilience of underserved and climate vulnerable communities in emerging markets. These can include solutions in fintech and insurtech, agtech, carbon finance, water management, and other key sectors for resilience building and climate adaptation. Startups can apply by visiting http://bfa.works/apply-cf or reaching out to a member of the Catalyst Fund team.
///
For further enquiries, contact Keeya-Lee Ayre, Head of Communications & Influence, BFA Global: kayre@bfaglobal.com
# # #
About Catalyst Fund
Catalyst Fund is a global accelerator that supports inclusive tech innovators in emerging markets offering inclusive solutions for underserved and climate-vulnerable communities, and builds the local ecosystems around them. Our objective is to fill the critical capital and talent gaps that limit innovation potential across emerging markets and foster the growth of accessible, affordable and appropriate solutions for communities that need them most. Launched in 2016, our flagship Inclusive Fintech program is supported by JPMorgan Chase & Co., the UK Foreign Commonwealth and Development Office (FCD), PayPal and the Gates Foundation. Catalyst Fund Inclusive Digital Commerce in Ghana is supported by Mastercard Foundation. Today, Catalyst Fund's next phase of growth is supported by FSD Africa. 
About FSD Africa 
FSD Africa is a specialist development agency working to help make finance work for Africa's future. Based in Nairobi, FSD Africa's team of financial sector experts work alongside governments, business leaders, regulators, and policy makers to design and build ambitious programmes that make financial markets work better for everyone. Established in 2012, FSD Africa is incorporated as a non-profit company limited by guarantee in Kenya. It is funded by UK aid from the UK government.