Two years of catalyzing talent for inclusive fintech startups
March 14, 2022 - 4 mins read
Finding talent is an unprecedented global challenge for employers right now, across geographies, sectors, and sizes. Many fintech startups in emerging markets struggle to find mid-and senior-level talent across all areas, including technical roles, business, product development, strategic or data analysis, customer success, and marketing. At Catalyst Fund, we identified that without appropriate pipelines to build the professional skills and fintech sector interest for early-career individuals, these longer-term talent challenges would only continue.

Through our Inclusive Fintech Talent Program, we have forged partnerships with universities and training programs in emerging markets to provide students and junior talent with opportunities at fintech companies that are building impactful solutions for underserved communities. We work with fintech startups to identify skill gaps that can be turned into opportunities for junior talent. Through our partnerships, we find the best candidates for these roles and prepare them for fintech careers. From March 2020 to December 2021 the program was implemented in partnership with the Cambridge Centre for Alternative Finance at the Judge Business School, which provided unparalleled expertise in talent formation and development, and continues to provide invaluable support to our interns.

Through our Talent Program all interns receive:
A 3-6 month paid internship with impact-oriented fintech startups in emerging markets and the possibility to transition into a full-time role

Exposure to fast-growing fintech markets and the broader fintech ecosystem through training with experts and tailored professional development opportunities

An opportunity to cross-learn from a global community of interns who are all passionate about building innovative technology for the underserved
To date, we've achieved some phenomenal results. We've delivered 18 training sessions covering topics such as the basics of fintech, leveraging social media for career growth, market deep dives on key geographies, digital assets, and time management practices. Interns have been supported with almost 200 one-on-one coaching and mentoring sessions to support their professional development goals.

Our ongoing surveys identified community building and support as vital pillars of building the long-term success and capabilities of the interns. To support this, 18 virtual monthly socials were held, at which 50 interns prepared and delivered presentations to the group on their capstone projects in order to develop and practice their professional skills. These sessions provided an excellent opportunity for interns to learn from one another, and build more meaningful connections.  To date, the quality of the mentoring, training, and coaching provided has been rated 93/100 by the interns, indicating that the support provided is highly valuable to them. When exiting the program, 89 percent of interns have expressed an interest in pursuing a career in fintech. We are extremely proud to report that 64 percent of interns have also been offered a permanent position with the startups following their internships, and this number continues to increase.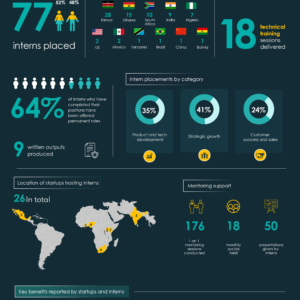 Our model is to provide our startups with de-risked talent so they can get to know candidates through intensive internships. One way we have de-risked them is by funding the internships so that our startups can experience several months of work with the intern before deciding to hire them. This program enables our startups to see the benefits of having interns come on and support them with their business needs. To date, many of our companies have subsequently reached out to us to help them source and place interns at their own expense.
Aside from the opportunity to work at a fast-paced startup, we provide each intern with 1:1 coaching and mentoring, and group soft-skill sessions. We have seen that this form of support has been highly valuable to our interns and has helped to upskill them. For example, we held a session on "receiving and giving feedback to grow your career." During this session we used breakout rooms to understand how our interns have handled situations where they have received feedback from their supervisors, facilitate exchanges among interns about their experiences, and provide them with tips and tricks on asking for feedback. Additionally, the 1:1 coaching and mentoring sessions act as an HR backstop for our interns. These sessions allow us to talk candidly with our interns to understand if they are facing any challenges while working at a startup and provide advice on how they can navigate these challenges.

Through this program, we found that many of our interns came to view a career at a startup as a viable option and wanted to convert their role into a full-time position but did not know how to approach this conversation with their supervisor. In response, our 1:1 sessions helped them think through how they could approach these conversations. 
Much of this program's success can be attributed to our partnerships with high-caliber universities and boot camps that have been fostered over the last 18 months. Some of these partnerships include Carnegie Mellon University Africa, Africa Leadership Academy, Moringa School Kenya, NMIMS India, Columbia Business School, Semicolon, Dufuna, Launch Lab, and many more. We have found that one of the best ways to source excellent students and bridge the talent gap is by directly teaming up with these university and training program partners.

Over these two years, we are proud to say we have found, upskilled, and placed many students and graduates from our partners in roles in fintech. We are continuously looking for partner organizations to bridge the skill gap by connecting junior talent with Catalyst Fund portfolio companies. Students participating in the Talent Program are exposed to exciting, short-term opportunities with some of the most innovative inclusive fintech companies in emerging markets. We also provide student information sessions and seminars on fintech landscapes, as well as guidance on pursuing careers in fintech in emerging markets. To discuss becoming an official partner, reach out to us by email.

We are continually seeking early-career individuals who are passionate about fintech innovation and who can utilize their interests, knowledge, and skills to help build solutions for underserved communities. Prospective interns can find current opportunities here.