Why we invested: KudiGO, bringing e-commerce opportunities to small businesses in Ghana
July 8, 2021 - 5 mins read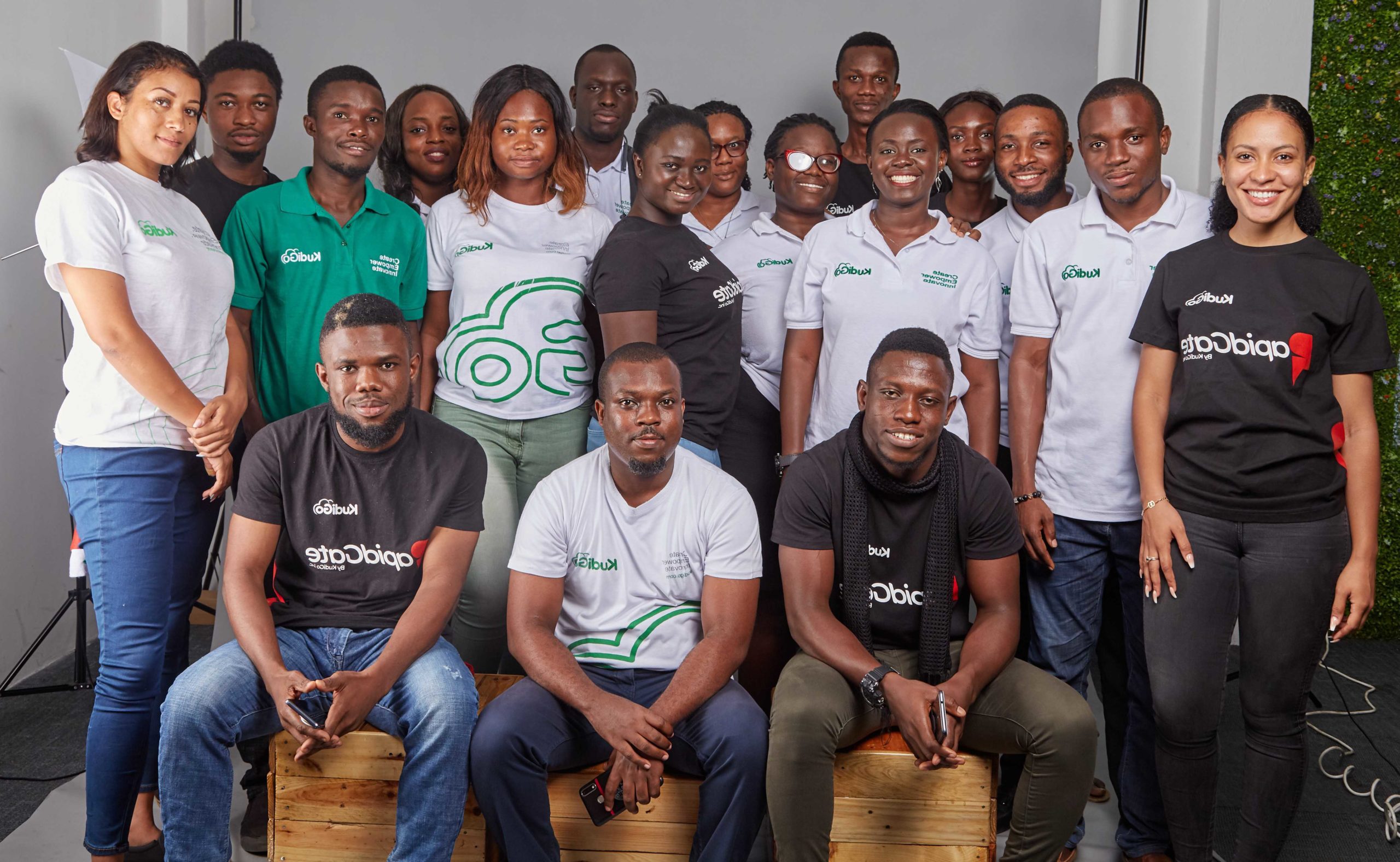 For vendors large and small, managing the day-to-day logistics of running a business is no small feat. Inventory must be tracked; costs and revenue must be accounted for; and, under COVID conditions, digital payments and home delivery managed to ensure customer ease and satisfaction. 
Catalyst Fund Inclusive Digital Commerce portfolio company, KudiGO, helps African retail businesses handle these day-to-day logistics through KudiGO Storefront, a mobile-first retail business suite built on Android OS. The solution is a one-stop platform that enables sales tracking, bulk inventory management, customer management, payments, and invoicing so that small business owners can focus their efforts on growth. 
Founded in 2017, KudiGO now serves thousands of small businesses in Ghana. In turn, KudiGO merchants employ over 14,000 workers and serve over 100,000 customers, of which a third are low-income individuals.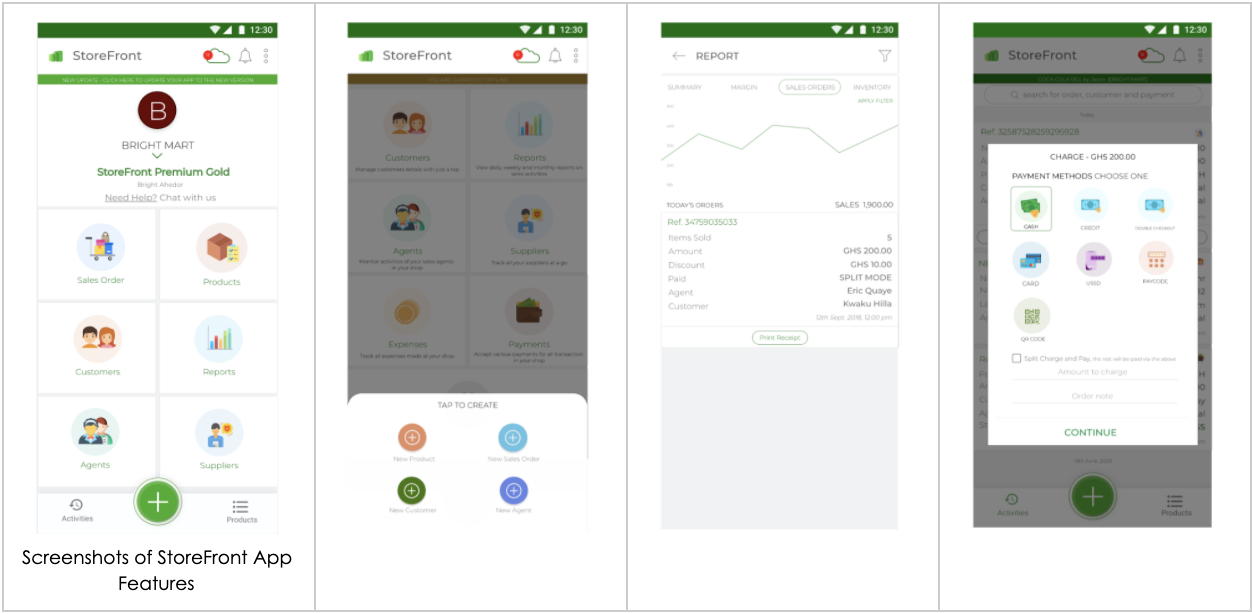 KudiGO has also developed Storefront Mall, an online store builder marketplace that enables KudiGO's clients to sell products via e-commerce, which has become especially important during COVID. StorefrontMall offers a simple process through which users can create an online store, manage deliveries via Bolt, bikes, DHL, and accept payments worldwide, with a no cash policy.
In addition to Storefront, KudiGO is working on developing Foresight, a cloud-based data analytics tool for FMCG companies to provide oversight over products as they move through further downstream in the retail value chain. 
Impact
KudiGO's goal is to solve problems faced by growing micro and small enterprises (MSEs) in Ghana. These businesses are often informally run, meaning they do not have dedicated accounting professionals who keep formal business records. Instead, they tend to manage accounts and inventory via pencil-and-paper and transact in cash. Seeing the inefficiencies of these methods, KudiGO set out to create a holistic solution to ease the burden of management, leveraging digital means. The Storefront app helps cut down on these necessary but unprofitable chores, saving entrepreneurs valuable time that can instead be used for tasks that generate sales. The user-friendly, mobile-first app was designed to support businesses with ten or fewer locations and an inventory of fewer than 5,000 products.
Faced with the COVID-19 crisis last year, KudiGO struggled to retain active users as small businesses were suffering enormous revenue losses; after all, MSEs around the world were folding at much higher rates than their larger counterparts. 
In response, the team quickly developed Storefront Mall to enable businesses to sell online. Storefront Mall allows Storefront users to create an online store with just a click, providing MSEs with digital payments, as well as logistics and last-mile home delivery. Given KudiGO's strong understanding of their users and user preferences, they were able to design a solution that worked from the get-go. Within one month, 300 Storefront users had joined Storefront Mall, effectively joining the world of e-commerce with zero preparation and minimal investment.  Orders on Storefront Mall resulted in $25k in sales, paid and delivered. This is income that went directly to retailers who were on the platform, which otherwise would have been lost without Storefront Mall. 
Catalyst Fund research found that over half of MSEs did not participate in online retail because they "just never thought about it". While Storefront Mall can't force small business owners to think about e-commerce, it can certainly give them all of the tools to make selling online a click away and reap more income through more channels.
Innovation
KudiGO describes itself as "the only complete business suite offering every solution your business needs to run smoothly". Unlike similar solutions for MSEs, KudiGO goes further by bridging offline and online commerce. While many traditional corner store, cafe, and pharmacy owners want to grow their businesses, making the transition to e-commerce can feel like a giant leap. Many might consider opening another business, a growth stage we observed in the MSE lifecycle, before they think about launching a website. With KudiGO's offering, it takes just a few clicks (and affordable subscription fee) to move from offline store management to a fully-fledged e-commerce presence. 
Imagine a small pharmacy in Accra. Every week the owner purchases new inventory and bulk uploads these items, along with the rest of its inventory, onto KudiGO's Storefront platform. When a customer visits the pharmacy to purchase ibuprofen, for instance, the Storefront point-of-sale device facilitates the transaction and provides a digital receipt. The owner can also view reports on the dashboard to track overall sales, margins and inventory and be informed about the stock levels and performance of the business.
When the owner feels ready, they can set up an online store with their existing inventory and account details on Storefront Mall. Since KudiGO already manages the pharmacy's inventory, there is no friction or administrative burden in listing that inventory online. Storefront handles the payments, and Storefront Mall facilitates local delivery through partners. 
In addition, KudiGO manages customer relationships, capturing their data and facilitating engagement. This data is also aggregated and provided to KudiGO's clients for advanced analytics via Foresight, which can help the pharmacy predict consumer preferences for certain brands and cross-sell.
In addition to the subscription version of Storefront, KudiGO also offers a white-label solution. The team has several corporate clients in their portfolio including financial institutions and FMCG clients, who are attracted to Storefront as a workforce tool to digitize their agent networks and retail distribution channels, respectively. In some cases, KudiGO will manage the customer support for the white label clients, allowing KudiGO to continue to grow their brand with end-consumers alongside the corporate one. As KudiGO onboards large numbers of MSEs through these corporate clients, the platform will start to amass big datasets of MSE transaction and consumption data, which can then be used to feed valuable analytics and forecasting for their Foresight data product, such as for MSE lending, market insights, and trends in consumer demand. 
Growth potential
KudiGO Storefront works on a freemium model, accepting payments, supporting customer management and handling up to 50 products in inventory. Once customers have experienced the benefits of the free service, they can upgrade to KudiGO's full suite at a fixed price, allowing for up to 5,000  inventory items per store. KudiGO merchants are already seeing success – just in the last quarter, StoreFront merchants increased monthly transaction value (volume in USD) by 260%. 
Given the numbers of small businesses in Ghana and the region (SMEs account for 90% of businesses in Africa), KudiGO has an enormous total addressable market. The team's careful, deliberate approach to growth and features means they will be well-positioned to serve these businesses. 
In a recent article in Next Billion, the Catalyst Fund team outlined the opportunity we see in digitizing inventory management and purchasing: "Models that focus on the inputs, financing, technology and logistics of small shops (rather than their sales) can help MSEs ease administration and improve cost competitiveness." KudiGO does that and more. By providing a holistic software suite, KudiGO's Storefront, StoreFront Mall, and Foresight Solutions provide digital solutions for MSEs to reduce management costs, understand their business performance, and access services like inventory financing and home delivery to become more competitive in the retail marketplace.
ACCESS OUR DIGITAL COMMERCE DATABASE IN GHANA
---
The Catalyst Fund model delivers outsized success compared with other accelerator programs. We accelerate startups that excel on three fronts:
Impact: Catalyst Fund startups deliver (or, in the case of B2B firms, facilitate the delivery) of life-changing products and services to underserved populations. These can include financial services like loans, savings, insurance, and investment, but also access to productive inputs or essential services such as energy, sanitation, and water.
Innovation: Our startups are pioneering game-changers that are innovating new products and business models. They drive the sector forward by demonstration effect and via the learning that Catalyst Fund documents and shares. 
Growth potential: Catalyst Fund startups are distinctively investment-worthy, developing businesses that are scalable, with high growth potential. Our startups are selected by an Investor Advisory Committee, who have deep experience in emerging markets and nominate high-potential startups, and then sponsor and mentor them through Catalyst Fund. As a result, our startups raise more funding than startups from other accelerators.