Why we invested: Verqor enables smallholder farmers in Mexico to access financing and connect with buyers
September 16, 2021 - 6 mins read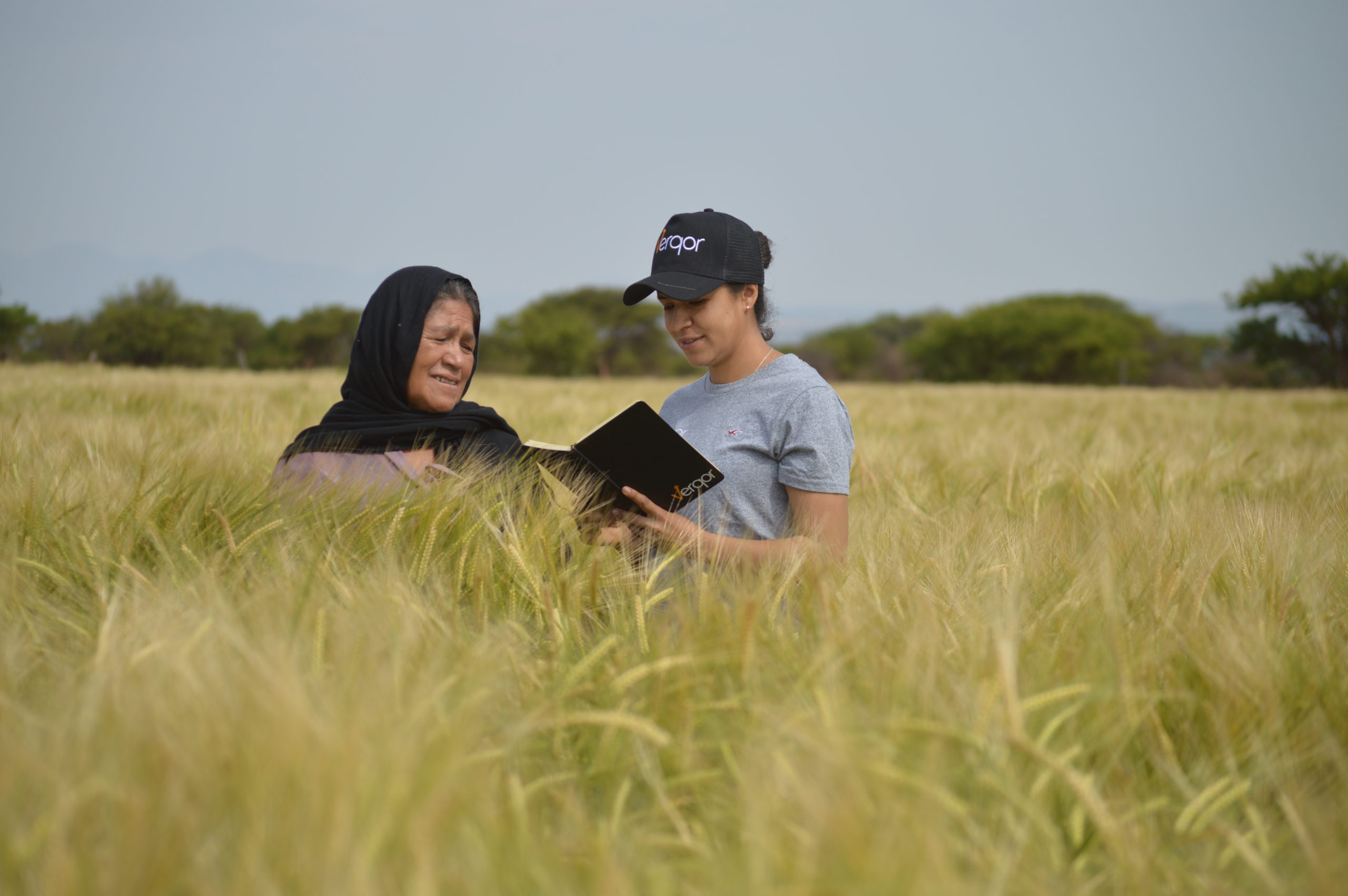 Agriculture is a vital cornerstone of Mexico's economy – employing 13% of the labor force and contributing over 3% to Mexico's GDP. Globally, Mexico is the top exporter of crops such as avocados, lemons, and limes. 
Unfortunately, many of those in the agricultural sector struggle with low and inconsistent incomes; the government of Mexico found that 78% of 5.2 million Mexican farmers live in multidimensional poverty. They struggle to improve their yields, predict their harvests year to year, and access new markets. Moreover, financial institutions consider farmers too high risk and of unknown quality so farmers struggle to access financing. Furthermore, farmers are now facing increasingly unpredictable climatic conditions, which mean more frequent and more severe disruptions in harvests.
Verqor aims to change the game for farmers in Mexico by bringing together players from across the agricultural value chain, including formal financial institutions, input suppliers, and offtakers, to improve their opportunities for growth. Verqor provides smallholders with formal credit to purchase inputs via the Verqor platform, including renting machinery and purchasing a variety of quality-assured inputs and advisory services. Then, Verqor links farmers with offtakers, thereby ensuring better prices and transparency in transactions, and deducts the credit repayment directly from the purchase. This simplifies operations and bookkeeping for farmers, and reduces the lending risk for financial institutions. Finally, Verqor requires farmers to purchase crop insurance alongside inputs, improving their resilience in the face of climate shocks like natural disasters, thereby further reducing risk for lenders.
Impact
Agriculture has a specific financial structure; farmers must have a significant sum of capital at the beginning of the season to purchase seed, fertilizer, and to rent equipment. However, they must wait until their crops are harvested, sometimes processed, and then transported to market before they get paid. This structure means that most farmers require credit to plant and care for their crops so as to access higher-value markets. 
Although credit is critical to farming, according to the 2017 Findex, only seven percent of Mexican adults in rural areas borrowed from a financial institution in the preceding year. The majority lack access to formal credit because financial institutions believe the agricultural sector is too risky. They rarely have credit or transaction histories, and lack data on their incomes, transactions, and crop production that banks traditionally require for credit-scoring. In addition, increasingly unpredictable climate and weather impact crop production, further reducing lender confidence in farmers' ability to repay. Without access to formal financial services, farmers tend to rely on "coyotes" – loan sharks who pay farmers "notoriously low prices" for outputs and charge extremely high-interest rates for loans. 
As with financial services, farmers also lack efficient channels to procure inputs. Many rely on these coyotes or small local distributors, who only offer a limited variety of supplies and brands, meaning they typically lack access to input and seed varieties that can improve their yields and help them to withstand climate change impacts. Inputs sourced through coyotes often have poor or unknown quality, and their source and composition are unverified, which in many cases lead to reduced harvest or failed crops. In addition, coyotes often markup the price of the inputs, making them more expensive for farmers.  
Verqor's platform and services address both these challenges by giving farmers access to better inputs and the financing they need to purchase them. Verqor's farmer-facing platform allows smallholders to purchase inputs and rent machinery, such as irrigation tools, via credit from formal financial institutions such as Caja Pio and Pro Credito. The inputs that are offered are of guaranteed quality, and Verqor looks to stock a variety of sustainable, drought-resistant, and organic products. Verqor also offers farmers training on sustainable and climate-resilient farming practices, and information about new, value-adding products they can purchase through the platform.  
Verqor's solution does not just address inputs and planting, but also post-harvest sales. Farmers typically face unpredictable, volatile market conditions and prices for their crops. Many struggle to find buyers or offtakers due to their remote locations and the logistical challenges of reaching potential buyers. If they are able to find a buyer, they are often forced to accept the price offered, even if it means making a loss because they don't have ways to access other buyers or to store their crops as they search for better prices.
To resolve these challenges, Verqor works with offtakers, such as large FMCGs or grocery chains such as ABInBev and connects farmers to these buyers. The offtakers pay Verqor directly for the harvest, so the team can deduct the loan repayment at source and deposit the rest directly with the farmer. This eases calculations, transfer fees, and labor for farmers who may find making transfers difficult, especially with weak access to bank accounts.  
In addition to these market challenges, farmers in Mexico face increasingly unpredictable weather. Acute climate shocks are projected to rise across the country, with an increase in the frequency and severity of hurricanes in southern Mexico, and an increase in drought, severe water scarcity, and extreme heat in the north. In the longer run, a rise in temperature and decreased precipitation are projected to make between 40 and 70% of Mexico's farmland unsuitable for the existing agricultural activity by 2030. 
To address these risks, Verqor's platform provides access to affordable and modern irrigation systems through Aguas Firmes, a partnership between Grupo Modelo and GIZ. These systems allow farmers to be less dependent on rainfall and to reduce their water consumption. Through Verqor, farmers can also access better, drought-resistant seed, as well as different inputs that can help farmers resist droughts or irregular rainfall even without requiring irrigation.  
Verqor also requires that farmers purchase crop insurance to cover the credit in the case of a failed harvest due to climate impact. In the event that a climate impact destroys a harvest, Verqor works closely with farmers throughout the claims process, ensuring their credits are paid back and that they are able to access credit in the future.  
Verqor already has demonstrated traction, having served over 100 farmers across a variety of crops and geographies within Mexico, with 90% returning for the next season. Back-of-the-envelope calculations suggest that farmers who accessed credit via Verqor earned 15% more than they would have otherwise. Verqor has proven its ability to deploy credit to farmers, with a 0% default rate thus far.

Innovation
Verqor's model is innovative in serving farmers across their income cycle and for the critical partnerships with banks and buyers that enable the full-service model.  
When a farmer seeks credit through the Verqor platform, Verqor completes a pre-certification of the farmer before sending them to the financial institution for formal credit approval. They use an innovative alternative scoring model based on data from previous harvests and productivity in the farmer's area, rather than transaction or credit history. The financial institutions that work with Verqor have agreed to accept this data as an input to make their credit decisions.  
When the credit is approved, it is not provided in cash, but rather in the form of in-kind inputs like seeds and equipment rentals. Verqor carefully curates a set of inputs that makes sense for market conditions given demand from offtakers and climatic conditions. This eases complications for farmers as they can better source the inputs they need and at the quality that is more likely to succeed in the market. This setup also reduces repayment risk for banks as they can be assured that the value of the loan is allocated to securing and improving yields. 
Verqor also helps farmers find and compare buyers for their produce via their platform, which connects farmers to offtakers in the FMCG and grocery world. This platform approach further assures repayments for banks since farmers sell via their platform, allowing Verqor to first deduct any outstanding balance before sending the remainder to the farmer. This reduces the risk of non-payment and reduces the cost of payment follow-up and collections for banks. 
Finally, Verqor ensures that farmers purchase crop insurance, further limiting risk for farmers and for financiers. As added security, Verqor works with the Central Bank of Mexico's FIRA program to guarantee up to 90% of the credit paid to farmers in the event that private insurance doesn't payout.
Verqor's innovative farmer-centric approach works across all of the activities in the agriculture value chain to provide farmers with a greater opportunity at each stage in the cycle. They actively work to build trust and long-term relationships with farmers who use the platform, knowing that word of mouth is a strong customer acquisition tool, and customer retention is a key metric in the longevity of their model. Verqor's field sales and customer service team are all farmers or agronomists themselves, allowing them to engage with farmers using language that resonates with them and deeply empathize with the challenges and concerns that farmers face. 
Growth Potential
Verqor aims to serve not only the almost 5 million farmers in Mexico, but the almost 40 million farmers across Latin America. They aim to increase the range of crops served through the platform and to form partnerships with an increasing number of offtakers to better serve the diverse Latin American market, including additional FMCGs, local grocery store chains, international food suppliers, and restaurant chains.  
Verqor is also interested in continuing to grow its suite of value-added services, including additional insurance products and suppliers. Growth into new geographies, new crop varieties, and the addition of new value-added services suggest incredibly large revenue growth and impact for Verqor in the years ahead.
---
The Catalyst Fund model delivers outsized success compared with other accelerator programs. We accelerate startups that excel on three fronts:
Impact: Catalyst Fund startups deliver (or, in the case of B2B firms, facilitate the delivery) of life-changing products and services to underserved populations. These can include financial services like loans, savings, insurance, and investment, but also access to productive inputs or essential services such as energy, sanitation, and water.
Innovation: Our startups are pioneering game-changers that are innovating new products and business models. They drive the sector forward by demonstration effect and via the learning that Catalyst Fund documents and shares. 
Growth potential: Catalyst Fund startups are distinctively investment worthy, developing businesses that are scalable, with high growth potential. Our startups are selected by an Investor Advisory Committee, who have deep experience in emerging markets and nominate high-potential startups, and then sponsor and mentor them through Catalyst Fund. As a result, our startups raise more funding than startups from other accelerators.