An Unlevel Playing Field: Why Small Businesses Face Disadvantages in Digital Commerce – and How Inclusive Tech Innovations Could Help
April 8, 2021 - 7 mins read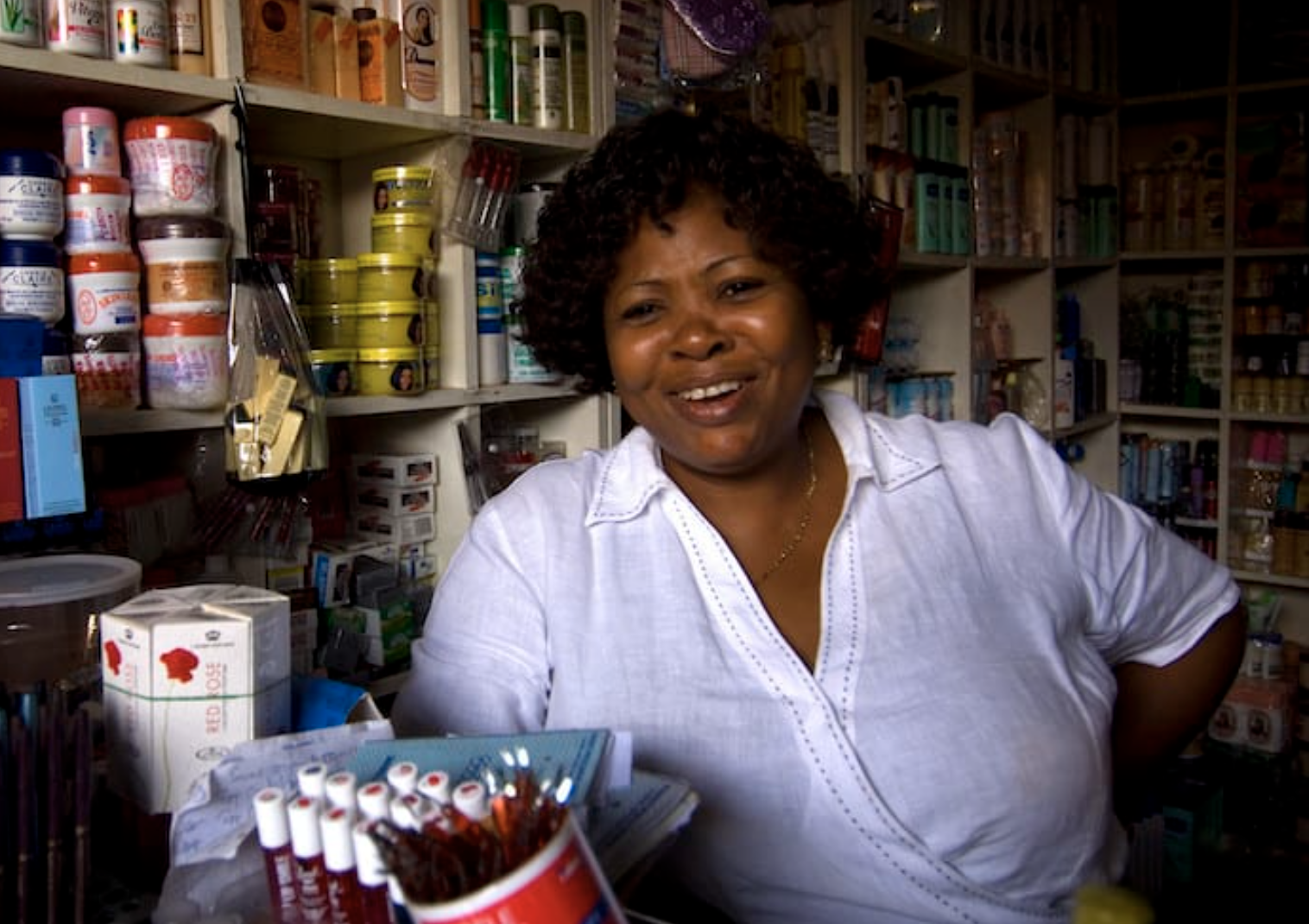 Originally published on NextBillion
COVID-19 has been catastrophic for many sectors and surprisingly beneficial for some – but it's been especially damaging for micro and small enterprises (MSEs), which are losing business and shuttering at rates faster than large businesses. Whereas large businesses have the market share to withstand this disruption and the cash to make adjustments, corner stores and small businesses around the world do not. These businesses tend to have their capital tied up in inventory, much of which is purchased on credit, and they depend on regular turnover to maintain profitability. For example, even a medium-size restaurant typically needs to operate at 75% capacity to break even.
Part of the reason some small businesses are losing out is that consumers have shifted towards purchasing online. Online commerce was dominated by large corporations before the pandemic, and this shift has further consolidated their control over the market. U.S. shoppers, for example, spent 50% more online in April and May of this year than in previous years. The lion's share of this shift has been captured by online giants like Amazon, which held 40% of online sales before the pandemic, and doubled its sales during the pandemic, and by others like Walmart and Home Depot. In contrast, small firms have lost out on this shift, as the participation rate of small and medium enterprises in digital commerce is less than half that of large firms in most Organisation for Economic Co-operation and Development countries.
Although the shift to online purchasing has largely benefited large corporations thus far, quick action toward making digital commerce (e.g., e-commerce and digital trade) more inclusive could be a viable way to help MSEs survive, grow and build resilience in the long term. For example, results from research in China show that MSEs that sell online have been better able to withstand the pandemic than merchants that are offline. To this end, BFA Global's Catalyst Fund, with the support of Mastercard Foundation and in partnership with MEST, recently launched an Inclusive Digital Commerce accelerator in Ghana. The program will help scale six digital commerce companies over the next two years, helping them to develop solutions and services that will enable informal MSEs in Ghana to better participate in, and benefit from, digital commerce.
MSEs are more digitally savvy than many assume
We started this program by conducting in-depth research among MSEs in urban and peri-urban areas of Accra, Ghana to understand how different kinds of MSEs currently utilize (or are excluded from) digital commerce. Overall, we found that MSE owners know about digital commerce and have access to the necessary devices, know-how and connectivity to exploit it, but that current usage is limited to marketing, taking orders and accepting payments.
We also found that 100% of the MSE owners and employees we spoke with had a smartphone. Although our sample was restricted to urban and peri-urban retail shops with storefronts, it included a range of business types (products and services), owner ages, business ages, and even locale types (e.g., kiosks, stores, carts). Most shopkeepers we spoke to (83%) even buy data bundles for their phones, highlighting growing access to 3/4/5G connections in Ghana. This means that retail MSEs are technically capable of participating in digital commerce, especially if platforms are designed to be used on phones, rather than other devices.
Moreover, we found that more than half already market their businesses via social media, using Facebook and Instagram to share pictures, daily menus, special offers and other relevant information with their customers. If we include WhatsApp in our definition of social media use for digital commerce, this proportion increases to 85%. A few (16%) pay for promotions and campaigns on social media platforms, and a small number (5%) even pay someone to manage their accounts. This activity seems to be paying off, as merchants report that new customers come from recommendations and social media equally, and only a few from walk-ins.
Furthermore, 100% of the merchants we spoke with use digital means — largely mobile money —  to receive payments from their customers. Although some preferred cash, many preferred getting paid digitally, highlighting its convenience, speed and ease.
Challenges to digital commerce usage among MSEs
However, we also found that existing digital commerce offerings further gaps in access, highlighting MSEs' weak ability to compete. And although the uptake of digital tools for marketing, sales and payments is promising, there may be reason to worry that digital commerce is not expanding access or facilitating growth of MSEs. Our research found that many aspects of digital commerce may be highlighting the advantages of big retailers, making it difficult for MSEs to compete.
To start, whereas social media marketing is helping MSEs to access more customers, it is also exposing them to direct competition with established brands/retailers. Without brand recognition and high-resolution, well-lit photographs that illustrate quality, merchants will probably struggle to establish trust and quality with new customers. They must depend on reviews and ratings to establish credibility, which are not a common practice in Ghana and are not available on many marketplaces. And while social media can accelerate recommendations from existing customers, these word-of-mouth efforts likely pale in comparison to corporate marketing efforts. In all, these features of the digital commerce ecosystem largely disadvantage MSEs relative to large companies, which have stronger marketing capabilities, budgets and brand awareness.
Moreover, administrative effort for managing digital commerce is much higher for owner-operated small shops than it is for larger businesses. For example, among MSEs, if a customer shows interest in a product on Instagram, the owner generally moves the conversation to WhatsApp, then receives payment via a person-to-person transfer on another app. Switching between these tools and keeping track of orders and conversations is manual and cumbersome, and likely prone to error and delays, limiting MSEs' ability to capture the full value of digital commerce.
In addition, most MSEs still manage their operations and inventory by hand, using notebooks or Excel spreadsheets to keep track of income and expenses. These methods also create errors and delays, and add steps when selling online via marketplaces. In fact, a platform we spoke to noted that MSE providers are notorious for posting products online, but then failing to update as stock is sold or unavailable. Customers end up frustrated when their choices are not available, and this further erodes their trust in buying from smaller, unknown merchants, limiting the benefits of digital commerce for this segment.
Furthermore, 80% of MSEs still tend to purchase inventory in-person, at markets or at a store. They buy from other retailers, middlemen and distributors, and bring those supplies back to resell, produce or assemble. This approach includes costly transportation expenses, and unpredictability with regards to availability and price levels. This means that MSEs cannot guarantee availability of supplies or price stability, which bigger retailers achieve via longstanding contracts and by purchasing directly from producers.
Finally, MSE activities with regards to delivery and fulfillment also disadvantage them relative to bigger retailers. For example, MSEs use the post office to send orders without immediate deadlines, much as they did in the past decade, meaning customers cannot track their arrival or anticipate delays. If an order needs to be delivered immediately, the merchant passes it directly to a motorcycle rider in the market. The rider is now equipped with GPS, so the product is more likely to be delivered to the correct place, but MSEs still struggle to deliver goods as fast or as reliably as larger retailers. Furthermore, the packages are often wrapped in a simple plastic bag and lack the finesse and polish of larger sellers.
Opportunities for Inclusive Digital Commerce
These findings suggest a number of promising opportunities for digital commerce innovations that can benefit informal MSEs. These opportunities represent cross-cutting issues, some of which may be ripe for innovation by digital commerce companies. They include:
Online marketplaces: Only 13% of our sample reported selling via local online marketplaces, mainly Tonaton. This may be because, like other researchers in Ghana and globally, we found that most MSEs don't see the potential of selling online. Over half of our respondents said that they "just never thought about it" – far more than the 14% who said that they "didn't know how" to use marketplaces. This finding is consistent with a number of papers that have suggested that more success stories and evidence of benefits could motivate MSEs to make the jump to digital platform sales.
Niche marketplaces: Platforms that act as online marketplaces for niche goods or services – like agricultural products, fashion, crafts or skilled services in the vein of Lynk, Etsy or India's Gaatha – could be powerful opportunities for MSEs. In these marketplaces, MSEs can benefit from exposure to more consumers, while limiting exposure to competition from big retailers and also benefiting from the trust and credibility conferred by the marketplace.
Tech-enabled integration, particularly for logistics and delivery: While MSEs are leveraging digital communication and media for marketing and accepting orders, other steps further along the transaction process are largely manual. This suggests that better integration/interoperability between digital tools that facilitate transitions between social media outreach, payments, customer engagement and order fulfillment could help MSEs conserve resources and effort. In particular, tech-enabled logistics and delivery could make fulfillment simpler, cheaper and more predictable, thereby generating greater trust among customers. 
Digitizing inventory management and purchasing: Models that focus on the inputs, financing, technology and logistics of small shops (rather than their sales) can help MSEs ease administration and improve cost competitiveness. Such companies have been successful in Kenya (e.g.: Catalyst Fund company Sokowatch), Mexico and Nigeria, and they also provide access to finance, a widely-documented barrier to growth for MSEs.
Trust-building solutions: Even in an advanced digital commerce market like China, 90% of businesses cite "trust" as the most important factor in finding supply/business partners online, ahead of both quality and price. Better and more mechanisms for ratings and reviews could help, especially since they are having an even greater impact on consumer behavior in the COVID-19 era. Verified reviews and other badges of quality can help differentiate small businesses that find it difficult to compete with big brands. Other, more bespoke platforms that verify and vouch for MSE quality could also be powerful mechanisms for inclusion.
---
Noting these challenges and opportunities, the Catalyst Fund Inclusive Digital Commerce team will work with innovative companies that are building solutions in these areas. We hope this work will allow informal MSEs to participate more advantageously in the digital economy, thereby bolstering their chances for survival and, eventually, growth. The full description of our strategic goals – and how we believe tech innovations and careful investment will boost inclusive digital commerce – will be outlined in an upcoming blog and research brief, to be released at the end of the year on BFA's website. Sign up to our newsletter to stay up to date on our progress.