First insights from China: The effects of COVID-19 on financial health of MSEs
March 25, 2020 - 4 mins read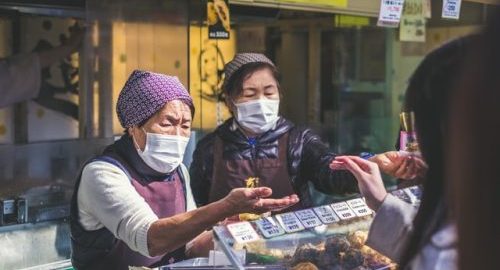 Webinar: First insights from China: The effects of COVID-19 on financial health of MSEs
When: Tuesday, March 31st at 8:30am-9:30am EST/8:30pm-9:30pm Beijing time
As members of the global financial inclusion community, all of us, whether we are researchers, implementers, policymakers, donors, investors, and/or from the private sector, are asking ourselves where support is most needed, and how is it best served by the resources and capabilities we can offer. BFA Global's blog series on the COVID-19 response, launched recently with stories of gig workers in Wuhan, is an extension of that reflection – a global window into what lives and livelihoods look like during this turbulent moment in the world economy. 
Now, BFA Global and the Chinese Academy of Financial Inclusion (CAFI) come together to present the early insights from CAFI's research on the impact of the COVID-19 outbreak on the financial health of micro and small enterprises. By sharing the early insights from CAFI's research and the following panel discussion, we encourage attendees to connect the latest lessons from China to their own strategies in assisting small businesses, workers, and their families around the world experiencing hardship and destabilization. More than ever should digital finance enable the real economy: online platform lending, expanded financing channels, targeted digital credit for MSEs, digital payments and transfers to keep families fed, and workers and businesses protected. At the peak of the crisis, we'll explore just some of the critical stop-gap measures in inclusive fintech that we can all learn from and seek to apply. Register to attend.
Presenters:
Dr. Duoguang Bei, President of CAFI

Dr. Xiugen Mo

, Head of Research at CAFI

Evelyn Stark

, AVP, Financial Health, MetLife Foundation

David Porteous, Founder and Chair of BFA Global
Moderator:
Jane del Ser, Senior Consultant, BFA Global
Webinar Resources
COVID-19 Rapid Response blog series
COVID-19 and Your Finances – BFA Global Worldwide Survey
In 2019, with the support of MetLife Foundation, BFA Global and CAFI developed an action plan to leverage local aggregators to financially include 200,000 underserved customers in China by delivering financial services over superplatforms. Building on this research and with the continued support of MetLife Foundation, BFA Global and CAFI have partnered with leading superplatform of local services, Meituan-Dianping, to research the financial lives of its delivery workers, which is especially timely to understand during the pandemic. Follow BFA Global's blog series on the COVID-19 response, launched recently with stories of gig workers in Wuhan, to learn about the lives and livelihoods of workers and businesses during this turbulent moment in the world economy. 
We thank our colleagues at MetLife Foundation for all their support towards our global work in financial health.
Speaker Bios
Dr. Duoguang Bei  
Dr. Duoguang Bei is Co-chair and President of CAFI, Guest Professor and PhD Supervisor of School of Finance, RUC. Dr. Bei obtained a PhD of Economics at RUC in 1988, following which he worked successively for MOF, CSRC, CICC and JPMORGAN. He was also a visiting scholar, studying at UC Berkeley and Federal Reserve Bank of New York in early 1990s. Dr. Bei has produced abundant of publications, including influential books, such as On Macro-finance and An Analysis of the Flow of Funds in China, and won Sun Yefang Prize, China's most prestigious award for academic accomplishment in economics. Whilst in the past Dr. Bei has led and completed priority research projects sponsored by State Social Science Foundation, he now focuses on financial inclusion by research and public advocacy. One of the most recent books was Sequence of Financial Development: from Macro-finance, Capital Market to Financial Inclusion, published by China Financial Publishing House in 2017. Dr. Bei is leading the study of national strategy of developing financial inclusion and the study of digital financial inclusion in China.
Dr. Xiugen Mo  
Dr. Mo is head of research at CAFI. He holds a PhD in Economics from Mississippi State University and has held leading positions in the Chinese government and at international non-governmental organizations. His research interests include financial inclusion, rural economics, sustainable development and poverty analysis.
Evelyn Stark
Evelyn Stark serves as assistant vice president for Financial Inclusion for MetLife Foundation. Her responsibilities include developing and managing MetLife Foundation's financial inclusion strategy for reaching millions of low-income people, globally, with access to high-quality financial services.  Her grant profile is global, with a concentration on innovations in products and service design and delivery. Prior to joining MetLife in August 2013, Evelyn was a senior program officer with the Bill & Melinda Gates Foundation Financial Services for the Poor team.  From 2003 to 2008, she worked for USAID's office for MicroEnterprise Development and the World Bank's Consultative Group to Assist the Poor focusing on the provision of financial services for the most vulnerable populations. From 1996 to 2003, Evelyn lived in Uganda, working throughout sub-Saharan Africa implementing programs in financial inclusion, training and mentoring on demand-side research and working with financial institutions to upgrade skills and the ability to serve low-income consumers.
David Porteous
David Porteous is the Founder and Chair of BFA Global and Co-founder and Chair of Digital Frontiers Institute. He has undertaken consulting assignments in the areas of financial strategy and policy for a wide range of clients including public clients such as the Foreign, Commonwealth and Development Office, the World Bank, CGAP and private clients including banking and telco groups. Prior to relocating to Boston in 2004, he was active in executive leadership roles in the development finance sector of South Africa with private and public financial institutions as well as FinMark Trust, an NGO involved in promoting financial inclusion policies and projects, and a public-private partnership which sought to promote low-income housing securitization. He has written several books including Banking on Change, a book which chronicles and analyzes changes in the retail financial sector of South Africa in the decade since democracy. David has a Bachelor of Commerce from the University of Cape Town, an MPhil from the University of Cambridge and a PhD (Economics) from Yale University.