FinnSalud and COVID-19: Shifting to emergency mode
March 31, 2020 - 5 mins read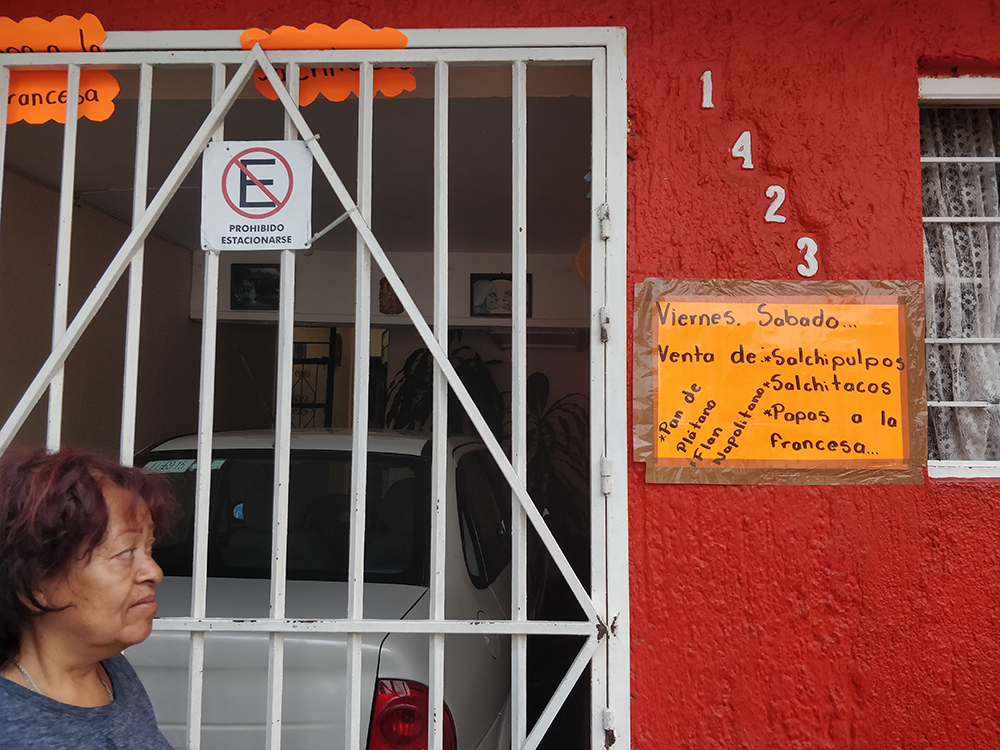 FinnSalud is one of BFA Global's largest projects, supported by MetLife Foundation and fiscally sponsored by Rockefeller Philanthropy Advisors. The project was launched last November to operationalize the concept of financial health through our Mexican partners, aiming to better align the financial health of consumers with that of financial service providers. To that effect, we worked on detailing a provider-ready methodology to measure and improve customer financial health, including building a tool to facilitate data gathering and developing a pathway for financial institutions to improve the impact of their offerings.
In our internal work, we have liberally borrowed metaphors from the health industry: if hospitals take care of our physical health, should banking institutions do the same for our financial health? At the product level, long-term savings could be akin to preventive care and mid-term debt consolidation might play the role of curative care.
We could have never imagined that the links between physical and financial health would be exposed and tested so dramatically by the COVID-19 pandemic.
The case for emergency support at speed
The Coronavirus behind COVID-19 is already spreading within Mexico at its unforgiving exponential rate. The chart below from Our World in Data compares the number of Mexican cases confirmed (in blue) with those in Spain (in red):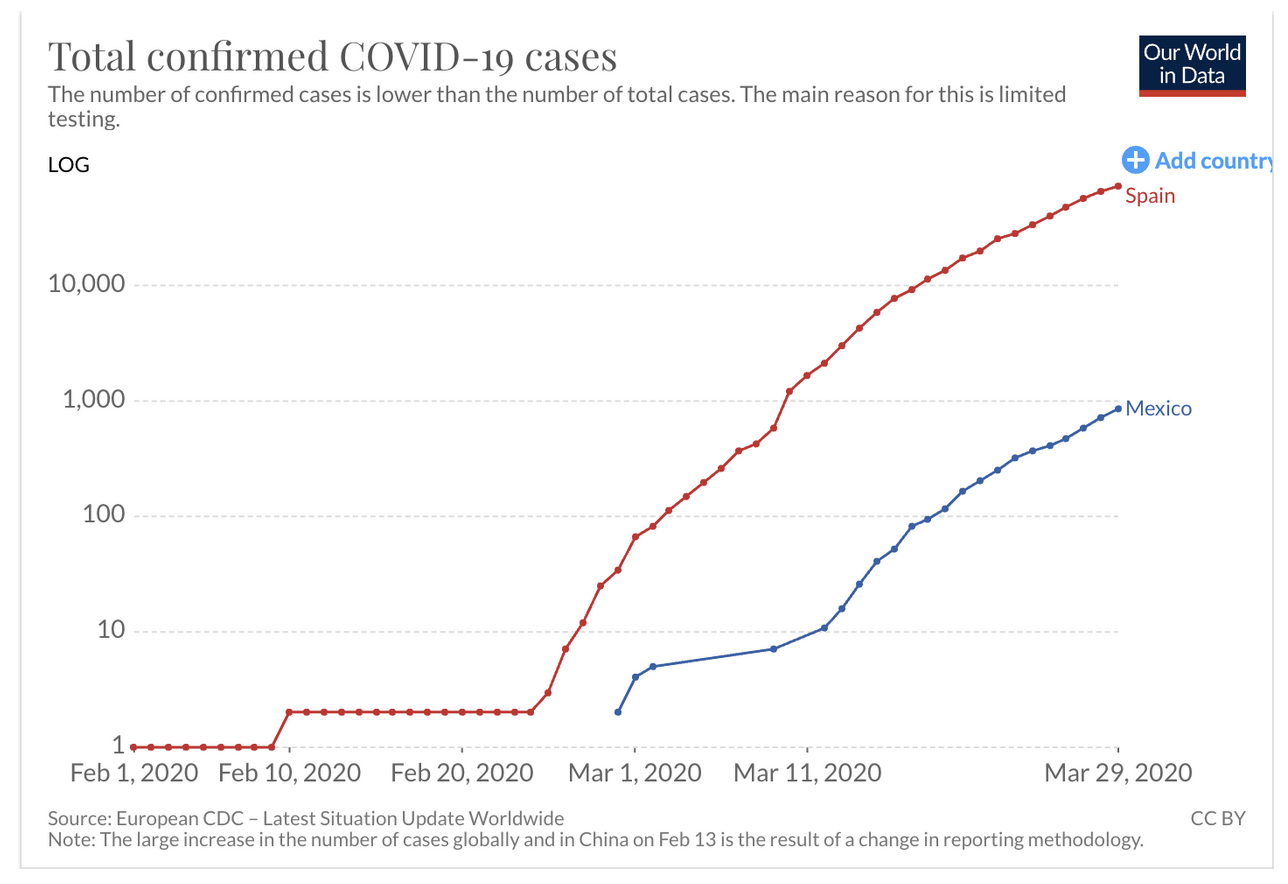 As in Spain, the validated infections are doubling every three days in Mexico, which can be seen by the parallel curves. In other words, the epidemic in Mexico is 16 days behind that of Spain (or possibly even fewer if you assume Mexico is testing less diligently than Spain). Staying at home measures are being actively encouraged by the Ministry of Health, forcing citizens to readjust their lives around house confinement.  It is hoped that these measures will help contain the spread and thus flatten the curve. From the experience of other countries, under any scenario we can confidently predict acute economic pain across all industries. In particular, we believe that low-income households, as well as micro- and small enterprises, will be singularly hard hit. Their income might completely disappear overnight and not return for weeks.
From a nationally representative pilot survey performed by Banco de México in December 2019, we also know that the average Mexican household has very limited cash-buffers to weather crises. At current expense levels, 24% of them only have savings to cover one week or less and another 22% could last one to three weeks (these results have been validated by our own dipstick survey).  When needing to go beyond their own savings, 34% of respondents would seek an emergency loan from family and friends. Unfortunately, this popular source of support might be severely limited as the crisis will hit everyone simultaneously. So who will bail out these informal enterprises and protect the jobs they have created?
The events around this exponential pandemic are unfolding faster than our linear brains can intuitively grasp. There is no time to waste, we need to act decisively and shift our program to the equivalent of Emergency Room responses, postponing other types of support with longer horizons until the aftermath of the crisis.
Uniting FinnSalud's stakeholders behind two levels of action
We believe FinnSalud has already pre-positioned all the necessary elements to coordinate a response that can help vulnerable populations. Financial health as a lens continues to be valid in this situation when we care most about people's income and resilience. Our financial cooperative partners Acreimex and Atemajac are prepared and eager to protect their members' financial health, enabling FinnSalud to operate on the ground. MetLife Foundation – the project sponsor – has also encouraged us to explore responses to the pandemic's economic damage. And our team is used to agile remote collaboration and eager to make a difference from our confinement at home.
As we repurpose our project and plan our immediate steps, we want to focus on two levels of action where we can deploy our existing skills and assets for the best outcomes:
SHOW – Share evidence about the plight of vulnerable Mexicans: Using a range of data sources, we can cast a light on the economic effects of the crisis on low- to middle-income households as they unfold, amplifying the voices of the people under most stress. Armed with better information, policymakers and others can make better decisions to more effectively assist those in need.
SUPPORT – Ready financial mechanisms to succor vulnerable Mexicans: In tight coordination with our field partners, we can prototype, evaluate and potentially scale relief mechanisms that can financially support households and micro-enterprises in a responsible manner. These mechanisms could take several forms, ranging from unconditional grants to concessionary loans, targeting micro-enterprises that are rendering essential services like food shops and pharmacies.
Our principles of action
As we dash forward at high-speed, we will try our best to keep calm and consider the broader effects of our actions. Crises are opportunities for great impact but also for great damage. So we will heed the following principles of action:
First, seek to do no harm: being careful to avoid making the curve less flat and not hurt the prospects of our partners on the ground. We also need to protect against unintended consequences and fraud.
Keep it simple: For instance, requirements to target "deserving" or "distressed" individuals will overwhelm the capacity of any bureaucracy during a crisis. Of course, there will be leakage to the less distressed, but given the scale of the current crisis, this seems worth the cost of deploying more quickly and more successfully. We should also be pragmatic and laser-focused on what we know works sufficiently well.
Be grounded in data: we will seek to understand the changing situation from as many points of view as possible, including hearing directly from the vulnerable populations.
Protect the aftermath: we know this shall pass too, so we don't want to encumber the recovery phase with misplaced decisions now. For instance, loading debt onto households is probably the wrong thing to do if we also aim for a speedy recovery.
Our immediate plan
Last week we launched a new plan to start making progress on the two levels of action mentioned above. Our goal is to test an initial but complete prototype of the mechanisms that our program could potentially scale, if they prove successful enough. To that effect, these are the actions we'll pursue in the next couple of weeks:
Publish the results of a national dipstick survey around the impact of COVID-19 through a public dashboard, as part of an effort BFA Global is conducting in seven countries.
Launch other surveys focused on our partners' members and on small shopkeepers.
Build an initial stress-testing model for our partners' financials under different scenarios.
Ideate, model and prototype one to two financial mechanisms for relief.
That's it for now
As our global and local contexts rapidly change, we want FinnSalud's purpose and operation to adapt in its pursuit of impact. We will, therefore, shift from slower to emergency mechanisms to protect the financial health of vulnerable Mexicans. We will apply our existing resources to amplifying the voices of those under stress as well as to bringing them the succor that they will desperately need.
We will be reporting our progress here in the spirit of open collaboration. To fight this human tragedy, we will share as much information and insights as we can publish while racing forward. If we can find effective ways to pursue our two levels of action, we will need help to scale them to other parts of Mexico and perhaps to other countries.  If your organization is interested in joining us or supporting the effort, please write to finnsalud@bfaglobal.com and let us know.
Finally, we would like to thank our colleagues at MetLife Foundation for all their support towards our global work in financial health. Any opinions expressed here are solely those of BFA Global.