[Press Release] Jobtech Alliance Announces its First Cohort of Inclusive Jobtech Platforms to Create Work Opportunities and Quality Livelihoods in East and West Africa
April 18, 2023 - 3 mins read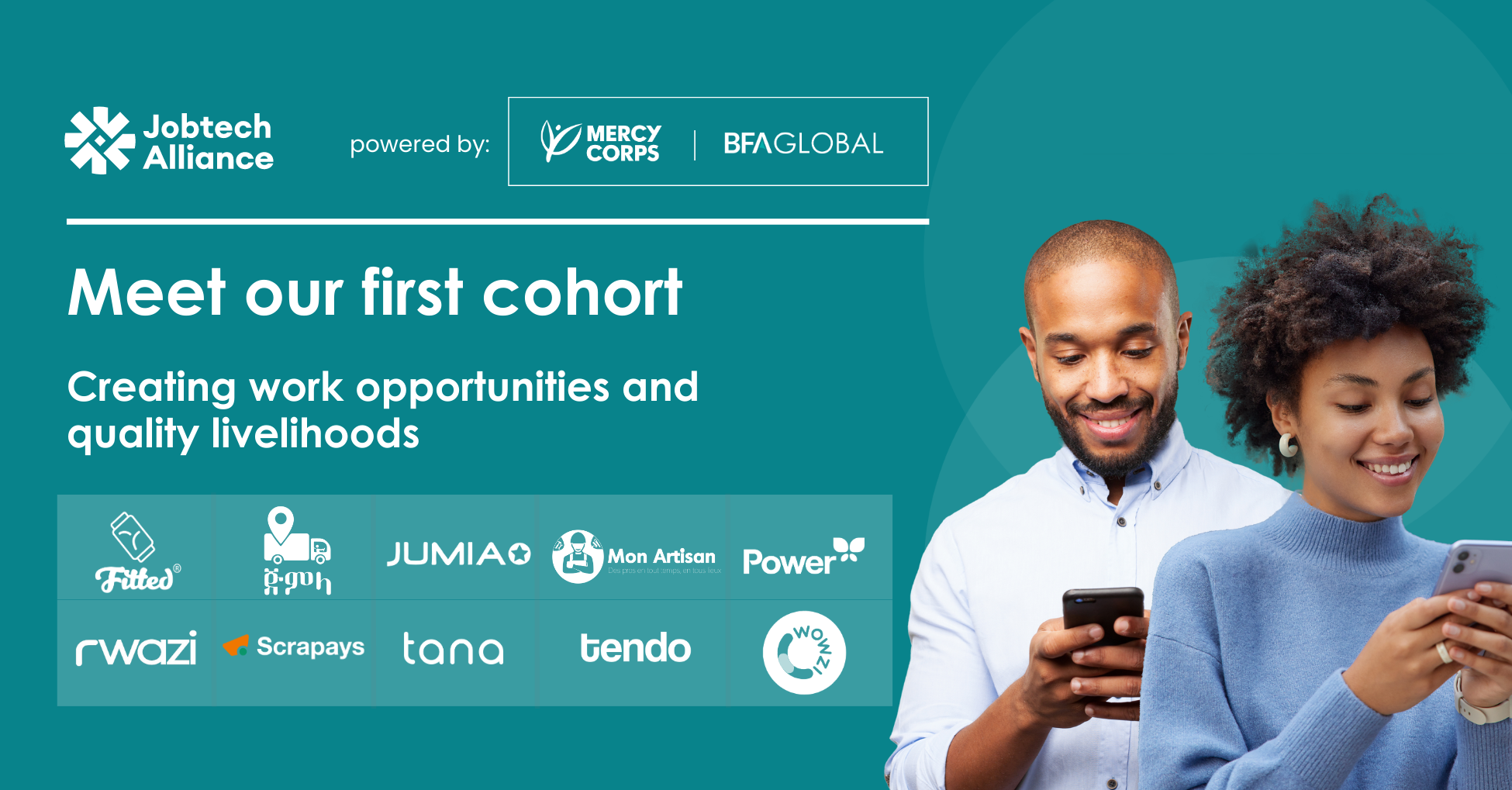 Nairobi, Kenya, April 18, 2022 – Today, the Jobtech Alliance, steered by Mercy Corps and BFA Global, announced its first cohort of ten companies that are creating accessible, and appropriate jobtech solutions that connect young people to jobs. Four companies will join the Catalyst Jobtech Accelerator and six will participate in the Jobtech Innovation Lab.
The Accelerator will provide $200,000 in grant capital, bespoke venture building support, and access to industry experts through a six-month program that will equip the companies with the tools to grow their ventures. 
Over the next year, the Jobtech Innovation Lab will work with six companies to help them develop new products or services, grow and create more jobs, support their commercial growth strategy and gender-focused business strategy, improve their operations to better deliver services, reach new markets, or remove barriers to access for marginalized people, especially young women and refugees.
The four companies selected to participate in the Catalyst Jobtech Accelerator are:
"It's exciting to kick-off the first cohort of the Catalyst Jobtech Accelerator and continue implementing our acceleration work in the fintech and digital commerce space. Our collaboration with Mercy Corps through the Jobtech Alliance will enable us to support platforms in Africa" said Michelle Hassan, Co-director of Jobtech Alliance. 
The six companies selected to participate in the Jobtech Innovation Lab are:
Jumia [Uganda]: the largest Pan-African e-commerce platform with a sales agent program dubbed Jumia Force (JForce), enabling freelance consultants to earn a commission by supporting consumers to place their orders on Jumia across the country. 
Power

[Kenya]: a platform offering a suite of digital financial services (earned wage access, loans, insurance, savings) to workers in Africa.

Rwazi

[Mauritius]: an on-demand market intelligence platform utilizing "mappers" to collect consumer data from emerging markets, providing multinational companies with actionable insights to drive revenue and expand.

Scrapays

[Nigeria]: a waste management platform facilitating the recovery of recyclable materials by using USSD, mobile technology, and Internet of Things (IOT) to allow individuals to own and operate waste material recovery businesses.

Tendo

[Ghana]

:

an online platform enabling anyone to start an online business with zero upfront inventory by connecting wholesalers to resellers.

Wowzi

[Kenya]: a multi-channel digital advertising marketplace connecting brands and creative agencies to social media content creators (influencers).
"We are not going to solve the problem of youth unemployment in Africa with any one jobtech platform," explained Jobtech Alliance Steering Group member, Paul Breloff, about the Jobtech Innovation Lab, "but by investing at the tip of the spear, in innovation and experimentation, these platforms teach us about what works and where to go in this emerging sector."
The Jobtech Alliance aims to support the growth of jobtech companies focused on creating more economic opportunities for young people in Africa, and to share key findings with actors in the ecosystem. With this first cohort of ten companies, they are taking a significant step towards achieving this goal. Platforms interested in applying for the next cohort can visit https://jobtechalliance.com/acceleration/.
///
For further inquiries, contact Carmen Merab, Senior Communications & Influence Manager, BFA Global: cmerab@bfaglobal.com
# # #
About Jobtech Alliance
The Jobtech Alliance is an ecosystem-building initiative around inclusive jobtech in Africa launched in late 2021. They are interested in digital platforms which connect people to work opportunities that build livelihoods – this includes gigmatching platforms, jobmatching, e-commerce marketplaces, and more. The Jobtech Alliance helps jobtech platforms to grow and create more jobs. 
About BFA Global
BFA Global applies financial and digital innovation, venture building, and investment expertise – relying on rigorous insights from field research, a deep network of partners and practical implementation experience across emerging markets – to improve the resilience and well-being of underserved people. We leverage global expertise and local knowledge to craft and scale solutions, and catalyze innovation ecosystems, partnering with leading public, private and philanthropic organizations, for a more inclusive and sustainable planet. Founded in 2006, BFA Global is headquartered in Nairobi and Boston, with a presence in Medellín, New Delhi, Mexico City, Johannesburg, Lagos, Accra, Madrid, London and Paris. Learn more at bfaglobal.com.
About Mercy Corps
Mercy Corps is a global team of humanitarians working in over 40 countries, in partnership with local changemakers, global innovators, and people affected by crises to create a future of possibility, where everyone can prosper. Mercy Corps has been working with jobtech for over a decade, having supported innovation with dozens of jobtech platforms in Africa and the Middle East, and helped to guide the initial launch of the Jobtech Alliance in late 2021.