Manage your sales pipeline to win as a B2B fintech startup: 3 practical tips
December 17, 2020 - 6 mins read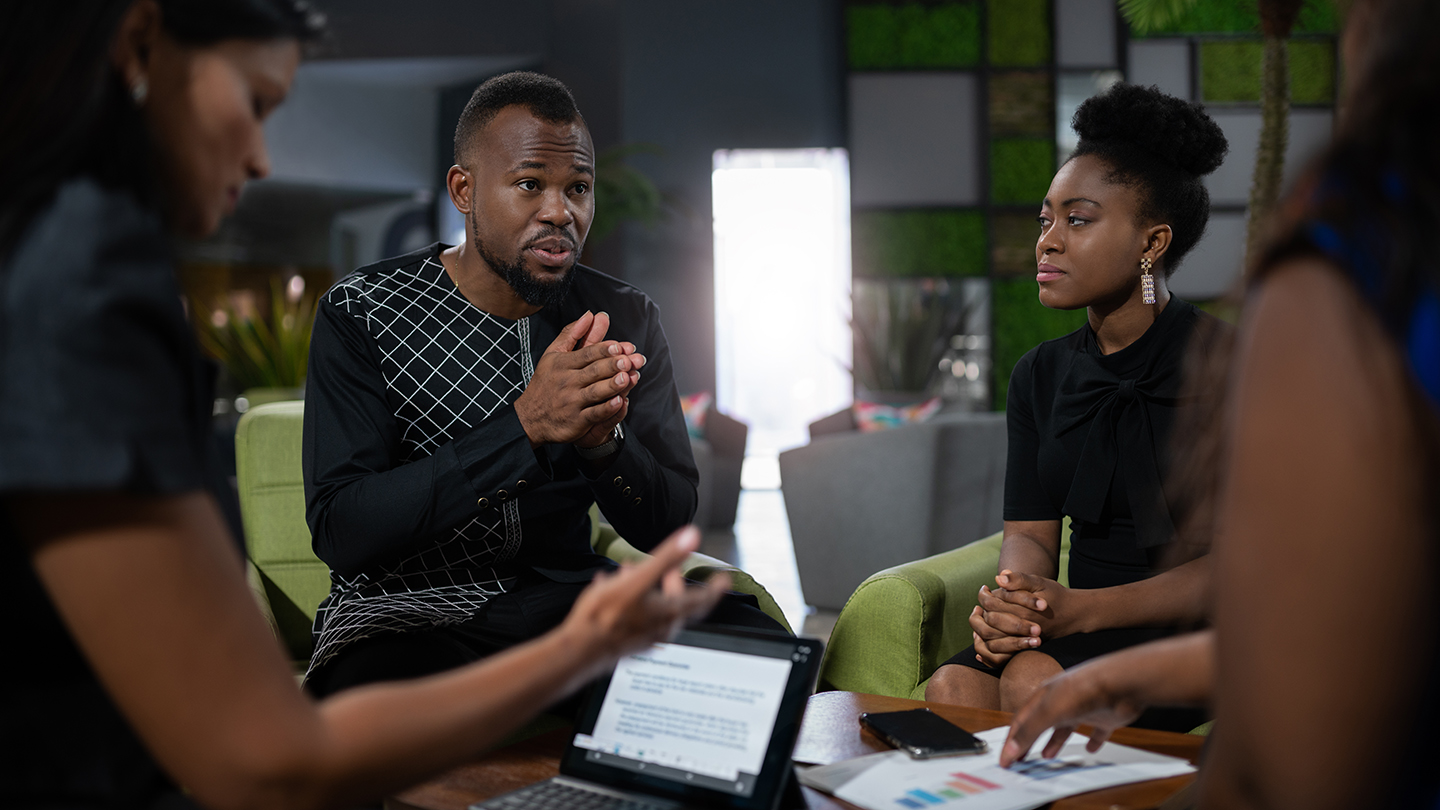 Early-stage B2B fintech startups often believe they're too small to implement structured sales and CRM processes or think that such processes might slow them down. In practice we have found they tend to rely on ad-hoc personal communication and outreach from founders far too long. Such an approach can result in sloppy, inconsistent, and incomplete sales processes, and can become a massive hamstring for a startup looking to grow. 
When portfolio company Paymenow, a B2B fintech startup that aims to bring South African employees out of debt by offering affordable access to salary advances, joined the Catalyst Fund program in 2020, their sales pipeline was beginning to fill up. The Catalyst Fund team, along with Celine Duros of Pontem Advisors, helped the team build out a robust sales strategy and process flow to support their growth. In particular, the important steps in creating a robust process were to: 
Articulate proper OKRs

Execute a robust competitor analysis

Establish ideal customer profiles (ICP) as well as buyer and user personas

Outline the deal funnel (i.e., understand how many leads and deals are needed at each stage of the sales process to hit targets)

Write a sales script targeting each segment and sales stage, and 

Develop a map of company stakeholders to involve in the decision-making process
While this seems like a long list to get in order, below we outline the first three building blocks that even the earliest-stage B2B fintech startup should have in place to set them up for success.
1. Create a detailed landscape of your prospects and develop a rigorous, goal-oriented pipeline
Your financial model and strategy should guide your business development objectives and overall key results (See our templates for setting OKRs here). However, remember there are trade-offs in how you approach your pipeline. If your goal is to land a lot of small customers, then you will need a high volume of prospects. If the goal is to sign fewer contracts, but at a larger size, then your pipeline might be slightly smaller, but you should anticipate it will be slower, as bigger deals take more time to prepare and develop. 
The key starting point for sales is a well-developed funnel, meaning the journey from lead to opportunity, from opportunity to confirmation that your solution solves a problem for the customer, all the way through to the signature stage. Looking at your work to date, you should know your conversion rate at every stage of the funnel. This will help you determine how many leads should be at each stage of the funnel at any given time to meet your targets. You should be able to answer: how many leads do you need to close each month, quarter, year? Reverse engineer your pipeline to determine how many leads you need to reach those goals. 
Remember that your sales pipeline and engagement should never be static; they need to be constantly moving, even if some of that movement means recording opportunities that were lost. Changes to your pipeline indicate that you're having conversations with customers, gathering feedback and gaining a better understanding of which leads are qualified. A yes is of course preferred, but at the early stage no's can be useful signals that you have not achieved product-market fit, that you are not communicating the value properly, or that you are pursuing the wrong leads. A good sales team should regularly evaluate their pipeline and sales strategy and adjust accordingly. 
2. Establish proper documentation for each step in the sales process to ensure alignment and follow-through
When it comes to documenting sales conversations, always apply the 'hit by a bus' theory: if your main contact was to leave the company tomorrow, could someone else take over their pipeline within minutes based on your documentation? If the answer is no, you need to improve your processes. A well-designed sales journey for B2B fintech startups necessarily includes proper documentation at each stage, both internally and externally. 
One key role of documentation is to clarify conversations with prospective leads. Instead of email recaps or debrief calls, we recommend using a sales discussion document that the team updates after every conversation. This document should be shared with the prospect and will serve to keep both parties aligned, as well as to help you evaluate your progress along the way. 
3. Adopt a proper CRM solution; it's never too early!
In addition to customer-facing discussion documentation, B2B fintech startups also need to create rigorous internal documentation that records:
Who did you speak with?

Who are the influencers, champions and decision makers at each prospect?

What is the decision-making process at each prospect?

What is the timeline you're looking at in terms of signature, onboarding, expansion or renewal of the contract?

What is the deal timeline? (This will help the sales leader prioritize and dedicate energy to opportunities that may convert sooner). 
The best way to do this is via a Customer Relationship Management (CRM) software. These solutions are not just for large enterprises organizing swaths of potential sales prospects; they can make even one-person teams much more effective. Utilizing a CRM properly will enable that person to keep track of all details, including key decision makers in each organization, research about that organization's pain points, the conversations they've had with that organization, what the prospect has been offered and any follow-ups or push backs – for each lead in the pipeline. Not only does this facilitate sharing and accountability within your organization, it provides data so you can analyze your sales efforts and understand what is working and not, from day one. It eliminates manual work, streamlines data and removes the need for team members to go back and forth asking about details from previous conversations.
Then, as you zero in on what is working and gather momentum, a CRM solution will ensure that processes are already in place so you can add members to the sales team seamlessly. This moment of growth is often painful and can be a hiccup when you least need it. The foundation you set with a proper CRM solution will help to keep everyone informed, eliminate the potential for duplicate outreach, and help you easily train new business development representatives.  The transparency of a CRM solution that is accessible across the organization also serves to motivate the team by keeping them up-to-date with all details about a prospect. 
In some cases, a project management tool such as Asana or Trello that synchronizes emails, phone calls, and calendars is enough to manage sales and track leads. In these cases, the sellers can use the same tool to manage their day, pipeline and productivity as well as sales. 
---
A CRM solution can help you to:

Gather more insights on employer profiles and user transaction growth

Enable automatic reporting, including for fundraising purposes

Enable automation for follow-up emails and phone calls

Track all business development communication with clients, in one place

Use as a planning tool for setting and measuring OKRs

Send automatic reminders for certain tasks
---

For companies that already use some sort of customer support solution, such as Zendesk, we recommend you use the same provider for customer relationship management. Keeping solutions under one roof will allow you to keep all sales operations streamlined in a single tool, making tracking, monitoring and reporting easier. There are a number of CRM tools on the market that can work for B2B fintech startups. Here are a few to consider:
Hubspot

is a starter CRM solution and is a good choice for organizations just getting started. Pricing starts at just $45 per month for two users and includes good functionalities and fast customer support 

Salesforce essentials

is a good option for organizations that expect rapid growth. You can start by paying just $25 per month, per user, for basic functionalities, and then upgrade to additional functionalities without large transition costs. Salesforce allows you to change tools and import previous data, creating a system that crows with you. 

Zoho

is another cost-effective CRM option for startups. Similar to the options above, it can be synchronized with different communications and productivity tools, such as Slack, making it easy to integrate and utilize.
---
Overall documentation best practices for B2B fintech startups include: 
Add all points of contact for each deal, including their role in the decision-making process and their contact details.

Document any interaction you've had, even simple steps like a WhatsApp message. A CRM solution will automatically synchronize emails and phone calls automatically, but take the time to quickly copy paste anything that is not synchronized, such as a face-to-face meetings or SMS communications. 

Use a central document to capture the meeting notes to make it easier for your future customer and your team to get up to speed on what was previously discussed. Don't forget to link this document in the CRM solution. 

An easy way to have all the documents in a single spot is to create a Google Drive folder (or other sharing tool) with all the elements related to each deal (meeting minutes, proposal, contract, other elements sent to the client such as research papers, marketing collaterals, etc) and link this to the CRM.
---