Does the Environment in Ghana Really Enable Inclusive Fintech?
May 5, 2016 - 2 mins read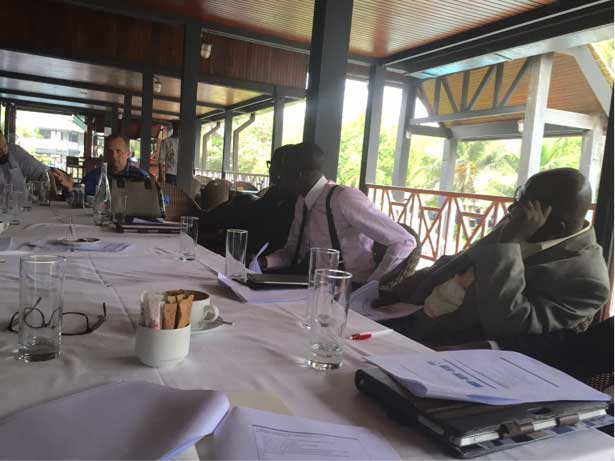 Ghana seems to be an exciting place for fintech providers in general to thrive right now. Last week in Accra, as part of the FIBR team's visit in preparation for the formal project launch, we had the chance to engage with a range people from across the Ghanaian financial sector: from the startup hubs, from the banking sector, from the legal sector and from the fintech sector itself. These interactions gave us an opportunity to test this view and to develop our own understanding of what is going on in the wider sector, beyond the individual providers with which we are in the early stage of exploring project partnerships for FIBR. This broader understanding is helpful for us to understand both the potential and the risks of our engagement through this project.
With a group of experienced professionals from the Ghanaian financial sector, we spent an afternoon discussing an apparent conundrum. On the one hand, compared with the past, there appears to be a lot more interest in and activity around fintech solutions, especially in the area of payments. On the other hand, given that so much looks favorable for fintech in Ghana, at least on paper, there is less activity than one might expect. Compared to developments in other countries, an environment like Ghana, with a large gap between savings and borrowing rates and no prohibitions or regulatory issues at this stage, would suggest that it be fertile ground for such entities to spring up and intermediate credit for individuals, at least within social groups. However, we could identify only one peer-to-peer lender which was still at a very early stage.
We were told that this juxtaposition of high activity with as yet low traction in some areas comes in part from the generally squeezed macroeconomic environment with escalating prices. In part, it also comes from low levels of trust in new services, especially when there is limited trusted information about what is actually going on. When asked what they would prioritize to improve the environment, members of the group said they:
Would improve the information flow to better track what is happening
Wanted more opportunities for people from the hubs, which have pipelines of young entrepreneurs, to interact with banks and others, which have funding, so that a shared language of understanding can be built
These are important issues which require concerted attention. The FIBR project itself is not designed to work at the level of the whole fintech ecosystem, but rather to test and demonstrate new models of success in linking financial services to digital delivery models. However, as we pursue this more narrow focus, we want to do our small part to contribute towards supporting the Ghanaian fintech ecosystem through connecting people and providing information. So, we will consolidate these conversations into an initial briefing analysis of the enabling environment for "FIBR fintech", which relies on the ability to collect, process and use data about low-income clients in new ways. And we are always open to making new connections which would enrich the ecosystem.
I personally look forward to returning to Accra within a year from the launch to hear that there has been progress in these areas; and that the fintech sector is becoming a trusted source of innovations which can expand the reach and depth of the financial sector as a whole, as it should.