Accelerating digital commerce in Ghana by remaining committed to the last-mile customer and balancing tech: What we learned from our work with Shopa
July 17, 2023 - 4 mins read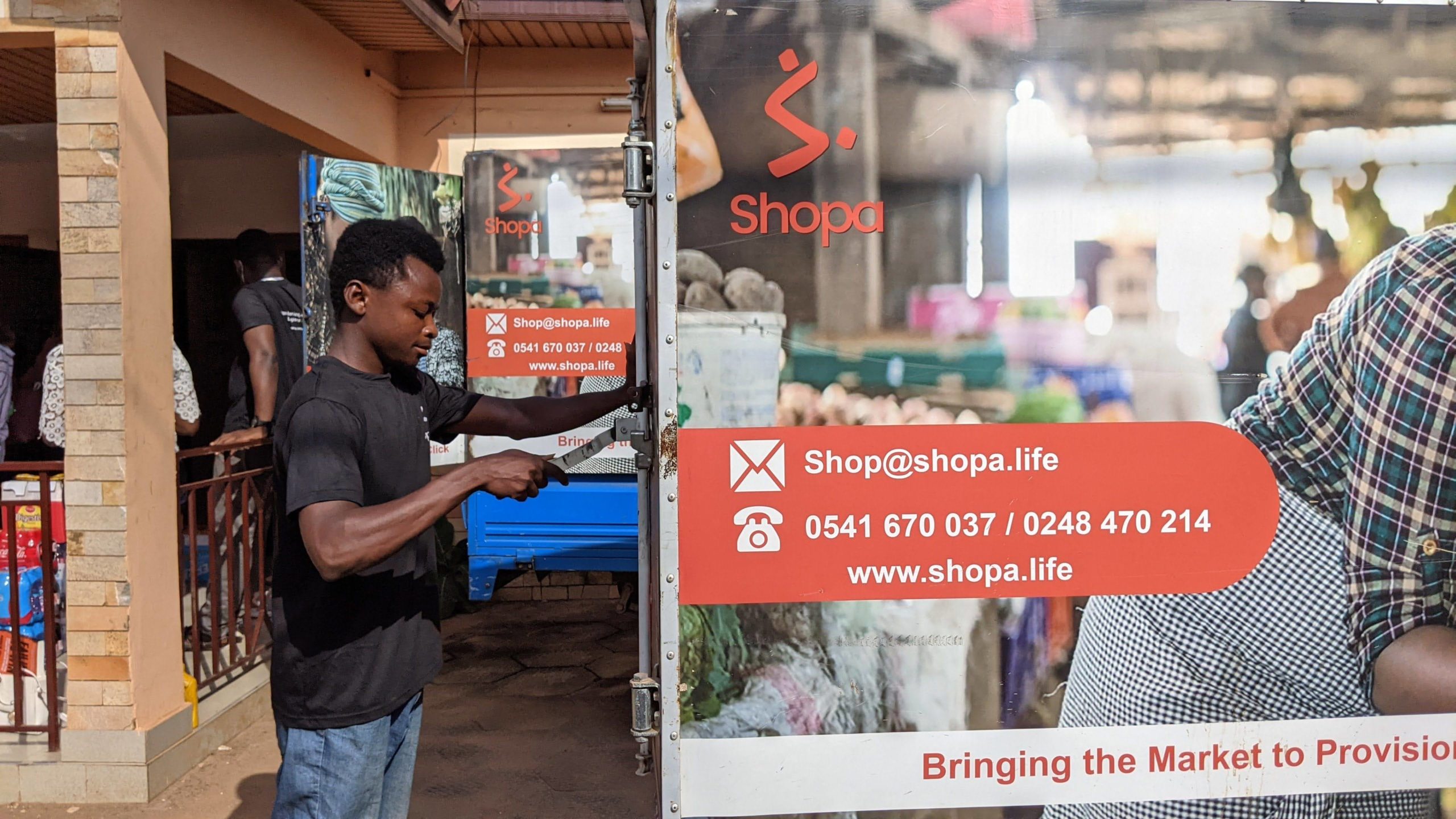 Shopa is a startup based in Ghana that we had the opportunity to work with through the Catalyst Inclusive Digital Commerce Accelerator (IDC). Shopa is working to create an end-to-end digital integration of the fragmented informal retail market in Africa. They make it easier for these shops to source goods directly from suppliers and have them delivered to their shops within four hours at no delivery cost. They also help these small shops grow their business through a buy-now-pay-later option. Through our partnership, the team at BFA Global was able to identify several key lessons from working with Shopa, including the importance of a hands-on team with a strategic vision, the value of strong differentiators like fast delivery and stock availability, and the benefits of meaningful customer-centric problem-solving that has positioned them them well for growth in the Ghanaian market (read the growth-stage profile about Shopa in the IDC Growth Toolkit). 
Balancing tech and touch while getting the most from tech 
Shopa's team is unique in their ability to balance 'tech and touch' in a way that is highly effective in their target market. One of the standout features of Shopa's business is the hands-on approach and team's commitment to understanding its customers. The team regularly conducts customer deep dives and does not outsource their sales operations, which has helped them to build a strong understanding of customer needs and preferences. This isn't something that the team felt they could outsource because part of the unique value they bring to market is based on deep insight and meaningful connection to the customers they serve. This sustained connection by the leadership team to their customers has created a rich culture of nurturing customer loyalty giving them a competitive edge even as the company has moved into the growth stage and its organizational structure has expanded.
Interestingly, a key impact of the venture acceleration work we were able to carry out with Shopa was enabling them to automate their credit product and integrate it with a third-party provider, saving time and improving efficiency. Additionally, data automation and dashboards that our team built for Shopa now provide real-time data insights to the CFO and CEO. This tech integration circles back around to their high-touch approach, equipping them with data and insights about things like app usage which help them better understand and engage with their customers.
Commitment to solving customers' problems while deepening digital acceptance
On the back of their commitment to their customers, another strong differentiator for Shopa is their delivery commitment, with a four-hour delivery window and branches with 2-3 day stock availability. This asset-light, agile model has allowed Shopa to be both fast and efficient in its distribution and delivery. They have remained committed to this as a core service offering because they know the value it brings to their customers, who they have enduring relationships with. They have worked hard to bring a solution that they know their customers want by offering real problem solving: helping to move key products, ensuring speed of delivery, and offering access to the (third-party embedded) credit product they know their customers need.
By creating strong customer loyalty from the get-go, Shopa also guides their customers to become digital adopters through an intentional funnel that encourages customers to go from giving orders to a field agent that visits the shop, and/or making orders over the phone, to eventually using their mobile app to carry out their orders. Shopa is purposeful about getting their customers to graduate from high touch support to more digital app-based transactions allowing them to serve more customers, offer more services via their app, and scale their customer support and outreach. 
Expanding the ecosystem in Ghana by focusing on growth levers
To expand the ecosystem around Shopa and support the growth of digital commerce in Ghana, there is a need for investment in additional products and services, marketing and accounting training for shop owners, and upskilling programs for small and medium-sized enterprises. One ecosystem barrier that stood out from our research and engagement with startups in Ghana was the cost and effort of onboarding MSEs onto digital commerce platforms. As a persistent challenge in the last mile for any type of digital services providers, we created the Digital Onboarding Playbook to give companies the need-to-know approaches and heuristics to acquiring MSEs customers and a framework for onboarding strategy that caters to the less digital and underserved customer segment.    
Customized and bespoke support can be particularly effective in helping businesses to improve their quality and operations and set them up for growth and scaling, as we've learned through our work running venture acceleration programs. The reason for creating the aforementioned IDC Growth Toolkit was to help companies evaluate their stage of business and chart out in a systematic and structured way the key levers of the business that need to be addressed. The toolkit also illustrates how to put the right business and financial models in place to make decisions about where to pursue growth and scale. We hope that these two tools give founders and their teams the opportunity to deliver better by operating with an intentionality and effectiveness, leading to improved results and contribution to the expansion of the ecosystem.
What's next for Shopa?
Looking to the future, Shopa is continuing to grow and expand, with a 30% month-over-month increase in GMV and plans to expand to more branches and potentially new markets. They are also leveraging technology more, with plans to use drones for delivery in the future and to build payment infrastructure and inventory management capabilities into their platform by 2023 and 2024 respectively. Overall, Shopa is positioning itself as a "superapp" for small and medium-sized enterprises, offering a range of products and services to support and drive growth in this key market. As with many businesses in Ghana seeking to cope and manage the impact of hyperinflation, Shopa is also exploring how to serve B2B customers as well as new distribution models that reduce their need to hold inventory. Banking on their solid leadership team rooted in customer centricity and responsiveness to the market, we look forward to seeing Shopa achieve their milestones and continue to deliver value and delight its customers.