Chinese giants rose to the COVID-19 challenge. Will their global peers?
April 3, 2020 - 4 mins read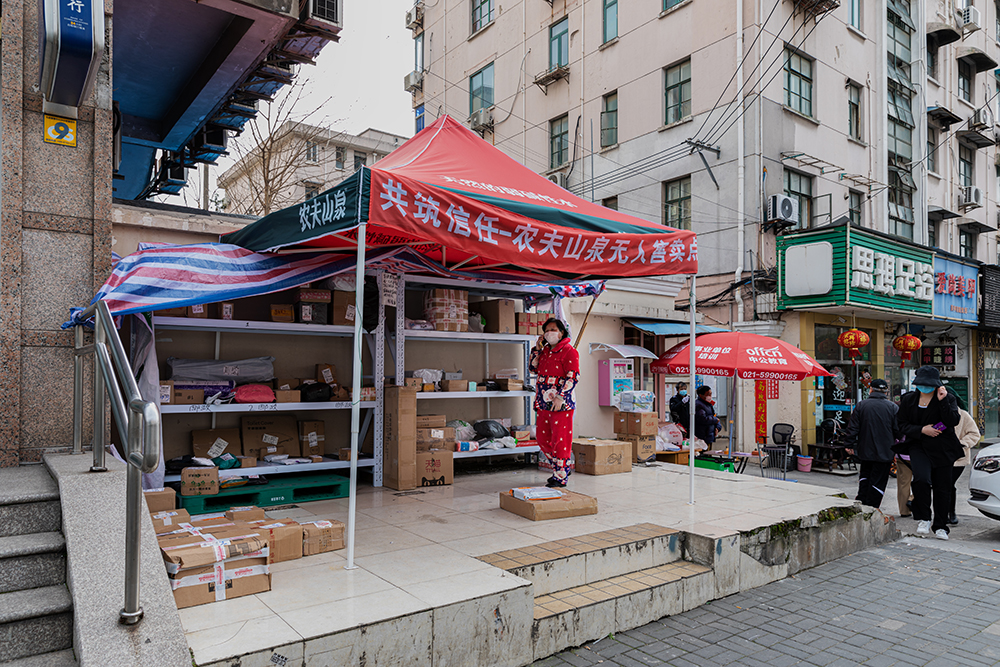 Today, as China looks toward recovering from the pandemic, it is gratifying to note that many restaurants survived the pandemic. This remarkable perseverance is due in large part to quick thinking and collaboration from the superplatforms.
In February, the outlook for restaurants in China was grim. A few weeks into lockdown with many more weeks looming, owners of restaurants – both big and small – were worried. "Every month, I need to pay my 20,000 employees RMB 150 million, and this year we earned zero during the traditional New Year holiday, which should be our busiest season in the restaurant sector," said Jia Guolong, the chair of Xibei Restaurants, one of the biggest food chains in China during an interview on February 1. Xibei boasts more than 400 restaurants across 60 cities in China, but Guolong noted, "We can't survive for more than three months under this epidemic, so I can only imagine how difficult it will be for small restaurants."
Superplatforms to the rescue
In January, restaurants, cinemas, and services in China are normally gearing up for the New Year rush. However, this year's "Golden Week" was the opposite, with many businesses closing, jobs lost, and overall financial stress. The government added to the pressure by mandating that business owners continue paying salaries. Many found themselves like Guolong, worried about how to pay their employees.
On February 3, just two days after Guolong's interview, Alibaba's offline grocery store and online grocery delivery service Hema announced it would work with several nationwide restaurant chains to hire their employees as temporary delivery workers. Alibaba was experiencing skyrocketing demand for grocery delivery due to the quarantine and needed to ramp up their capacity overnight. Hema acquired more than 5,000 shared employees from more than 40 companies during the quarantine. Jia Guolong's Xibei chain was among these partners, and shared 1,000 employees with Hema.
This special arrangement between the superplatform and the traditional restaurant chain not only resolved operational and financial problems for both, but also put idle labor force to work facilitating the quarantine. The arrangement proved valuable for both, and Alibaba has developed a "sharing employee" platform that it will deploy in April, according to an internal source.
Alibaba was not alone in supporting restaurants and SMEs. On Feb 2, Meituan, China's largest online-to-offline service provider and food delivery platform, announced it would waive all delivery commissions for restaurants in Wuhan. What's more, it created a special fund for the restaurants in Wuhan; if a restaurant owner or employee passes away because of COVID-19, it will provide a one-time payment to a legal beneficiary of RMB 300,000 (US$ 42,000).
A week later, JD, one of the largest B2C e-commerce platforms opened a "logistics expressway" especially for farmers to sell agricultural products. The expressway created a process for individual farmers or SMEs to contact JD via email, after which JD sets up a special webpage on their website to sell the farmer's product. Once sold, JD provides logistical support to transport and deliver the product to the buyer. Between January 20 and February 18, JD sold more than 1,019 tons of agricultural products from the Hubei Province.
In all, Alibaba Group and Ant Financial launched 20 different initiatives to support SMEs during the pandemic. T-mall, Alibaba's B2C e-commerce platform, waived all platform service fees for sellers on the platform for the first half of the year. Ant Financial is providing a total of RMB 10 billion (US$1.4 billion) in loans to Taobao and T-mall sellers from the Hubei province. The one-year special loan features three months interest-free, and 20% off of prevailing interest rates for the remaining nine months.
In all, these efforts have kept restaurants and other SMEs alive. On March 23, WeChat published usage data showing that WeChat payments made to restaurants increased by 135%, thanks to a 322% increase in dine-in orders and a 402% increase in food delivery orders made via WeChat.
Philanthropic giving
Many of the superplatforms went beyond the scope of their business to directly support health providers at the center of the pandemic. On January 24, Tencent Philanthropic Foundation announced a donation of RMB 300 million (US$42 million) to fund a COVID-19 Epidemic Fund. The next day, Alibaba set up a special fund of RMB 1 billion (US$150 million) to purchase protective gear for health workers from overseas and donate it to hospitals in Wuhan. The following day, on Jan 26, Meituan announced a special fund of RMB 200 million (US$28 million) to support health service providers in city of Wuhan and Hubei Province.
Potential of platforms to support SMEs
While philanthropic giving is an important contribution, the opportunity for digital platforms to truly support the COVID-19 response and support systemic stability is through their business models. Most of the Chinese internet giants are platforms of platforms that link hundreds and thousands of SMEs and individuals. During the pandemic, these superplatforms acknowledged their responsibility, utilized their resources, and took action to help millions of SMEs and businesses to survive.
Other superplatforms around the world are starting to follow the example set by their Chinese peers, however, few are taking the inclusive, collaborative approach pioneered in China. For example, in the US, Amazon has announced they will prioritize only essential items given the surges in demand they are facing. Furthermore, Amazon will hire 100,000 workers (joining the 125,000 people already working at a distribution center) to meet this demand, with at least $2 more in hourly pay. However, neither of these moves supports smaller players in Amazon's ambit. In fact, Amazon's shift to no longer accept non-essential items is devastating small businesses that depend on the platform for making sales; 37% of Amazon's 2.5 million active sellers rely on the platform as their sole source of income!
In Africa, the e-commerce platform Jumia is also responding to the pandemic. Their efforts have focused on trying to protect its employees and customers by introducing contactless delivery service and cashless payments. The company has also offered African governments use of its delivery system to provide last-mile logistics for health supplies. While governments across the continents are moving to support small businesses with debt holidays and relief funds, it remains to be seen whether the e-commerce platforms will also come to their aid.
Looking at global retailers and platforms, many companies have the power to influence their customers via their products or services, but only a few have the financial power to change the world. Superplatforms should count themselves among these few, as should large tech companies. And as the saying goes, "With great power comes great responsibility". Superplatforms and other giants would be wise to remember these words because, at times like these, people, partners, and communities are looking to the brands they know and trust to make a difference.