Fintech innovations to enable MSE recovery in South Africa's townships
March 25, 2021 - 5 mins read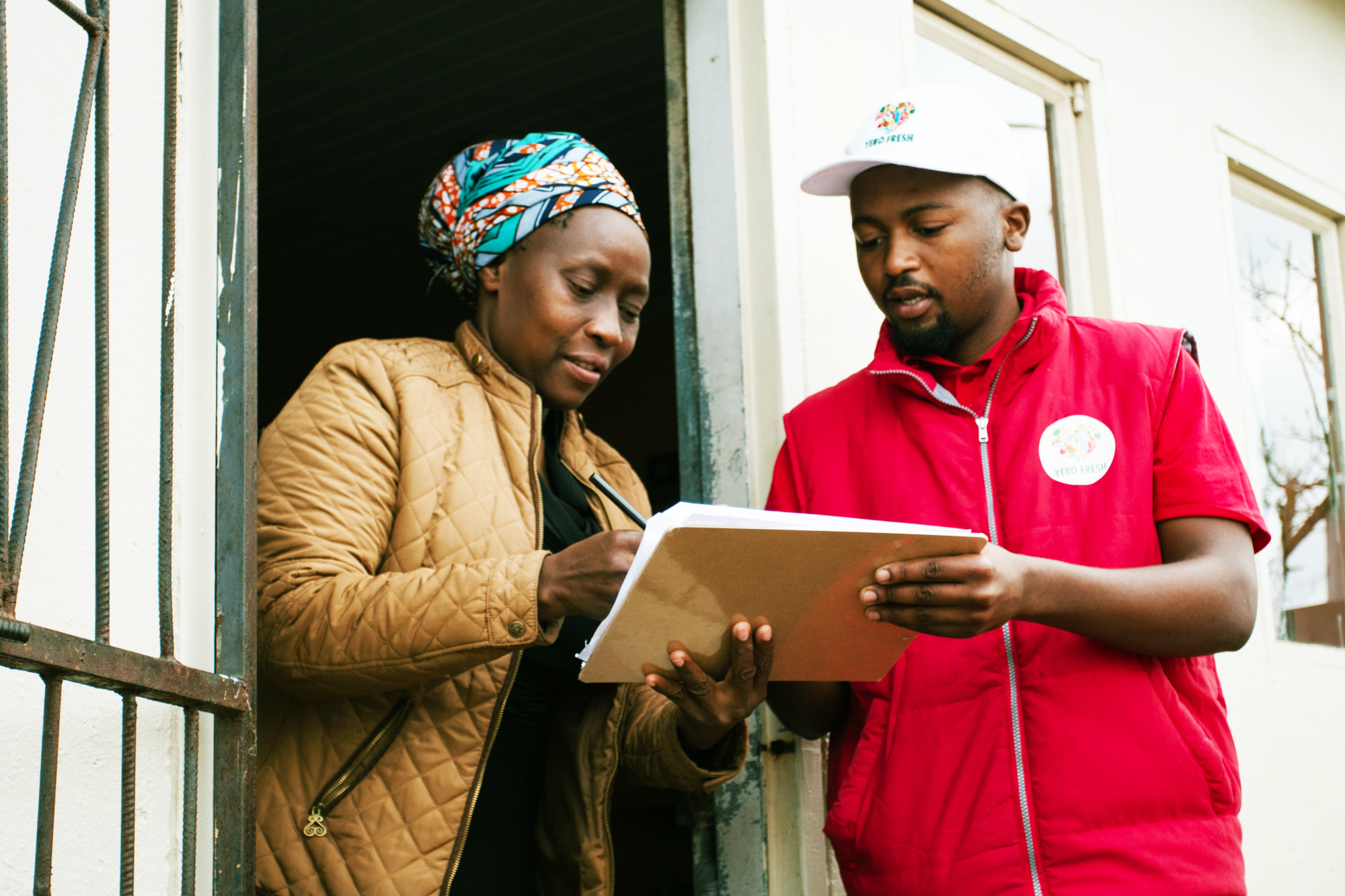 In South Africa, as around the world, the brunt of the pandemic's damage has been felt by micro and small enterprises (MSEs) and low-income people. COVID-19 has severely affected informal MSEs, since most lacked cash reserves to survive the lockdown and did not have the financial records and formal business registrations needed to qualify for government relief funds. In South Africa, a large portion of MSEs in the townships is composed of small retail stores called spaza shops, which serve the basic needs of those living in the surrounding areas.
To help vulnerable businesses like South Africa's spaza shops recover from the pandemic, rebuild and improve their resilience for the future, inclusive fintech startups like Yebo Fresh, A2Pay, and Vuleka are developing innovative partnerships with FMCG distributors and financial service providers. Through these partnerships they are offering solutions that can help spaza shop owners access better prices for inventory, improve stock management and business finances, and more easily access valuable financial services. 
Spazas are critical to an inclusive recovery
Unlike some other emerging markets, South Africa continues to be ravaged by the effects of COVID-19. According to the November 2020 FinFind SA SMME COVID-19 impact report, 60% of small, medium, and micro enterprises were not able to operate during the highest lockdown levels, and, without access to relief funding from the government, 42.7% of small businesses were forced to shut down. Unfortunately, the situation has not improved much since, and the worsening economic conditions in the country have heightened these negative effects. 
As the South African government looks towards engineering an inclusive recovery, the government has recognized the important role of township and rural enterprises. In accordance with this recognition, the Department of Small Business Development has allocated R4 billion over the medium term to township and rural enterprises, including blended finance initiatives. 
Not only do micro and small enterprises serve as a critical lifeline for vulnerable households that cannot travel to purchase or need to purchase in small amounts, they also provide much-needed income to numerous businesses owners and employees. Such enterprises include spaza shops, which add R120 billion to the local economy per year, and contribute 35% of total grocery sales in South Africa (IFC, 2018). Spaza shops offer viable livelihoods for a number of residents in the townships and employ approximately two people per shop. Consumers shop at spaza shops for the convenience of location and trading hours, mostly for day-to-day items, whilst they shop at the national supermarket chains for weekly and monthly shopping needs. As such, a flourishing spaza community means that underserved families have access to more products at greater convenience.
The role of fintech innovation in the inclusive recovery of spaza shops
Given the range of challenges spaza shops face when it comes to growth and resilience, fintech innovation can offer promising solutions to provide spaza owners much-needed support, resources, and revenue opportunities. For example, remote ordering and payments solutions can help spaza owners avoid costly travel to purchase stock, and allow them to access bulk pricing and discounts to better compete with supermarket chains. Similarly, digital transaction records help the businesses build a financial footprint so they can then access formal financial services and government relief more easily. 
Given this range of opportunities, agile fintech innovators can play a central role in enabling spaza shops to recover quickly as they are able to design and deliver tailored products and services that meet the urgent needs of informal small businesses. We are already seeing fintech innovators leading the way, creating holistic solutions across the spaza value chain by enabling digital ordering, executing stock delivery, allowing spaza owners to manage their inventory digitally, and creating linkages to wholesalers and to financial service providers.
For example, when lockdown conditions presented increased demand for digital commerce platforms, Jessica Boonstra, founder of Yebo Fresh — which offers direct, optimised access to supply and delivery of stock, inclusive of data analytics solutions, and targeted education to improve retail practices — saw a dramatic uptick in demand for grocery deliveries to low-income households. She had to rapidly expand operations and resource capabilities during the lockdown period, growing from 6 to 60 employees, expanding their warehouse from 100sqm to 240sqm, and delivering 90,000 food parcels to feed families in the townships. As part of this expansion, Yebo Fresh also piloted their digital commerce solution with spaza shops, allowing them to place orders remotely and avoid costly "closed periods" to shop for stock. 
Similarly, A2Pay responded to the needs of spaza owners by extending working capital financing to their customers. This extra liquidity helped many stores survive the lockdown, providing them with access to inventory when their own reserves were low. "Just the capital injection of stock of about one week's expenses fundamentally secured their sustainability through the pandemic," said Tina Mason, COO at A2Pay. 
The power of partnerships
In many cases, partnerships are key to making these models work, as they offer advantages for both startups and legacy players. 
In the case of corporates, partnerships can help FMCG companies gain visibility and access to offgrid customers in the fragmented informal retail market. Startups operating in the townships can provide a bridge for these companies as they have a good understanding of the dynamics and challenges on the ground. For example, Yebo Fresh is partnering and collaborating with FMCG partners to enable spaza owners to order affordable products more conveniently. Similarly, Unilever's partnerships with Sokowatch in Kenya, TradeDepot in Nigeria, and OneDrop in South Africa give them a route to market and data insights about customer preferences. At an event held by BFA Global in November 2020, Kamesha Naidoo, e-commerce and B2B manager at Unilever, noted that startups offer flexibility and agility and quickly adapt to market changes. 
In the case of financial service providers like banks, startups can help them reach, assess, and serve lower-income, remote, or otherwise underserved customers like spazas. Banks, which are generally risk-averse and ask for financial statements, company registration documents, tax status and other documentation, which is impossible for spaza shops, most of which do not keep financial records nor meet the credit requirements. Startups like Spoon Money, which enables female, informal traders in townships to save and access credit, know these entrepreneurs and can provide banks with the information and data they need. Spoon is partnering with financial institutions to ensure spazas can access financial services that meet their real needs and that are adapted to their income fluctuations. Startups benefit from the reach, channels, and resources of banks, while financial services providers benefit by reaching thin-file customers, who were previously unreachable.
Partnerships like these include one between Merchant Capital and Standard Bank, which provides alternative lending solutions to merchants. The Merchant Capital retail portfolio includes spaza shops, taverns, shebeens, and wholesalers operating in the township, and their partnership with Standard Bank has enabled the bank to provide non-traditional credit solutions to such small businesses. 
In all, these examples demonstrate the power of startup and corporate partnerships to provide relevant financial solutions to MSEs and enable reach to underserved markets. 
---
BFA Global's Digital Spaza program
Given the potential and power of these partnerships, BFA Global recently launched a program focused on supporting the growth of fintech solutions designed for spaza shops, with support from JP Morgan. Experts at BFA Global will support three South African fintech companies — A2Pay, Yebo Fresh and Vuleka – in executing innovation pilots over the next nine months, enabling them to serve thousands of spaza shops and encourage a faster recovery. Innovations may include services for digital ordering, delivery of stock, digital stock management, wholesale linkages, and access to appropriate financial solutions that are relevant and affordable for spaza owners. 
Through this program, we aim to enable these innovators to reach more spaza shops, improve their financial resilience and save jobs in the township economy.