[Press release] BFA Global and Mercy Corps Jobtech Alliance Announce Launch of Startup Accelerator Programs to Improve Livelihoods in Africa
October 27, 2022 - 3 mins read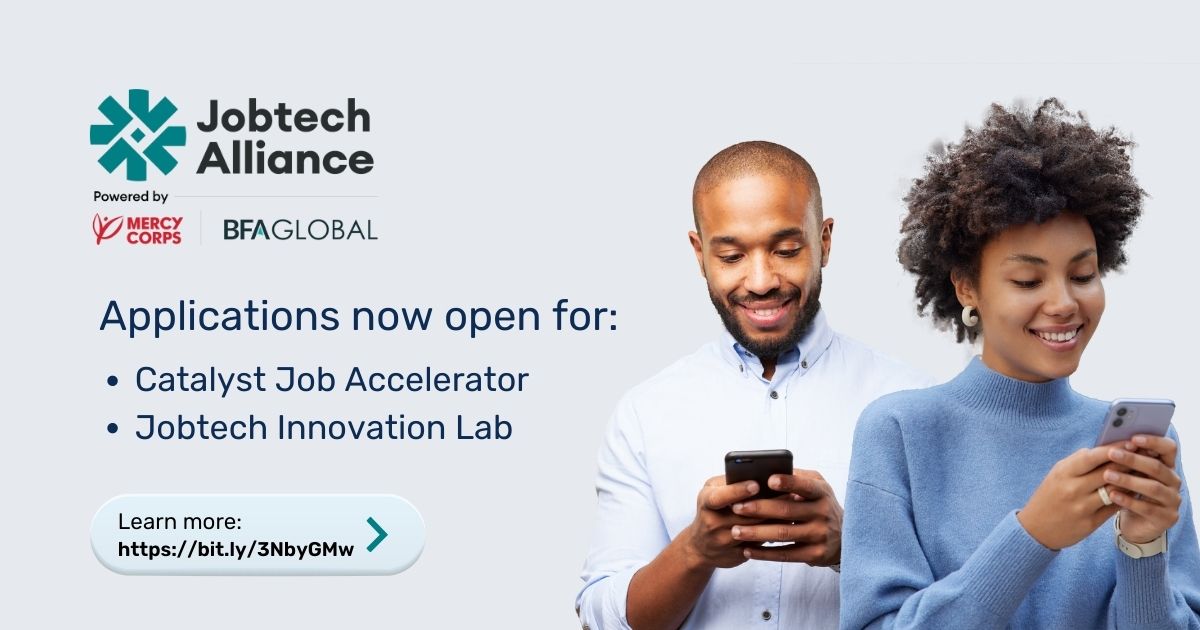 Nairobi, Kenya, October 27, 2022 – Steered by Mercy Corps and BFA Global, the Jobtech Alliance, an ecosystem-building initiative around inclusive jobtech in Africa, today announced the launch of two programs– the Catalyst Jobtech Accelerator and the Jobtech Innovation Lab– designed to support digital platforms that connect people to work opportunities that build livelihoods.
The Jobtech Alliance aims to create an enabling environment for entrepreneurs to build platforms that deliver quality livelihoods, are inclusive, and enable users to engage in decent work.
Building on the experience of BFA Global's Catalyst Fund model, the Catalyst Jobtech Accelerator will host two cohorts of four early-stage innovators creating affordable, accessible, and appropriate jobtech solutions that connect young people to jobs. The Catalyst Job Accelerator will focus on innovations that meet the following criteria:
An innovative product and business model enabled by technology

The potential to scale and meaningfully increase jobs and income

Grant resources that would substantially impact the team's ability to test and improve their product

The target market or operations of the startup are in one or more of these markets: Kenya, Uganda, Nigeria, Senegal, Ethiopia, Mali, Burkina Faso, Niger, Sudan, and South Sudan
"By building an ecosystem where entrepreneurs have access to knowledge and networks that can help scale their businesses, we're starting to change the conversation about the future of work and what can be achieved," said Michelle Hassan, Kenya Country Manager at BFA Global
The Jobtech Innovation Lab partners with jobtech platforms on individual sprints which have the potential to enhance scale, impact, or inclusivity of platforms with their users. This could include:
Developing new products or services

Enhancing products, operations, or marketing in order to better deliver services, reach new markets, or remove barriers to access for marginalised populations (particularly young women and refugees)

Supporting market expansion, particularly towards underserved markets
"There are many great opportunities for jobtech platforms to increase their scale, impact, and inclusivity on the continent, but there is a lack of time, capital, and capacity to deliver on them. We're keen to work with these platforms to further their business goals and improve outcomes for their platform users,"  said Chris Maclay, Mercy Corps Jobtech Alliance Program Director. 
Each of the selected companies will receive capital, bespoke venture-building support and have the opportunity to work closely with the BFA Global and Mercy Corps teams, industry experts, mentors, and ecosystem partners to scale their impact.
To apply, visit the Catalyst Jobtech Accelerator and Jobtech Innovation Lab websites. 
///
For further inquiries, contact Carmen Merab, Communications & Influence Manager, BFA Global: cmerab@bfaglobal.com
# # #
About Jobtech Alliance
The Jobtech Alliance is an ecosystem-building initiative around inclusive jobtech in Africa launched in late 2021. They are interested in digital platforms which connect people to work opportunities that build livelihoods – this includes gigmatching platforms, jobmatching, e-commerce marketplaces, and more. The Jobtech Alliance helps jobtech platforms to grow and create more jobs. 
About BFA Global
BFA Global applies financial and digital innovation, venture building, and investment expertise – relying on rigorous insights from field research, a deep network of partners and practical implementation experience across emerging markets – to improve the resilience and well-being of underserved people. We leverage global expertise and local knowledge to craft and scale solutions, and catalyze innovation ecosystems, partnering with leading public, private and philanthropic organizations, for a more inclusive and sustainable planet. Founded in 2006, BFA Global is headquartered in Nairobi and Boston, with a presence in Medellín, New Delhi, Mexico City, Johannesburg, Lagos, Accra, Madrid, London and Paris. 
About Mercy Corps
Mercy Corps is a global team of humanitarians working in over 40 countries, in partnership with local changemakers, global innovators, and people affected by crises to create a future of possibility, where everyone can prosper. Mercy Corps has been working with jobtech for over a decade, having supported innovation with dozens of jobtech platforms in Africa and the Middle East, and helped to guide the initial launch of the Jobtech Alliance in late 2021.