Banco W's Culture Change Boosted Quality, Won Admiration as a "Great Place to Work"
July 17, 2018 - 3 mins read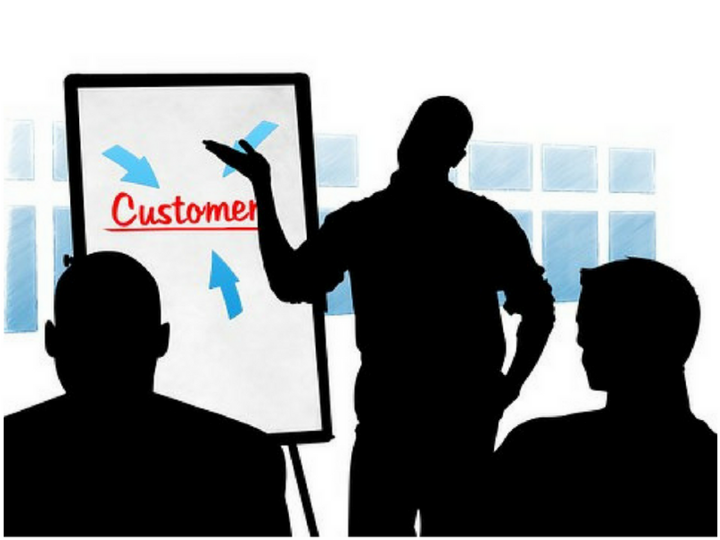 As Colombia's Banco W was transitioning from a microfinance institution to a bank in 2012, newly-arrived Chief Executive Officer José Alejandro Guerrero Becerra realized he needed to trigger a culture change that would improve service to low-income clients and deliver on a commitment to making a significant social impact. Five years later, Banco W's service quality ratings were up, it had relaunched its brand and image, and held an over-subscribed note issue.
Such transformation can sometimes come at the cost of internal upheaval but instead Banco W was recognized by "Great Place to Work" as one of the best workplaces in Colombia last year.
José, in seeking to ensure his teams were well-trained and properly-informed in their roles as newly-minted bank staff, enlisted OPTIX to help identify opportunities for cross-selling that aligned with his vision for the bank. OPTIX quickly found an obvious disconnect; field staff were told to focus on selling loans and other portfolio products but they were trained almost exclusively in minimizing risk in loan allocations, not sales nor on how products other than loans worked. As a result, while the bank kept launching innovative products, the sales team would not offer them to prospective clients because they failed to understand them well enough to explain them or respond to customers' questions.
OPTIX and Banco W collaborated on a training program for the entire salesforce to encourage cross selling. The initial plan was to bring a select group for a "train the trainers" session that they could repeat at their branches, but OPTIX found that it would cost nearly the same to take the program directly to the sales force. Over three months, the cross-selling program trained every member of Banco W's more than 1,000-strong sales force at their offices in over 60 municipalities.
A total of 64 8-hour workshops were delivered nationwide to 1,300 employees, including loan officers, branch managers, zone managers and regional managers. The workshops, named "Leaders and strategies that make a difference: cross-sell techniques," included content and tools to help loan officers develop a trust-based relationship with clients. The content covered a combination of modern techniques and tools for leadership, different sales techniques as mechanisms to achieve sales goals with quality.
Figure 1. Customer satisfaction surveys reflect positive effect of training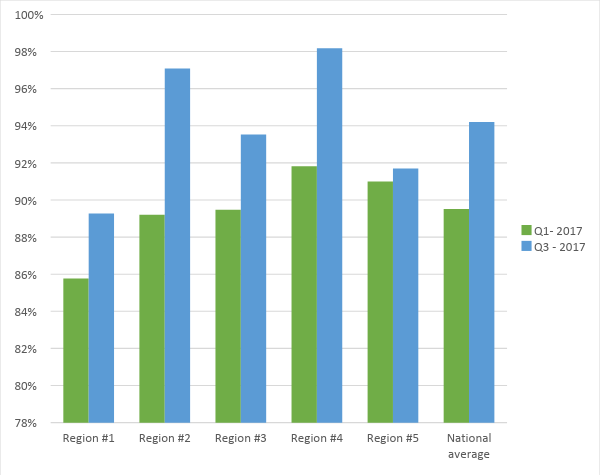 The immediate effects on quality ratings were promising (figure 1). A "mystery consumer" evaluation measuring the quality of service and conducted by a market research company for the third quarter of 2017 showed that ratings of overall quality improved across all five regional divisions after six months. The national average rating had climbed five percentage points to 95 percent compared with the first quarter. Out of 28 geographic zones, 21 improved their rating while only three saw a decrease and four remained stable.
However, there are some immediate effects that need further monitoring and exploration. An increase in cancellations of one of the bank's savings products raises a question: Does this reflect a lag in responsiveness to the training or alternatively are the staff in fact better at explaining the features of each product, prompting some clients to drop a product they feel they no longer need? Another six months will likely provide some answers.
Ultimately, the true measure of long-term success might well be Banco W's recognition as a Great Place to Work. This kind of recognition provides strong support for José's vision of Banco W as a service-oriented bank delivering on its social commitment. The bank's staff feel very lucky about their jobs in that they perform a social good by bringing the right suite of quality financial products to low-income Colombian entrepreneurs and they also enjoy working in a top-ranked Colombia's bank.