India is missing the tech-opportunity for responding to COVID-19
April 1, 2020 - 7 mins read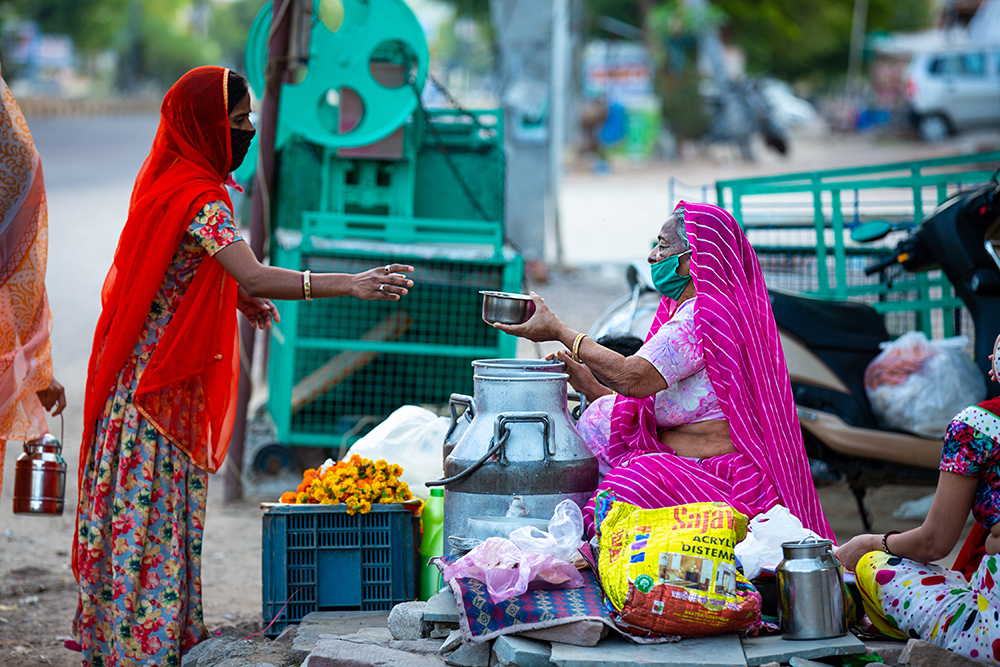 The Indian government has joined many others in adopting extreme preventive measures to protect the citizens and combat the outbreak of COVID-19. As of March 24th, Prime Minister Narendra Modi announced a 21-day complete lockdown of all of India's 36 States and Union Territories (UTs), forbidding the country's 1.3 billion people from venturing out of their homes. The lockdown is an immediate shutdown of all non-essential activities and allows only grocery stores (kirana), fruit and vegetable shops, milk booths, hospitals, pharmacies, gas stations, and banks to operate, albeit with limited hours.
However, day-to-day life varies by state as local governments are rapidly creating patchwork solutions to enable the lockdown without sacrificing people's daily needs. In some states, governments have recognized the potential of e-commerce networks to facilitate the lockdown while in others, the government is creating centralized, state-led distribution networks. Given the chaos that the lockdown has created, states would be wise to leverage the digital payment and commerce network that already exists – and invest in expanding it – to facilitate social distancing and quarantine.
The current situation is chaos
When Prime Minister Modi declared the lockdown last week, he gave people only four hours' notice to prepare. The result has been chaos on a massive scale.
To start, millions of migrants have been stranded far away from home, without income or access to transportation. National bus and train systems are closed so some are walking home, others are hitching rides, and, in some cases, state governments are providing transportation. Many migrants are feeling desperate and are taking whatever transport they can find. Police in Maharashtra opened and inspected two trucks last week with 300 migrant workers trying to get back to Rajasthan.
Even once these workers reach home, their situation is unlikely to improve. Migrant workers are part of the informal economy (along with almost 90% of the country's workforce) so they do not qualify for social security programs (though labor codes currently in parliament would expand coverage). The government's US$22b relief package should help some poor workers and farmers, but economists are worried that it doesn't go far enough and are demanding that support packages be increased. They point out that relief distribution will rely on the public distribution system (PDS) and other government programs that are not the most inclusive. Economist Jean Dreze has suggested that the government might use the more-inclusive MREGA job card list instead of PDS, and argues that much more relief is needed.
Some local authorities, supported by the police force, are providing free rations and financial aid to migrant laborers, but several reports showing officials enforcing the lockdown leading to violence and unrest have also emerged. Amid the extraordinary pressure of implementing the sudden lockdown, reports show police and even some vigilantes beating those who were found violating the lockdown. In Kolkata, a young man from West Bengal died after police allegedly beat him when he left his house looking for milk. Similar charges are coming out of Mumbai, where police are reportedly ordering physical punishment like squats, crawling, and push-ups for those disobeying quarantine orders.
The chaos caused by the lockdown extends to supply chains of vegetables, milk, and meat, as trucks and trains were literally stopped by police in the middle of the road. A leading newspaper reported that 12 million trucks were stranded across India. One startup reported that disruptions forced them to dump 15,000 liters of milk and 10,000 kilograms of vegetables. As of last week, Rajasthan, one of the main producers of mutton, has closed its borders, poultry feed isn't available, and popular fish varieties are in short supply. These disruptions, combined with panic buying, have caused vegetable prices in major cities to increase by as much as 40%. These challenges are slowly being addressed.
Manual measures for distribution
Amid this chaos, some local governments have quickly implemented measures to facilitate access to essential goods, while others have been slower. In Goa, for example, shops remain closed, and borders are closed even though the state relies heavily on imports from neighboring Karnataka for food and other supplies.
In some states, like Uttarakhand, the government is trying to minimize disruptions. The state previously allowed grocery stores to stay open only three hours a day, but has now extended open times to six hours because crowding at the stores was creating a hotspot for virus transmission. Furthermore, vegetable vendors, milk carts, and the like are still allowed to go house-to-house to ensure that families get regular access to groceries. Similarly in New Delhi, centralized vegetable markets have been reopened and officials are working to intervene with police and authorities to allow traders to make their rounds.
Allowing vendors to sell house-to-house may not be enough to stem the virus so some states are taking more extreme measures. In Uttar Pradesh, India's most populous state, the government is authorizing only 12,000 vendors to make home deliveries to over 200 million people. In Gujarat, the government is leveraging the existing Amul milk delivery networks to ensure sufficient distribution. In Mumbai, we hear that residents are depending on building doormen to take orders, collect cash, and relay them to the relevant stores.
In some cases, state governments are even distributing rations themselves. The government is monitoring and facilitating distribution in Haryana, the large state abutting New Delhi, via district food and supply controllers. In at least one state, Himachal, the state has launched its own online portal through which citizens can order essential items.
Not only are states getting involved in distribution, but they are also intervening when it comes to prices. In the National Capital Region's Noida city, the district magistrate has fixed prices for mobile vendors to prevent price gouging. Authorities in Hyderabad have also engaged in price-fixing after costs quadrupled for some basic items due to panic buying.
Tech-enabled methods are under-utilized
In contrast to these manual controls and authorizations, some states are allowing – and even partnering with – tech-enabled distribution providers to organize home delivery. However, these efforts are off to a rough start and more is needed to leverage this important resource.
Online delivery apps are supposedly part of the essential services permitted during the lockdown, but reports note that functioning is erratic. E-commerce providers had originally suspended operations, saying that the lockdown order was not clear with regards to e-commerce. The New Delhi government moved quickly to clarify that e-commerce is among the essential services, and has issued curfew passes to 6,000 delivery agents.
Even once the order was clarified, e-commerce providers complain that their delivery agents are being harassed and beaten by police and others, and that they lack labor at distribution centers. As a result, most food delivery apps briefly suspended services and even those that restarted are functioning poorly.
Some governments are going further and partnering directly with e-commerce providers to facilitate home delivery during the lockdown. In Punjab, the police commissioners and SSPs have requested e-commerce providers like Zomato and Swiggy find ways to ensure efficient home delivery of essential goods and services. The partnership started once the government realized that home delivery by corner shops was not reliable and so turned to the e-commerce giants for their expertise in-home delivery.
India is missing the larger tech opportunity
E-commerce rails for home delivery are a good first step, but there are further tech solutions that the Indian government should leverage to combat the spread of COVID-19.
One area of opportunity is digital payments. Promoting digital payments would enable "contactless deliveries", protecting both the consumer and the delivery men from the possibly infected currency exchange. Moreover, access to cash is becoming a problem amid growing travel restrictions. While some state governments like the administration of Chandigarh have come up with innovative solutions like mobile ATMs, it will be harder for larger and more densely-populated areas to make cash accessible. As banks resort to operating for fewer hours and Business Correspondents face restrictions in cash supply, this may be time to expand India's digital ecosystem to come to the rescue.
India has already made progress towards cashless transactions with digital payments growing at a compound annual growth rate (CAGR) of 61% and 19% in terms of volume and value, respectively. Retail electronic payment transactions increased by 59% in 2018-19, resulting in an increase in the share of electronic transactions in the total volume of retail payments to 95% during the year.
Despite the increasing popularity of digital payments, India still has a long way to go to radically disrupt its still largely cash-dominated economy. While larger purchases are made electronically, smaller, daily ones are still made in cash with almost one-third of Indians reporting that the vast majority of their purchases are made in cash. For example, the World Bank reports that online sales account for only 1.6% of total sales in India.
As a first step towards promoting digital payments, authorities need to ensure reliable and uninterrupted internet access across the country. They can also promote digital financial awareness through social media and other trusted digital platforms. Finally, it is imperative that domestic and international digital platform players be encouraged to expand access and increase usage of online payment methods so that it becomes the dominant way of paying.
To do so, the e-commerce sector, together with the government, needs to provide avenues for India's enormous MSME sector to get online and onto payment platforms. India's retail sector is still largely offline, with a majority of Indians relying on the ubiquitous local grocery (kirana) stores. Enabling digital payments at these stores would massively expand usage and decrease cash usage.
There is also an opportunity for Indian e-commerce giants to tap into the widespread network of kirana stores for distribution. Similar to the Chinese platforms that have kept local grocery delivery afloat even inside Wuhan – the epicenter of the Chinese outbreak – Indian e-commerce platforms can leverage kirana stores to act as extended distribution networks. These kirana stores could provide last-mile logistics, supporting larger digital supply chains as well as expanding the variety of goods and services they offer. An arrangement with the local authorities to pilot such a strategy could be the first step towards transitioning to digitally-enabled delivery. It would ease panic among consumers by immediately facilitating easier access to grocery items during the lockdown.
Another opportunity for tech is to further digitize e-commerce operations by digitizing warehouses and record-keeping, which are largely still manual. E-commerce is a fast-growing opportunity for India with a forecasted compound annual growth rate of 26.5% by 2021. While e-commerce facilitates digital orders and payment, much of the execution is still manual so there are opportunities to further the tech component to minimize exposure to the virus.
In conclusion
While we are starting to see tech for home delivery in India, there is still much farther to go. With a flourishing startup community, digital IDs, and widespread usage of digital platforms, India is well-positioned to leverage tech in finding solutions for these difficult times. Even as this article goes online, we are seeing initial signs that ride-hailing platforms will soon be enlisted for home delivery efforts. We hope to see more progress in this direction as soon as possible.