Realities of Digitizing PAYGo Operations in an Unbundled World
August 22, 2018 - 7 mins read
Digitization Helped PEG Africa Increase Efficiency, Data Visibility and Agent Satisfaction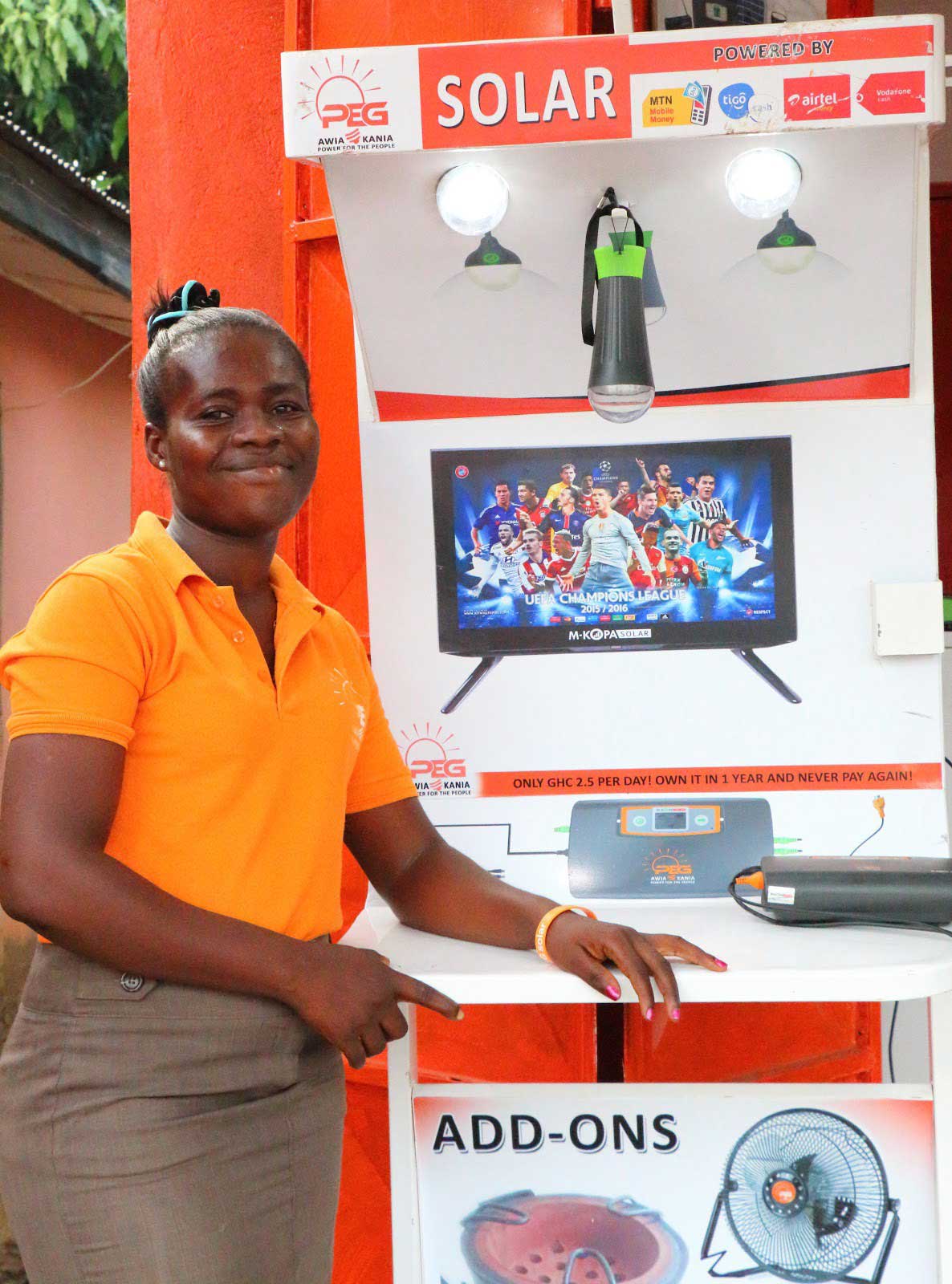 Digitizing operations for PAYGo 2.0 providers seems like a no-brainer. After all, digitization can make operations more efficient, easier to track, and more cost-effective. But digitization is trickier in practice than on paper. Our recent work with PEG Africa, a leading PAYGo operator in West Africa, is a great example of the new opportunities and obstacles presented by digitization. Through building a smartphone app for in-the-field sales agents, FIBR helped PEG address a number of pain points that their agents experienced, improved critical data visibility to both their headquarters and agents, and strengthened PEG's relationship with their salesforce.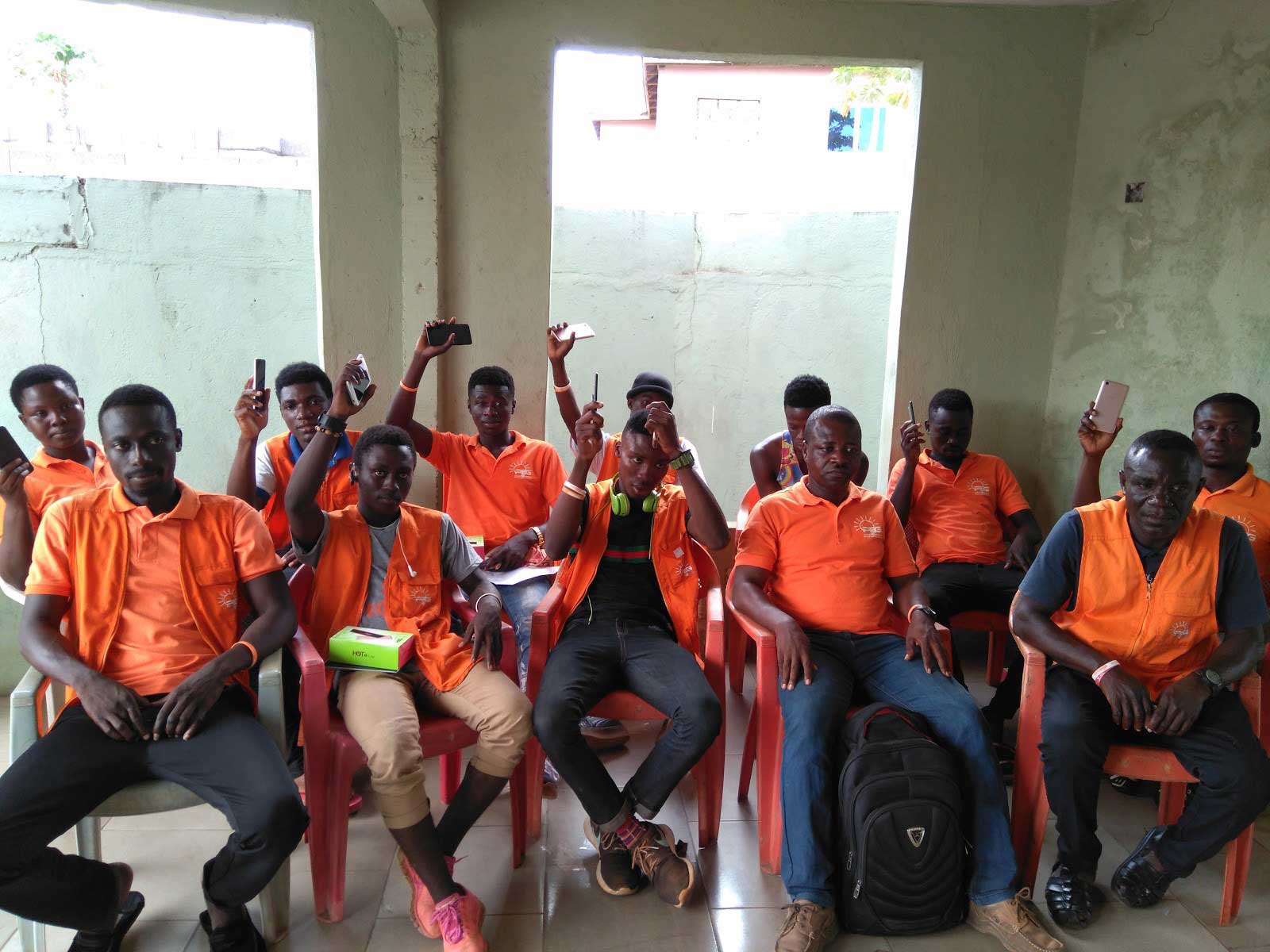 Before Digitization: Pen, Paper, and a Few Insights
When PEG joined FIBR earlier this year, its network of over 200 commission-based agents in Ghana were mainly doing business with pen and paper since they spent days at a time in rural regions of Ghana with low connectivity.
The Need for Seamlessness and Transparency
The registration process was inefficient, causing the sales process to sometimes take hours, during which prospects occasionally backed out. In the old process, agents filled out a paper customer registration form at the point of sale and sent a few key details from the form to the team at headquarters via SMS. From headquarters, a service rep then called the customer for an initial screening, walked through lease details, and completed the registration on their desktop-based CRM. Reaching agents in the field was hard due to spotty network reception, so registration processes were sometimes left unfinished. Without real-time access to centralized data, it was hard for PEG to achieve consistent results.
Sharing information about commissions with sales agents was also a huge challenge, thereby undermining sales incentives. Like many PAYGo providers, PEG deploys a commission model that splits the commission between when a sale is successfully closed and when the customer completes a certain number of on-time payments. This commission structure balances the agent's incentive to maximize sales with taking the time to select customers who are likely to pay. But, without real-time information, agents didn't know how they were performing and couldn't identify which customers were falling behind on their repayments and needed follow-up. As a result, agents were sometimes surprised when they received their earnings, leading to dissatisfaction and high turnover.
Moving from pen-and-paper to digital operations seemed like the obvious solution to improve inefficiencies and improve information flow between headquarters and the field. PEG also hoped digitization would help them to incorporate new clean energy products seamlessly.
As PEG shifted from M-KOPA products to D.light products, they took the opportunity to create an app to support agents in the steps leading to new customer activation and to provide them more timely access to information to manage their customers.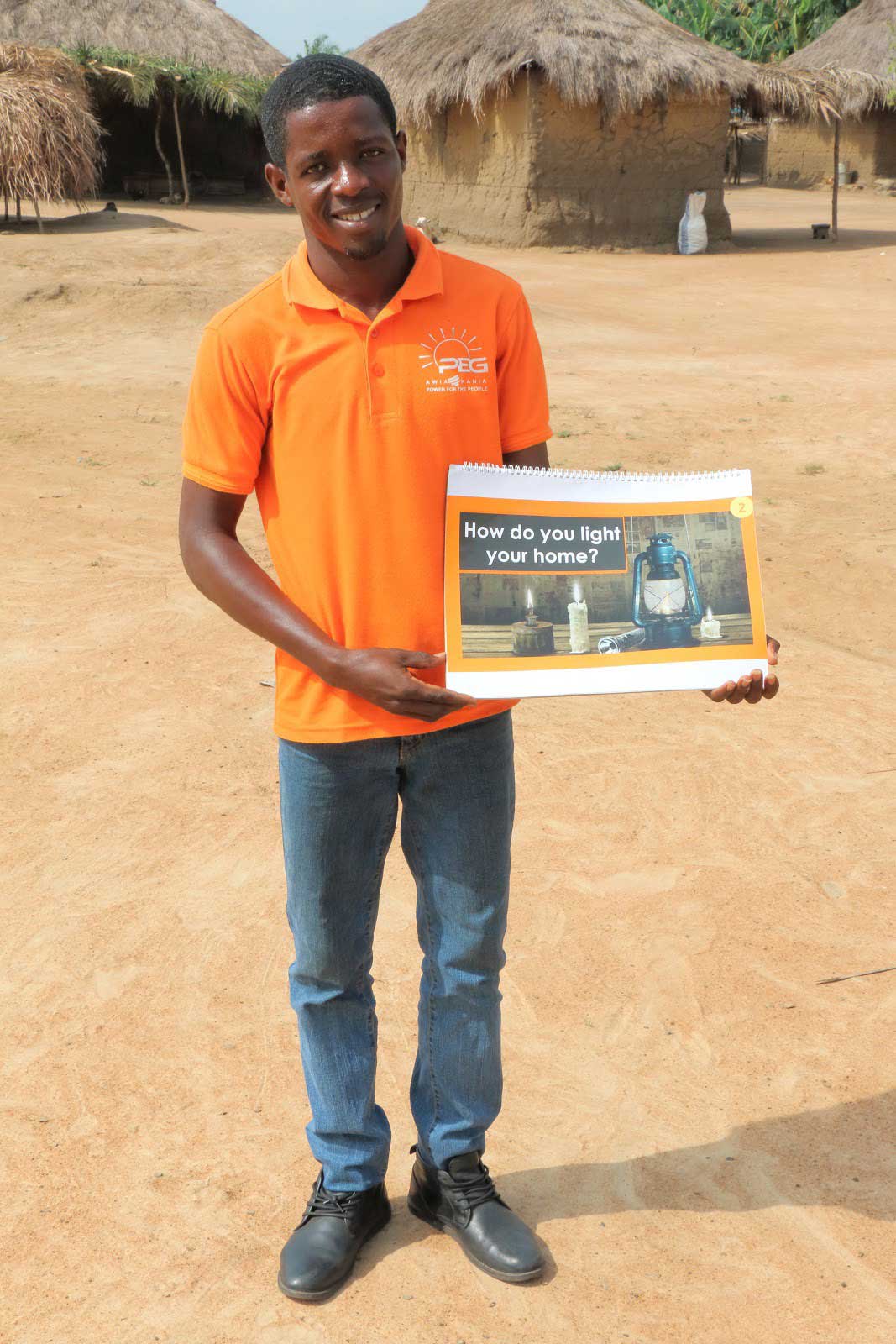 Digitizing: Cheaper and Easier Than You Think
After undertaking a nanoproject with PEG, where we interviewed the PEG team and agents and conducted an exploratory analysis of PEG's data, we embarked to build better digital processes across PEG's operations. Based on the nano project and PEG's own internal research, we learned that less than one third of PEG's agents already owned a smartphone — a key design constraint for digitization for many PAYGo operators.
Using AppSheet to Build an MVP
After defining key areas of improvement and prototyping a solution using wireframes, we built and piloted an app minimum viable product (MVP), in AppSheet. Appsheet is an off-the-shelf tool that allows players like PEG to quickly roll out functionality, and manage smartphone apps inexpensively and without a large internal tech team. Building a useful app on AppSheet doesn't require coding; it only requires an Android smartphone and a Gmail account, and offers a suite of sample apps that providers can build off of (i.e., lead tracking, customer care ticketing, inventory management). Additionally, AppSheet is not tied to a hardware or software provider, thereby allowing players to take full advantage of the flexibility PAYGo unbundling now offers. As a PAYGo 2.0 company, PEG doesn't have its own proprietary PAYGo hardware or software technology. Instead, PEG can pick and choose from among the best clean energy products on the market to meet their clients needs.

Watch how FIBR and PEG Africa are helping PAYGo agents better serve customer
The app we built allows PEG to:
Capture potential customer information and customer data at the point of sale
Display sales goals and sales performance
Display information on commissions earned, promotions that are in progress, and other relevant information from headquarters
Display information about customer payment performance and highlight customers who are behind schedule or almost defaulting
After building an MVP app and structuring the associated databases, we conducted a small pilot test to validate the app with a limited number of PEG agents. During this lite pilot, we found that agents were confused by some of the menus and screen flows. We also identified the need to pre-populate fields with answer options rather than offering an open-answer field. When tested in the field, we also noticed that our first MVP missed a few critical steps in the typical customer registration journey. These lessons fed into the app's next iteration. To roll out the app to the wider organization, we issued smartphones to 50 agents and trained them on how to use the phones and the app.
Saving Time, Increasing Satisfaction
FIBR and PEG conducted a survey of 51 PEG agents in June 2018 and found overwhelmingly positive results. Eighty-eight percent of agents think the app makes their job easier, 90 percent and 92 percent, respectively, thinking the app makes it easier to close a sale and manage their customer relationships. And on whole, 94 percent of agents think the app has improved their relationship with PEG. Digitization is saving significant team time that was previously spent searching for data or waiting for reports, both in the field and at headquarters, and has improved the accuracy and efficiency of tracking operations.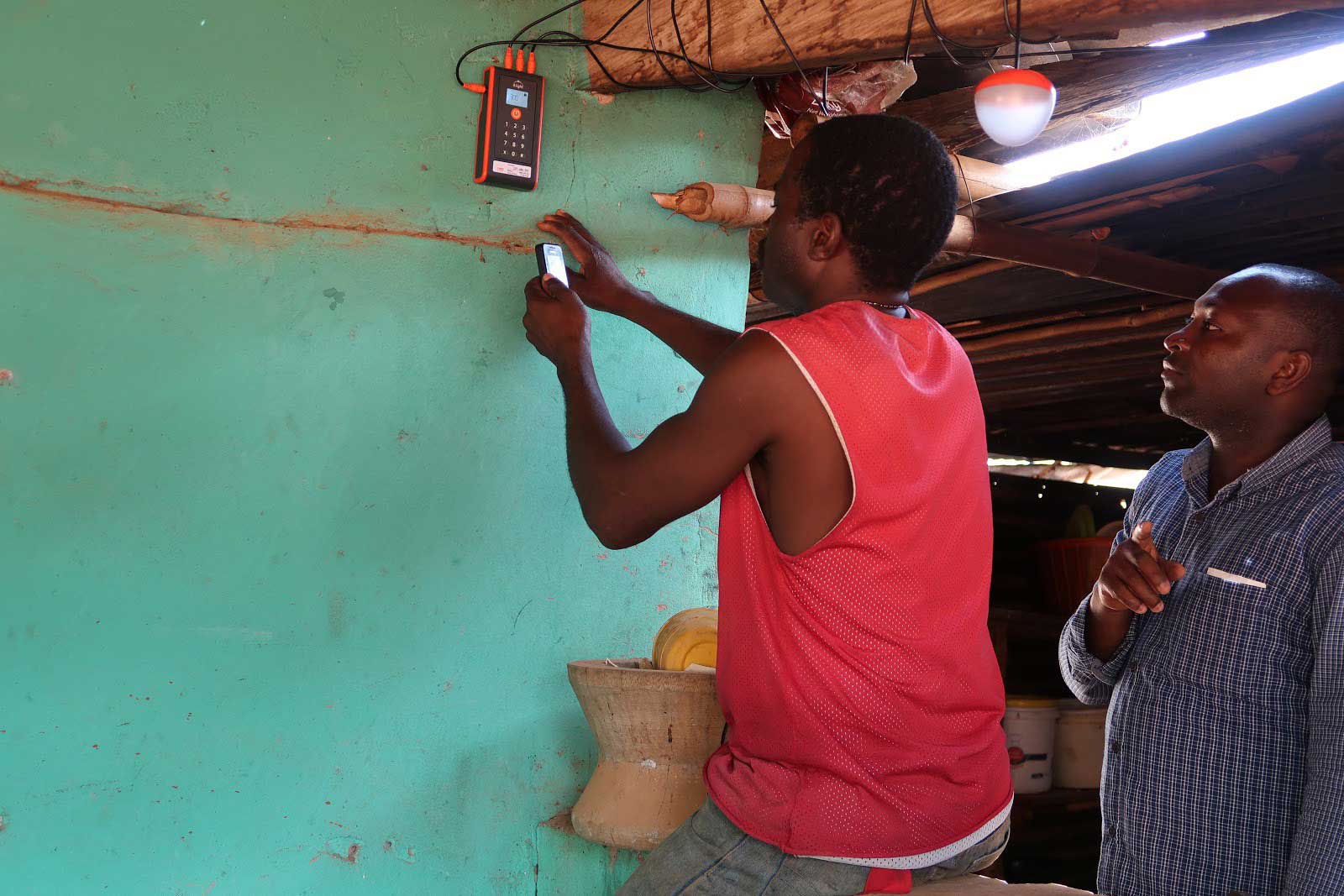 Key Takeaways for Going Digital in a PAYGO World
Along the way, we learned a few lessons on how best to digitize PAYGO operations for providers to apply to their organizations. While these recommended actions may seem obvious, we have seen these issues hinder many operators in their quest to go digital.
1) Build with an MVP approach — test quickly and fail fast to get the best results
You'll want to create a cross-functional team to identify high priority functions to digitize, develop requirements for the ideal user experience, and ensure it matches with business needs. In some cases, you may want your app to be able to function as a stand alone tool that you can take with you when adding new products or PAYGo platforms, or opening new markets. AppSheet and similar app development tools are a great way for a company like PEG to get moving quickly and iteratively add functionality without any coding while leveraging dozens of existing templates.
2) Design for frontier market constraints
Frontier markets have a number of constraints that make digitization more challenging.
Digital literacy may be low, agents mays not have smartphones, or they may use phones that have compatibility issues. In many markets, company-issued or company-subsidized devices and data plans may be required. Find the right subsidy approach that works for your business and market. For example, PEG finances the phones, their sales managers serve as guarantors for agents, and the agent repays through a portion of their earned commission spread over time.
Additionally, think carefully about what phone to procure. Choose phones with long-lasting batteries, and consider providing power banks to agents for additional charging capabilities when out in the field for long periods of time. Since PAYGo agents often spend significant time in remote areas with limited or no connectivity, it's important to design your app workflow accordingly. Don't forget that agents may be out of connectivity for many days at a time when you make updates, as well.
3) Work with manual processes as you transition
Due to API limitations, we had to design a process to manually input some data for the first few app iterations. Keep in mind that workarounds like this may be needed initially — it's okay to not have a fully automated solution out of the gate. Also plan for transition time. Using smartphone apps can be difficult and frustrating for people who are not used to it, especially while trying to capture data on the phone while standing in front of a new customer. It's important to be patient as agents get used to using a smartphone and the app, which may mean in the near term some agents still capturing the basics on paper. You should plan for these usability challenges and offer additional training and support to these agents.
4) Make it simple
Make the process as straightforward as possible. PEG agents capture all customer data through the app, some is stored locally while offline, and the app prefills an SMS with the push of a button. Hide things that may be distracting, like GPS, in the background of the app, and also auto-fill as many fields as possible to cut down on steps in the process.
5) Ensure sufficient training and ongoing support
Due to agents' limited exposure to smartphones and apps, PEG had to invest heavily in training of agents on both the use of a smartphone and the sales app, which had to be done in-person, region by region. This also requires careful change management to ensure buy-in of the solution. Finding other ways to support app users, like an app user manual with screenshots of all steps or a WhatsApp group to connect agents, is also important. This can help the company to both get better insights into usability challenges and potential back-end issues and also gives agents a way to share insights with other users.
In addition to focusing on the front-end mobile app and agent user experience, ensure there is sufficient support to build and manage the back-end components (integrations, data transfer, database maintenance, reporting) that tend to take more time and effort to properly configure and maintain. It's also helpful to seek technical support when required. AppSheet and similar app platforms provide customer support and, with some membership levels, access to a network of senior developers
6) Know your ROI and time horizon for impact
Build a basic financial model that gives you the ability to calculate the potential return on investment for digitizing field operations in order to build support internally and accurately forecast training, hardware, maintenance, data, and related expenditures. Building an MVP and deploying in pilots can quickly give you exposure to real costs that can be baked back into the ROI calculator.
Additionally, think about how you will measure success of the app at the various stages of development and deployment, when you want to review the results, and how you can verify the accuracy of data being collected by agents during the pilots. For example, you may want your call center to re-ask some of the registration questions to a sample of each agent's customers once a month to get a sense of how well agents are understanding the questions and the accuracy of responses they enter, which may reveal further process changes needed.
It may take time to find a smartphone deployment model that works best for your business. Some businesses might see the need to provide phones to all agents free of cost, while others may partially subsidize the cost, while others may require all agents to pay for the hardware. It's important to pilot test different models and consider the risk level associated with different agent segments, potentially based on their tenure and performance levels.
What's Next in PAYGo
We are excited to see more PAYGo 2.0 players start the digitization process and benefit from low-cost, off-the-shelf tools that hold the potential to deliver a host of benefits, from improved efficiency and data collection to better managing field operations and relationships with agents. We look forward to sharing more insights on PAYGo 2.0 in an upcoming blog. Stay tuned!